Reading Time:
3
minutes
Horses are highly intelligent. They have the ability to recognize faces even if they haven't seen someone in months, understand the emotions of people around them, and to learn and combine a number of cues. As such, they're in demand as actors in commercials, television shows, and movies.
What looks effortless, though, takes many hours of training, not just for the action but for the safety of the horse and the humans around him.
On set, cameras move on wheels, sound booms swing overhead, and reflectors are used for better lighting. "There's movement and people yelling. A horse has to be rock solid or I won't use him. There's too much at risk to use a horse that might spook," says Jesse Thomson, animal coordinator for the television show Heartland. "It can be rainy or sunny, actors might wear armor or bearskins and carry torches or swords. Other animals can be in the scene. The horse has to stay calm, always."
Thomson explains horses have doubles, too. "He may only have patience to do a move three times. If needed, a double can fill in. Doubles have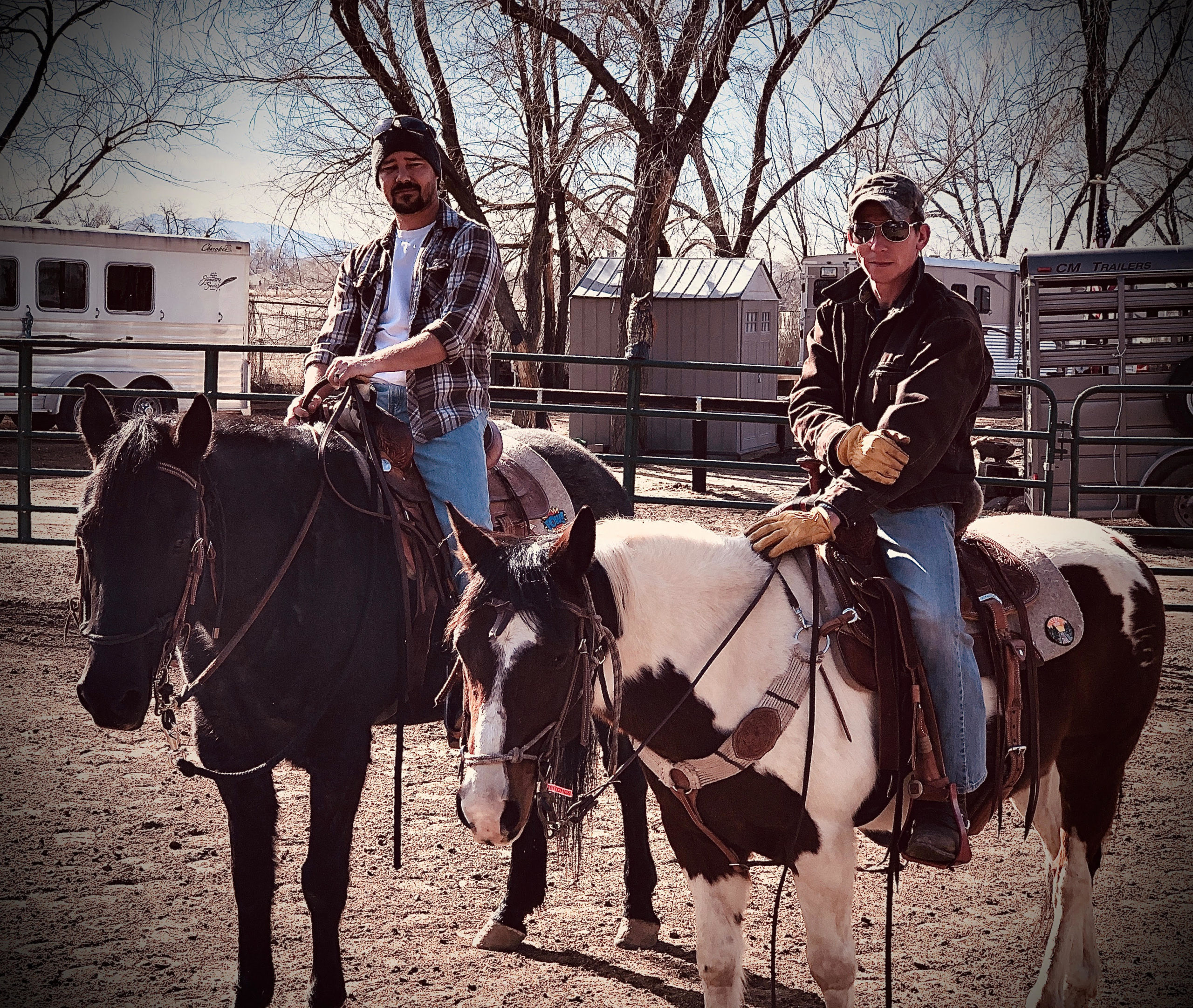 specialties—standing,  running, or working with stunt riders."
"We had well-vetted wranglers, trainers, and veterinarians on set. I tell my actors, 'Don't feed or even touch the horse if he or she doesn't belong to you,'" says Patrick Ball, director and creator of Horse Camp TV. "I saddled up my own horses and had each actor prove they could ride and be in control. Horses are treated better than the humans, me included. They get more lunch breaks!"
Safety is the responsibility of everyone on set. "Script writers and directors are ignorant of how animals can be used in movies," says Alex Cox, director of Tombstone Rashoman. "The trainer/coordinator has to say no to an unsafe scene, suggest an alternative, and make the director think it was his own idea. Camera people work with wranglers to make the human actor look genuine."
Behind the Scenes
At the OK Corral, actors and horses walked into the middle of the gunfight. What happens? An actor grabs his chest, falls to the ground, the horse is called by his trainer. With camera angles, sound dubbing, and digital images, viewers see a cowboy shot and killed, his horse run. The sounds of gunfire with realistic smoke and muzzle flashes are added in the studio. Skilled makeup artists fake the horse's scrapes and cuts.
Speaking from experience as an actor, director, and producer, Eric Schumacher, president of Seelie Studios, says, "Trainers run through the commands I need to give and they stay within a few feet of us, just out of camera range. They sense what's about to happen and can jump in to avert a mistake or injury. My advice is trust the horse and build a relationship. They do most of the work and will make an actor look good."
Schumacher rode Elvis in two movies. "Elvis is a highly trained movie horse, quite expressive about mistakes I made. There was a gap of time between the two movies; I was surprised and delighted Elvis remembered me."
Tricks of the Trade from Thomson
Horses are herd animals. I use that. If a scene calls for a horse to run across a prairie, I have a horse he knows on the other side, out of camera range. He runs to join his friend. When the script calls for a riderless horse to walk into a Western town, his trainer is ahead, giving him signals.
Directors like a shot of the movie's star on horseback. Viewers see the actor from the knees up, hiding the fact a trainer is beneath the horse, keeping him in place.
In every herd, there's a lead horse, a middle, and rear horse. Filming a shot of a herd running full out across a beach or field is majestic to see but I always keep in mind, when I give the signal to run to the left, they might just go to the right.
When you let them be natural, cool stuff happens. A happy horse will do anything for you.
And it's all done safely.
This article was reviewed/edited by board-certified veterinary behaviorist Dr. Kenneth Martin and/or veterinary technician specialist in behavior Debbie Martin, LVT.
Sandra Murphy lives in St. Louis, Missouri, with Ozzie, a Westie-ish dog and Louie, a tuxedo cat. Both are ridiculously spoiled. She is a freelance writer about all animals, eco-friendly topics, and oddball notions. She's edited two fiction anthologies, A Murder of Crows, crime stories involving animals, and Peace, Love, and Crime: Crime Stories Inspired by the Music of the '60s. From Hay to Eternity: Ten Devilish Tales of Crime and Deception is a collection of her own stories.
Photos: Patrick Ball Media, creator, director of Horse Camp TV 
Published March 1, 2021