Reading Time:
2
minutes
Who doesn't love spending time at a swank resort? Feral cats are no exception. They like to hang out at resorts such as El Dorado Royale in Mexico's Riviera Maya region on the Caribbean coast. After all, the pickings are good, whether from restaurant trash or soft-hearted tourists. With so many humans around and few predators, the numbers of well-fed cats tend to increase exponentially. Eventually, that leads to guests complaining about cats howling overnight or feline individuals who are "too bold."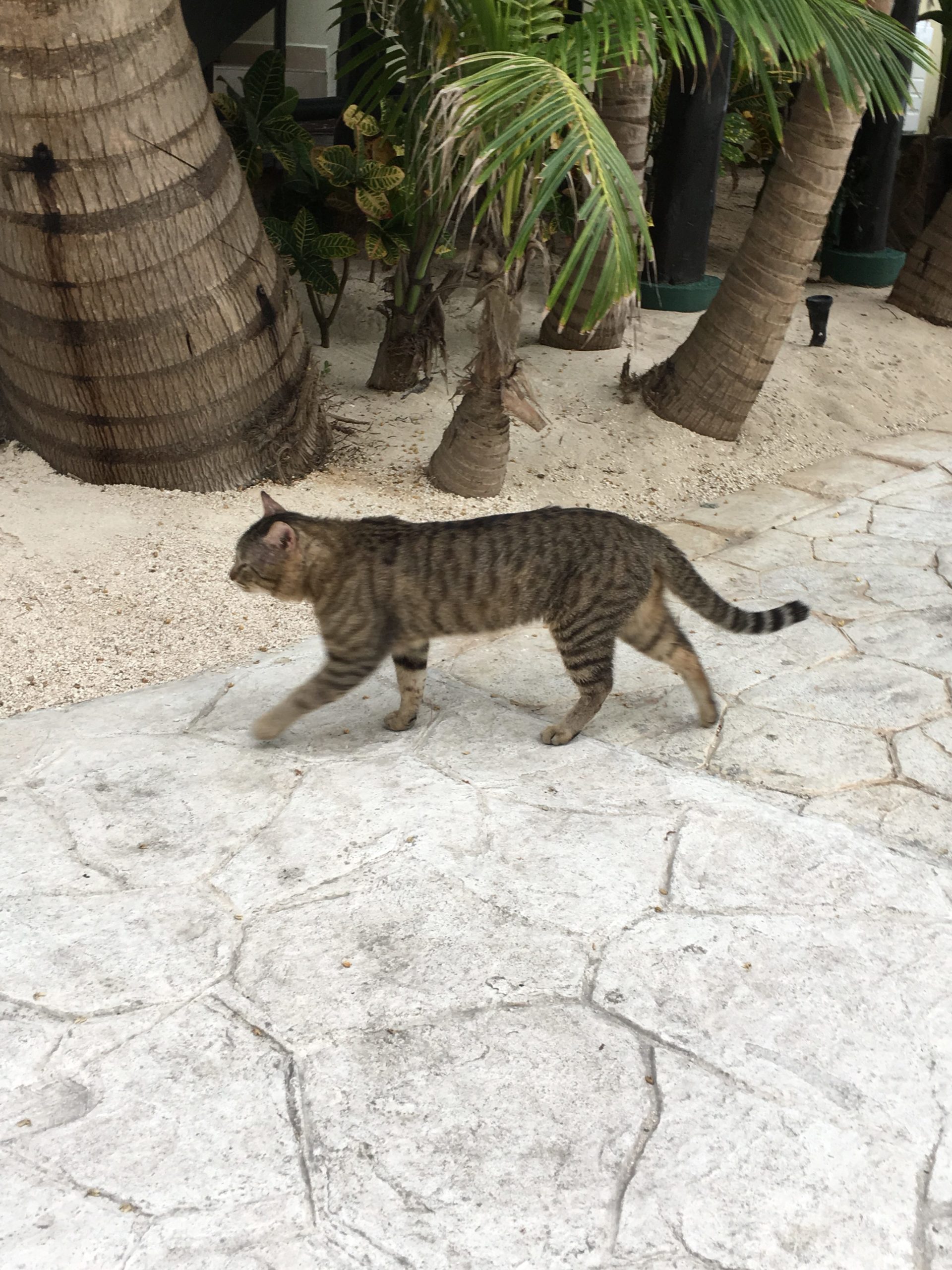 Instead of running the cats off or killing them as many places might do, El Dorado Royale took the concept of Trap-Neuter-Vaccinate-Return to a new level and got ahead of the potentially burgeoning cat numbers.
General manager Clay Sawyer explains that they began by humanely rounding up all the cats over time. The cats were spayed or neutered, vaccinated for rabies, and dewormed. Then they invited Coco's Animal Welfare, a local nonprofit organization that promotes pet adoption and good animal care practices, to establish a cat café at the resort. The program helps to ensure that feral cats in the area are well cared for and don't reproduce.
Coco's Animal Welfare came up with a novel idea, providing the cats with first-class accommodations befitting the resort's own grounds. They designed and built bungalows to mimic the buildings where visitors stay, and each cat has a numbered room.
The bungalows are practical, too. They offer a way to keep provided cat food out of the elements and shelter from storms.
Do the cats use their cool digs? "Of course," says Sawyer. "Cats are smart, aren't they?"
Visitors love the cats' luxury lodging, located in the heart of the resort but on a back road. Signage explains the cat café concept and allows guests to seek out the cats if they choose.
Today, 15 adult cats make their home on the sprawling property. The cats take advantage of their meals, so native wildlife such as lizards and birds are more likely to be left alone. The upscale resort has its own pest control for vermin, of course, but now and again a cat may help out on a voluntary basis.
Guests are asked not to feed the cats. "Sometimes they do not resist a gentle 'mew,' but mostly they understand why it is important not to feed them," Sawyer says.
Living the good life, some cats have taken to a crepuscular lifestyle (out at dawn and dusk). Feeling safe in their own surroundings and being well fed, they do a lot of what all comfortable cats do – they catnap a lot.
Sawyer says most guests appreciate the humane approach the resort takes, and many share pictures of the cats and the Cat Café in social media. It's great PR.
"It's also the right thing to do," he says.
This article was reviewed/edited by board-certified veterinary behaviorist Dr. Kenneth Martin and/or veterinary technician specialist in behavior Debbie Martin, LVT.
Published May 1, 2018