Reading Time:
4
minutes
Relationships are at the heart of Fear Free, including the ones that are sometimes overlooked by society.
"Imagine being an unhoused pet parent living in the shadows of society with a life preserver cleverly disguised as a dog or cat. You might be sick. Your pet might be sick. Or both of you," says Fear Free founder Dr. Marty Becker.
That's stressful for animals and humans. There should be a place where both can get help.
Although it's still not widespread, that's not a new idea. In 1858, Dr. Rudolf Virchow, considered the father of cellular pathology, stated, "Between animal and human medicine, there are no dividing lines nor should there be…." The One Health Clinic in Seattle, Washington, brings this sentiment to life by providing an integrated health model where veterinary and human healthcare teams work together to treat homeless youth and their pets at the same time.
Though there is no definitive research on the number of unhoused people who have pets, the National Alliance to End Homelessness says that number is estimated to range from 10 percent to 25 percent.
Dr. Katie Kuehl, One Health Clinic veterinary director and assistant professor at Washington State University College of Veterinary Medicine, says "Having an animal as a person experiencing homelessness has great benefits." She goes on to list everything from the pet providing "a reason to get up and get going every day" to having "somebody to love" and "somebody to protect you when feeling unsafe."
Like any person with companion animals, they want to ensure that their pets are fed and are in good mental and physical health. Unfortunately, for the unhoused, there are barriers to these goals since human healthcare facilities and shelters typically are not animal-friendly. Dr. Kuehl explains that what often happens is that these devoted pet parents prioritize the needs of their pets over themselves and skip going to the doctor or sleeping in a shelter bed. This is unhealthy for both pet and person.
To tackle this issue, in 2018 the Washington State University College of Veterinary Medicine and University of Washington Center for One Health Research collaborated on a program that would help both unhoused people and their pets. "By integrating care, by meeting people where they are, we're decreasing barriers to access and ultimately allowing people to become who they want to be," says Christie Cotterill, director of development for WSU College of Veterinary Medicine.
Rather than starting from scratch, they joined forces with New Horizon youth shelter, which was already running an onsite healthcare clinic for humans. They added space for veterinary care and within the first year, they saw patient visits increase by 32 percent.
The only requirement to get services at One Health is to be 26 and younger. Upon arrival they are met by a "patient navigator," a health science student volunteer from University of Washington, who acts as a guide, taking down their information and that of their pets.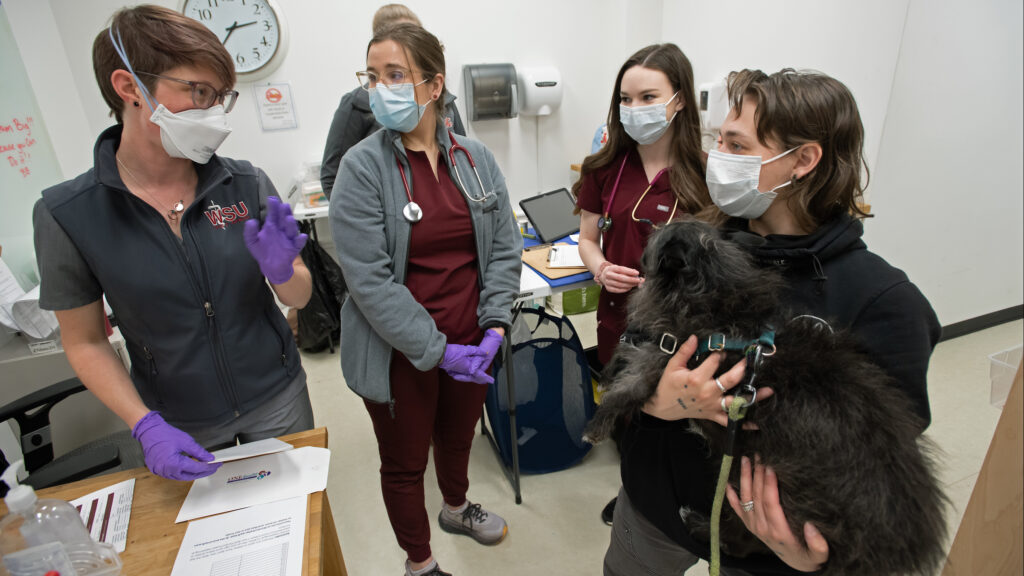 Many times, individuals who go to the clinic are untrusting of the medical profession and are loath to talk about their own health. "People's concern for their animals is a way of communicating concerns for themselves. They might feel more safe talking about anxiety the animal is experiencing," Dr.Kuehl says.
Vicki Ramirez, outreach and evaluation administrator of One Health Clinic, emphasizes that healthcare teams seek to impart the concept that if individuals are healthier, the quality of health of their animals can improve, too.
Furthermore, Ramirez adds, through their experience, the veterinary care gives them the opportunity to have a positive healthcare experience.
At One Health Clinic, the spectrum of human health care offered includes diagnostics, screenings, mental health, sexual health, and gender-affirming care. Pet care includes treatment for fleas and ticks, routine vaccinations, and referrals for procedures like spay/neutering. In total they have had 567 pet appointments with 434 owners.
An example of how an integrated model helps both people and their pets is one patient who was going through treatment for substance abuse disorder. Their pet needed pain medication, and under normal healthcare circumstances this could have presented a challenge. The integrated clinic allowed the human and veterinary healthcare teams to work together to identify a solution that met the needs for the dog but wasn't triggering or causing any problems with the treatment protocol the owner was on, Cotterill says.
"That scenario wouldn't exist if the patient took their pet to the vet clinic or just went for human healthcare," she adds.
One Health Clinic isn't limited to one location. Its website supplies those interested with a free toolkit offering a road map for developing other integrated clinics.
Currently, over 100 interested parties have downloaded the kit, and a location in New York started in January through a partnership between Breaking Ground supportive housing and the Street Dog Coalition.
Like any family member, pets deserve our care and attention. Through One Health Clinic and other organizations like it, individuals regardless of circumstance can prioritize their pets' health along with their own. Everyone benefits when everyone gets their needs met.
"When we're all healthier and work together we are a stronger community," Cotterill says.
This article was reviewed/edited by board-certified veterinary behaviorist Dr. Kenneth Martin and/or veterinary technician specialist in behavior Debbie Martin, LVT.
Fairouz El-Baz is an award-winning director and producer. She has written and produced numerous documentary films and television shows for outlets including NBC, USA NETWORK, and ESPN. A devoted dog lover, she spent years working with several rescues in Los Angeles. Recently she left Los Angeles for Charlotte, North Carolina, where she lives with her two rescues, a pit bull named Frankie and mini pin terrier mix Roman.
Want to stay in the loop on the latest and greatest in keeping your pet happy and healthy? Sign up for our free newsletter by clicking here!
Photos: College of Veterinary Medicine/Ted S. Warren
Published March 13, 2023