Reading Time:
3
minutes
Pets, fashion, function. The three come together in items that provide warmth, protect sensitive areas, or promote healing post-surgery. Here is some stylish petwear that will not only meet a variety of needs but also earn compliments!
The Cone Gets a Makeover
Gone are the days of awkward and ugly plastic Elizabethan collars to prevent pets from licking and pulling at surgical sites and injuries. Something soft and cushiony does the same job and is not uncomfortable to wear. There are lots of fun options such as a slice of toast or various fruit shapes such as a pineapple, orange, and strawberry. There are also flowers and some fun fish to choose from, too. They tie in place and are easy to take on and off if necessary. Ideal for cats and small dogs. One size. $11.78. Available from the MortonAlice Shop on Etsy.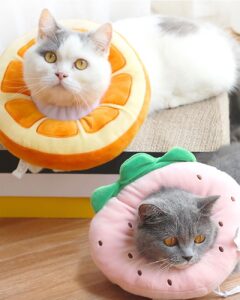 Easy Winter Wear
Great for the adventurous dog and the downtown trendsetter, this reversible loft jacket comes in a myriad of fun colors. It's lightweight and easy to put on but does the job of protecting from the cold and the wet. It slips easily over the head and closes with hook and loop fasteners on the sides with enough room for a harness underneath. A two-way zipper on the shoulders allows a leash to be pulled through easily. Reflective stitching on the top ensures visibility of the dog in the dark. Available in sizes from x-small through x-large. $39.99. www.Kurgo.com
Step-In Hoodie
This snug hoodie is ideal for dogs who don't like anything put on over their heads. The design allows the dog to step in and zip up. And there are pockets for treat storage. Dexter, chief dog designer, also has a selection of rainwear and puffer jackets in the same step-in-and-go design. Available from small through x-large. $37.99. www.Dexypaws.com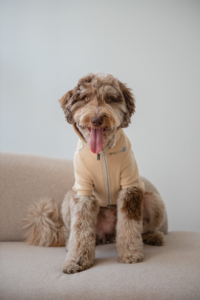 Coverup for Relaxation, Recovery
This ultra-soft super-stretch onesie is ideal for dogs with short hair to wear indoors in cold winter months as leisurewear or pajamas and layer with a jacket to go outside. It's also ideal as a coverup after surgical procedures to protect the incision site and keep it clean. Available in 11 sizes and a selection of colors. For short-legged pooches, the company is happy to customize sleeve lengths for a better fit. From $55 – $65. www.goldpawseries.com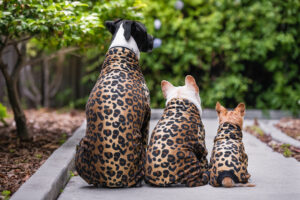 Ear Protection
This soft neck gaiter protects dogs' ears in cold weather and works as a stylish accessory for dogs who don't like wearing coats but could do with a little protection around the head, neck, and shoulders to generate body warmth. For dogs with long, droopy ears, it keeps them covered so they don't drag in dishes during mealtimes. Available in four sizes to fit all pooches. Fun reversible colors. $26-$30. www.goldpawseries.com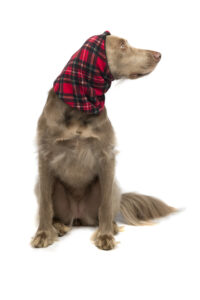 Lick Sleeve
This garment is specially designed to shield a dog's injured hind leg or offer protection post-surgery from destructive licking and scratching, as well as contamination from dirt and mud. The sleeve is interchangeable on rear legs. A quick-clip buckle keeps the sleeve in place and makes removal fast and simple. This patent-pending form-fitting design is made from a soft, breathable material to aid a stress-free recovery. Available in four sizes $84.64. www.licksleeve.com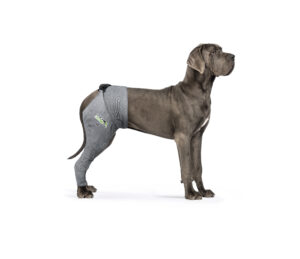 This article was reviewed/edited by board-certified veterinary behaviorist Dr. Kenneth Martin and/or veterinary technician specialist in behavior Debbie Martin, LVT.
Sandy Robins is an award-winning pet lifestyle journalist and author of For the Love of Cats, Fabulous Felines: Health and Beauty Secrets for the Pampered Cat, The Original Cat Bible, and Making the Most of All Nine Lives: The Extraordinary Life of Buffy The Cat.
Published January 17, 2022