Reading Time:
3
minutes
When my husband and I moved from a Colorado mountain town to Denver in 2018, our biggest concern was how our Lab mix, Rio, would adapt. The outdoorsy dog spent the first seven years of his life hiking off leash on trails a block from our home, swimming in alpine lakes, and running free in Durango's five-acre dog park.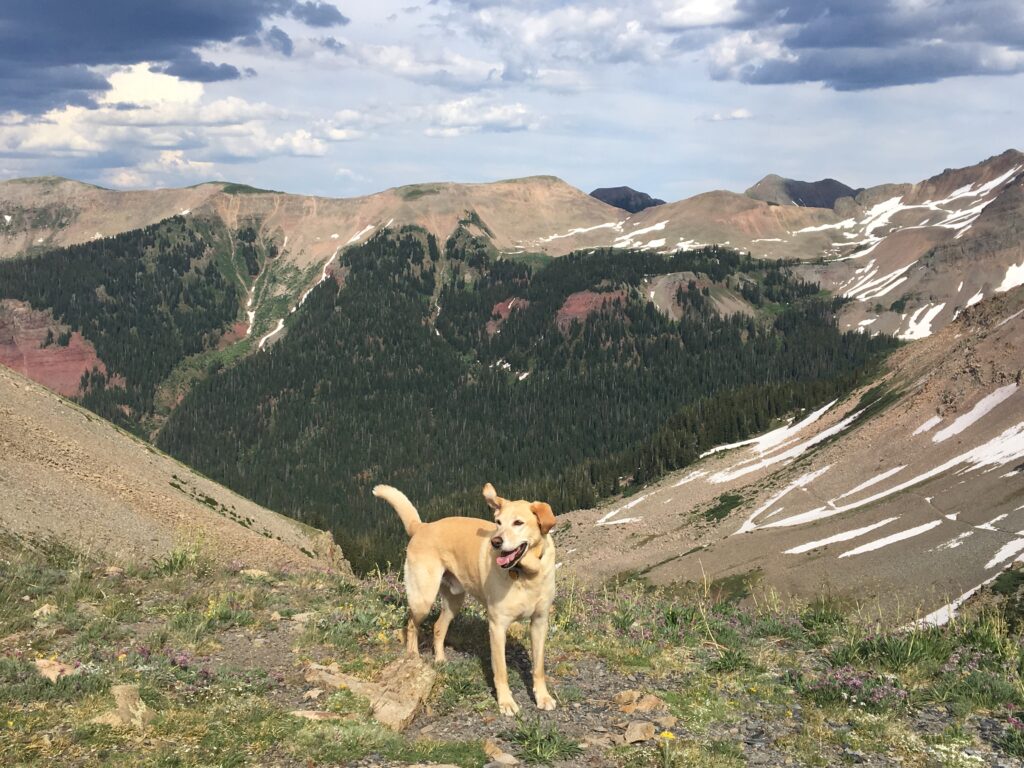 How would our dog deal with traffic and leashed walks?
Our top priority for the move was offering enrichment to Rio to help keep his quality of life and overall happiness from suffering. Our little Poodle, Peach, loves walking on pavement and we adopted her from Denver, so she adjusted immediately, proudly prancing through our densely populated neighborhood.
For his part, Rio loved living in a neighborhood with so many dogs and seemed delighted by the preponderance of urine to smell. So we started slowing down for sniffy walks to give him plenty of time to check the "pee-mail." We also decreased his daily kibble allotment since he wasn't getting as much exercise as he did when running through the woods off leash.
Since Rio is a food-motivated Lab, we used treat rewards to teach him the cue "Other side" when crossing at traffic lights. When I'm holding the leash, we wait until the light changes, and then I walk briskly or even jog while urging, "Other side!" Once we're safely across, we stop for a jackpot of treats and praise for being a good boy. He enjoys this game.
We were both excited to explore our new neighborhood, which includes a whopping three boutique pet stores with products as whimsical as their names: Taj Mutt Hal, Mouthfuls, and Simpawtico. The staff at each shop would offer Rio treats and affection before I'd buy some goodies, including one that he could eat at the cash register by sitting politely. (This was before his recent diagnosis of inflammatory bowel disease. It was fun while it lasted, though!)
Denver also offers plenty of other exploration opportunities, from pet-friendly breweries and restaurant patios to city trails and dog parks. One summer, the traveling Bow Wow Film Festival came to town. We joined friends and their dog on a grassy field and watched short films about dogs between meeting tons of friendly people and pups. Rio was in heaven.
We're lucky to have a fenced yard, so we'd invite passing dogs and their people for impromptu playdates. On hot days, Rio and Peach could rest on the lawn afterward and enjoy "pupscicles" – made by freezing kibble and water in a Dixie cup.
Technology can help with a move, too. I went to the site MeetUp.com and found a group of "Dog Moms" who take hikes with their dogs, which gave me ideas of where to go and tips about life in the city. One hike was near Red Rocks Amphitheater, and I was thrilled to learn dogs can go inside when there aren't concerts or other events. Rio loves climbing the stairs and greeting athletes doing pushups and sprinting throughout the aisles.
A friend recently raved about Sniffspot, an easy-to-use app that allows users to rent private yards and spaces from property owners. Some options near us offer acres of play area, so we're looking forward to trying some new places that offer fun and safety during the pandemic.
Then in the evenings if Bryan and I need to leave the dogs home alone, we turn on soothing music like piano jazz or reggae to help drown out any street noise. We also have Adaptil bandanas that we spray with calming pheromones to help reduce any separation stress and let them relax.
After nearly three years in Denver, Rio is the same loving, happy dog we've always known. We've learned that taking care to help him transition to his new surroundings was the right call, and that dogs are much more able to adapt than most humans are!
This article was reviewed/edited by board-certified veterinary behaviorist Dr. Kenneth Martin and/or veterinary technician specialist in behavior Debbie Martin, LVT.
Award-winning journalist Jen Reeder is former president of the Dog Writers Association of America.
Published May 31, 2021