Reading Time:
4
minutes
Most cats prefer to be homebodies, but not Pet Safety Cat Casey. As my feline teaching partner for veterinarian-approved pet first aid/CPR classes all over the country, this orange tabby has logged oodles of miles in the car and in the air.
His latest adventure found him flying with me nonstop from Dallas to Washington, D.C., to participate in a Fear Free Pets talk and a cat first aid class to attendees at The Acatemy Conference in Dulles, VA. He catnapped inside his airline-approved carrier tucked just in front of my seat and never let out a single meow.
This marked Casey's sixth flight and 13th state to visit since I adopted him as a kitten from the San Diego Humane Society. Trust me, if you have a choice, you want to sit in a row with a calm cat like Casey rather than a big guy chowing down on a greasy meatball sub or a nonstop talker.
Recognizing that cats can also suffer from fear, anxiety, and stress while traveling – just like some people – I practice plenty of calming, Fear Free tactics when traveling with Casey. Let me share some strategies I use that may make the flight far more welcoming for you and your cat:
* Pack with a feline purpose. If your cat must travel with you due to a relocation, business trip, or visit to see relatives, make sure to spritz his airline carrier with a feline reassuring pheromone product such as Feliway. In the pocket of the carrier, stash paper towels, a spare collar with ID tag, plastic quart-size resealable bag to stash any unexpected poop deposits while in-flight, a small bag of treats, and a collapsible water bowl. Place a pet diaper inside the carrier in case your cat needs to urinate during the flight.
* Book for you both. After making your reservation, call the airline directly to book your cat's reservation. Policies vary by airlines and the number of in-cabin pets allowed per flight is often limited. Make sure to obtain the record locator number for your cat. Expect to pay about $125 each way to travel with your cat in the cabin. Bring your cat's current medical records to verify he is up-to-date on his vaccinations.
* Practice at home with the ins and outs of the carrier. Airport security will require you to take your cat out of the carrier and hold him while you walk through the screening. I make a game out of putting Casey in and taking him out of his carrier at home, with upbeat talk and plenty of small treats to condition him to this experience. In the carrier, your cat should wear a secure harness with leash attached to the D-ring. This helps you keep a secure hold on him when you remove him from the carrier at security. If possible, apply for TSA Pre-Check to save time and eliminate the need to take off your shoes.
* Be your cat's advocate. Do your best to body block your cat in his carrier from a traveling dog or other perceived threat. Keep the carrier elevated to lessen your cat's fear of seeing airport activity from floor level.
* Prevent a bumpy ride. Opt for a luggage cart and place your cat's carrier on the top facing you as you maneuver through check-in and head to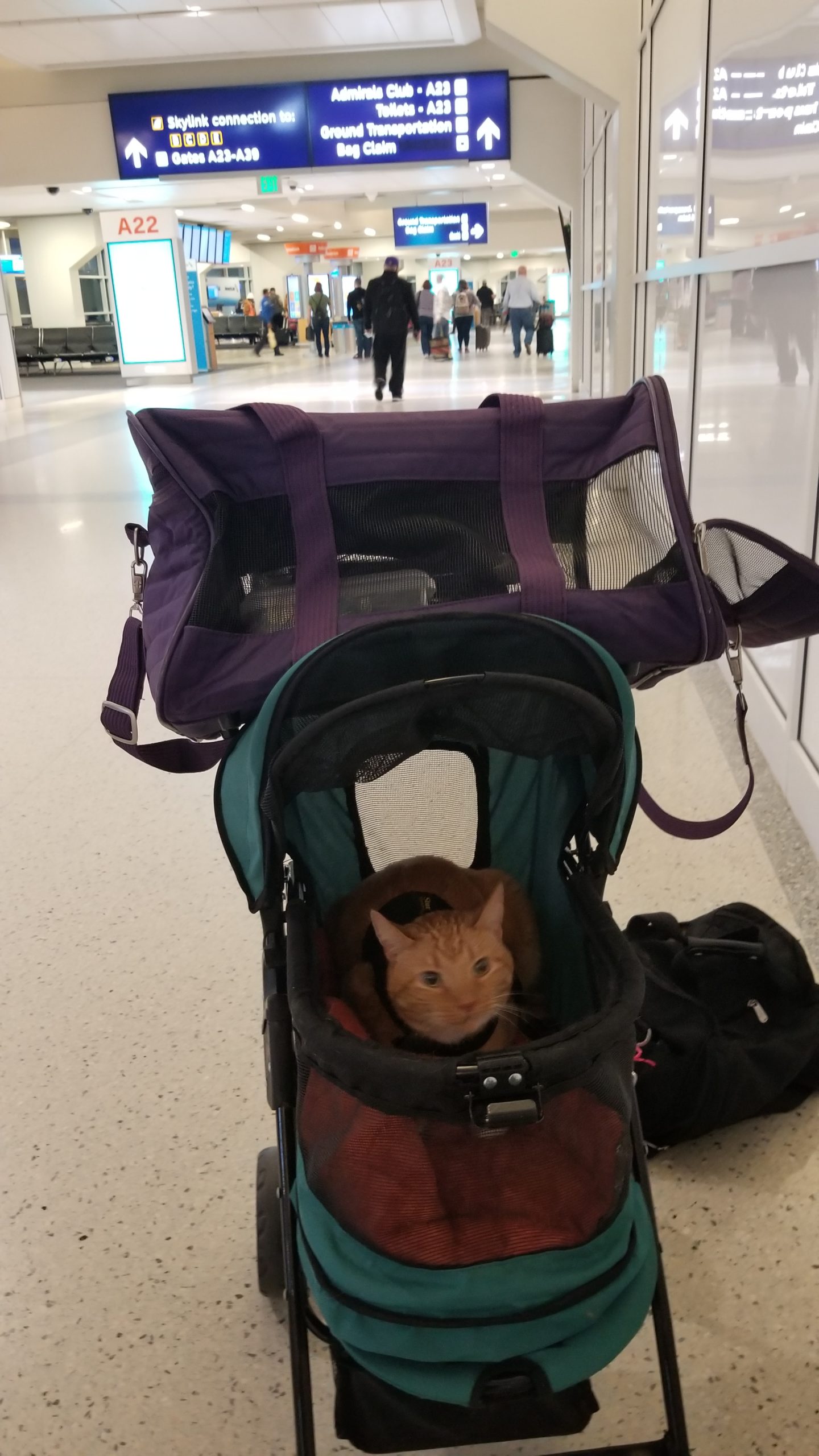 your gate. Trying to hold your cat's carrier in your hand as you walk will cause it to sway and rock, two motions that can cause some cats to become nervous or edgy. For Casey, I bring a lightweight, collapsible pet stroller and his airline carrier. Casey sits in the pet stroller with his harness tethered inside and I put my computer bag on my shoulder as I glide Casey around the airport. He enjoys getting to see where we are going and being greeted by cat-loving passengers. I roll Casey down the ramp to the plane, pop him in his carrier and hand the folded pet stroller to the flight worker before stepping into the plane.
* Keep cat and humans calm. Not everyone on a flight likes cats. Some are allergic and some may be afraid of cats. Resist the temptation to take your cat out during the flight to sit on your lap. Cats like Casey view carriers as safe havens. Some cats may meow during takeoff or landing. Avoid talking to them in a baby-talk tone. Speak calmly to let them know everything is okay. Cats can smell our emotional states, so strive to be calm.
* Alert the Lyft or Uber driver. When exiting the airport to head to your hotel, keep your cat in his carrier and make sure the driver coming to pick you up accepts pets in the vehicle. Casey has met many feline-adoring drivers.
Finally, treat your cat to bottled water during trips to reduce the risk of developing an upset stomach from tap water, and bring or buy disposable litter boxes and lightweight litter.
Pet Safety Cat Casey and I wish you safe travels!
This article was reviewed/edited by board-certified veterinary behaviorist Dr. Kenneth Martin and/or veterinary technician specialist in behavior Debbie Martin, LVT.
Arden Moore is The Pet Health and Safety Coach. She is a best-selling author, radio show host, in-demand speaker and master certified pet first aid/CPR instructor who travels the country teaching with Pet Safety Dog Kona and Pet Safety Cat Casey. Learn more at www.ardenmoore.com and www.facebook.com/ardenmoore.
Published February 24, 2020