Reading Time:
3
minutes
A service dog named Elmer has made a wonderful difference for a 7-year-old boy named Gavin Swearingen. As a toddler, Gavin fell off a swing and suffered a traumatic brain injury that led to complex medical issues, from strokes and epilepsy to cerebral palsy marked by weakness on his right side.
Elmer, a Labrador-Golden Retriever mix raised and trained by the nonprofit Canine Companions for Independence, teamed up with Gavin in November of 2018. The attentive dog assists Gavin in numerous ways: acting as a buffer in public places since Gavin has no peripheral vision on his right side, engaging Gavin with physical therapy tasks (that seem more like a game with a dog) such as throwing a ball or holding his leash, and supporting him through his tenth cranial surgery.
Having a service dog has given Gavin "an independence and a strength," according to his mom, Amanda Swearingen.
"We're just grateful," she says.
The Trouble With Fake Service Dogs
While Swearingen has witnessed the positive effect a trained service dog can have for people with disabilities, she has also learned firsthand that fake service dogs have a negative effect.
For starters, after fraudulent service dogs misbehave in businesses, staff, owners, and other patrons can grow leery of legitimate ones. One woman got "really angry" at the Swearingens for having a dog in a restaurant soon after they brought Elmer home; in another instance, a man asked, "Is your son disabled enough to need a dog?"
Safety is another huge issue. Recently when Amanda, Gavin, and Elmer were trying to enter a hospital, they crossed paths with a woman walking a small dog – clearly not a true service dog – who started barking and snapping at them.
"We couldn't go in," she recalls. "And for me it's scary because I had a child attached to a dog and he's not a robot. He's still a dog. He has been through years and years of training, but he's still a dog."
Dogs Outside the Law
Service dog fraud has become so widespread that one in five Canine Companions graduates feel their quality of life and independence has been moderately or severely impacted by fraudulent service dogs, according to a 2018 survey by the organization.
"We are committed to the safety and access rate of our graduate teams, which is impacted by the presence of out-of-control dogs, whether they are wearing a vest and purporting to be a service dog, or a pet dog that is in a public place where they are not permitted under the law," says Wallis Brozman, outreach program specialist for Canine Companions.
It's a professional as well as a personal issue for Brozman, who is a three-time graduate of Canine Companions.
"I actually had to retire my second service dog after two and a half years because he was attacked so many times that he was completely uncomfortable going into public places and didn't want to work because he was constantly looking for other dogs to make sure he was safe," she says. "At that point, if your dog doesn't feel safe, that's a safety issue for you as a person with a disability."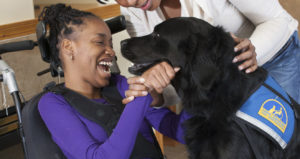 Canine Companions dogs undergo around two years of socialization and training, and the nonprofit invests about $50,000 in each service dog (and provides them free of charge to people with disabilities). A service dog's early retirement is a significant loss to both the handler and the organization.
Even without an attack, a phony service dog can distract a legitimate, task-trained service dog from his or her job. Fake service dogs can also create a bias against actual service dogs if they have an accident or incident in a grocery store or other business that allows only service dogs, says Brozman.
"I think a lot of people see fraudulent service dogs as not really hurting anyone," she says. "The reality is that people are actually getting hurt. We have someone like me, who has had to start over and lost a service dog because of this very issue."
Brozman says it's important to note that while people might want their pets to go everywhere with them, their pets might prefer to be left at home. When a dog reacts negatively to other dogs or strangers, it's often a sign of fear or stress.
"I think a lot of dogs love their life of leisure where they're at home," she says. "That's something to keep in mind with any animal in your life: 'Am I doing what's best for my animal?'"
For more information or to take a stand against service dog fraud, visit: CCI.org/StopFraud
This article was reviewed/edited by board-certified veterinary behaviorist Dr. Kenneth Martin and/or veterinary technician specialist in behavior Debbie Martin, LVT.
Cover photo courtesy Liz Kaye Photography; inset photo courtesy Canine Companions for Independence®
Award-winning journalist Jen Reeder is former president of the Dog Writers Association of America.
Published October 14, 2019