Reading Time:
4
minutes
During her four-decade career as a CBS news correspondent, Martha Teichner has covered wars, royal weddings, school shootings, earthquakes, and other headline-events all over the world. She has interviewed world leaders, striking coal miners, and Cuban refugees, earning a dozen Emmys.
But ask her the one unshakable constant in her life and she will quickly reply that it's her devotion to dogs, specifically, Bull Terriers. She has always been attracted to their comical antics and strong-willed personalities. Many of her BTs, as she calls them, were adults in need of new homes.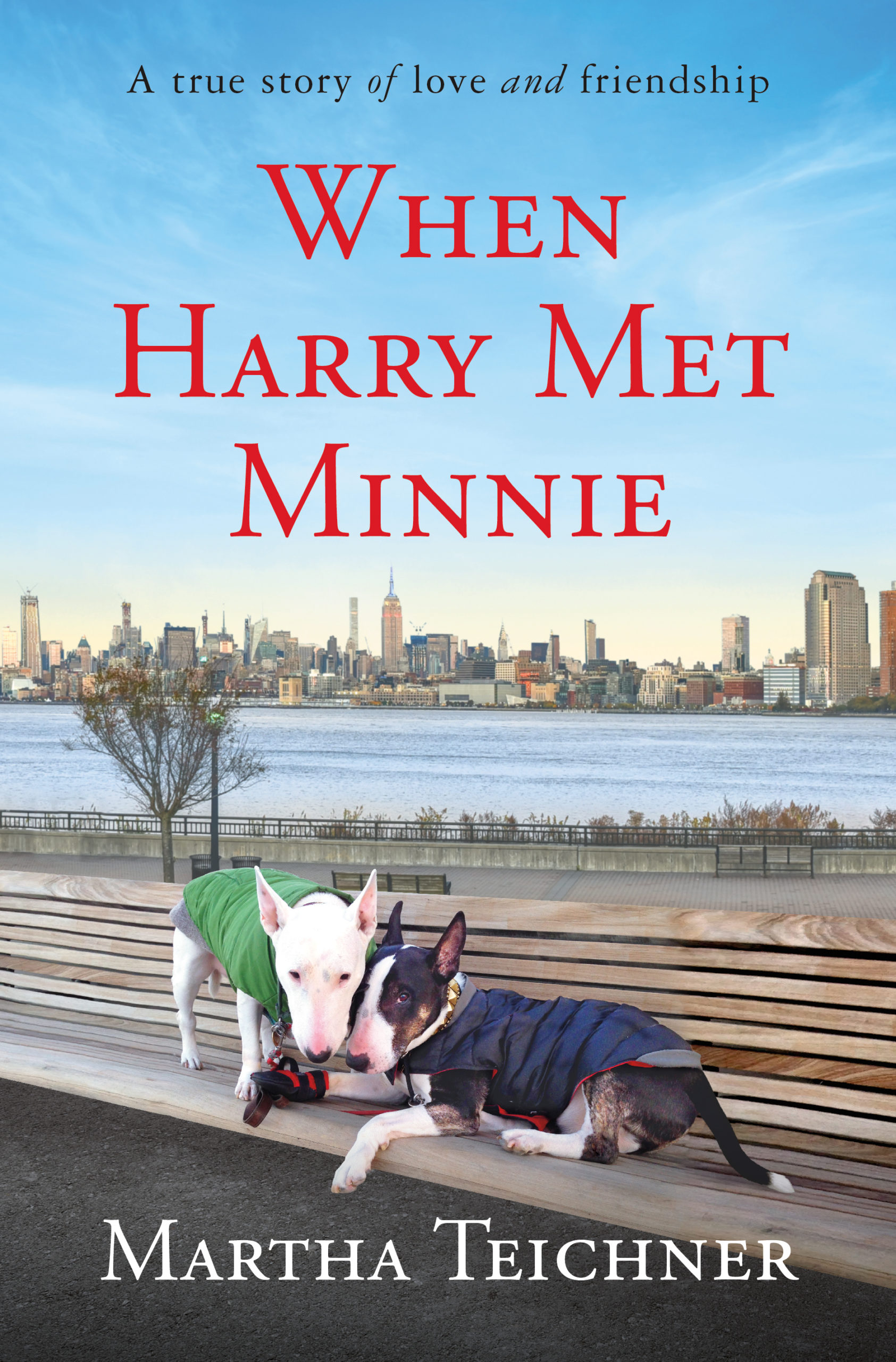 Focusing her storytelling skills toward on-camera reporting, she was never motivated to write a book. Until now. At age 73, Teichner is a first-time author of a book called When Harry Met Minnie (Celadon Books and MacMillan Audio), the tale of an unexpected-yet-powerful friendship between a pair of Bull Terriers named Harry and Minnie due to a chance introduction between Teichner and another New Yorker named Carol Fertig.
Teichner, who has been a correspondent for "CBS Sunday Morning" since 1993, also does the narration for the audiobook version, capturing this life-changing experience firsthand. She begins the book by taking you along to her Saturday morning ritual of shopping at a farmers market at Union Square with her two Bull Terriers, Goose and Minnie.
When Goose died, the younger Minnie became depressed. Six months passed before Teichner could convince Minnie to join her for that farmers market outing. There, she ran into an acquaintance, Steve, and his Golden Retriever, Teddy. He asked where Goose was.
"I told him how Minnie has been so despondent ever since Goose died and that I hadn't found a new Bull Terrier to adopt," she recalls. "He told me about his friend, Carol, who was just diagnosed with terminal liver cancer and was trying to find a home for Harry, her 11 1/2 -year-old Bull Terrier who had a lot of medical issues. He asked me if I was willing to meet Carol and Harry and I said yes."
The women began exchanging emails about their dogs.
"It felt like online dating for dogs," Teichner says with a laugh. "But within a short time, it seemed like Harry and Minnie had been married 50 years – their friendship was that strong."
The women agree to meet on the stoop of Teichner's brownstone apartment building in Chelsea to make the canine introductions. The dogs ignored each other, with Minnie even turning her body to deliver a butt view to Harry. But during their conversation, Teichner and Fertig realized they shared many things in common, including the same veterinarian – Dr. Michael Farber of West Chelsea Veterinary — and the same lifetime love for this breed.
By the second visit, Harry and Winnie were quickly on a path to friendship, romping inside Teichner's apartment, sharing snacks and napping together.
Teichner answered her inner voice and began a diary of the growing dual friendship between the dogs and herself and Fertig.
"Something told me that this is too important, and I did not want to forget anything," Teichner says. "Harry and Winnie had sleepovers at my home, but I remember when Carol asked me to take over the care of Harry because she was getting weak. She paused and said, 'Don't take Harry unless you agree he will be your dog for the rest of his life' and I said, 'I would be honored.'"
Their friendship grew and even after Teichner permanently brought Harry into her home with Winnie, she was part of the inner circle of friends who regularly visited Fertig at a hospice unit.
"It is a privilege to be with someone at the time of their death. Being one of four friends to be with Carol when she died is an experience I will treasure all of my life," she says. "My regret is that I wished I had known Carol for 15 years, not a few months."
Teichner says the chance meeting that led to adopting Harry and becoming Fertig's friend taught her three life lessons:
* Don't let yourself fall into a rut. "Be willing to meet new friends and try new experiences. Don't let opportunities pass you by," she says. "My life is so much better because of Harry and Carol."
* Accept the responsibilities of being a pet parent. Teichner adopted Minnie from a Bull Terrier rescue group and made sure the then-young dog received needed medical care and behavioral training. When she adopted Harry at age 11, she made sure he received all his daily medications, had his favorite giraffe rug in her apartment and fitted a red booty on his right front paw to help manage chronic paw issues. Whenever she needs to travel on a CBS news assignment, she hires a "dog au pair" who lives in her apartment with her dogs.
* Never underestimate paw power. Memories of her past Bull Terriers will never fade for Teichner. Her current Bull Terrier is named Girlie, a love-to-snuggle couch sharer she adopted in early January who was found as a young stray. "We guess Girlie is three years old and she was found with no identification," says Teichner. "She loves to watch television with me. I will never be without a BT – I love this breed."
This article was reviewed/edited by board-certified veterinary behaviorist Dr. Kenneth Martin and/or veterinary technician specialist in behavior Debbie Martin, LVT.
Arden Moore is The Pet Health and Safety Coach. She is a best-selling author, radio show host, in-demand speaker and master certified pet first aid/CPR instructor who travels the country teaching with Pet Safety Dog Kona and Pet Safety Cat Casey. Learn more at www.ardenmoore.com and www.facebook.com/ardenmoore.
Top photo by Zacry Spears
Published February 15, 2021