Reading Time:
3
minutes
Whenever someone asks Lindsey Rud what she does for a living, she answers, "Veterinary technician." But most people have no idea what she means.
"I would say about 90 percent of the time they're confused," she says. "So I always say, 'I'm kind of like a nurse for dogs and cats.'"
Rud is a Certified Veterinary Technician (CVT) for Fear Free certified Loyal Companions Animal Hospital in St. Charles, Illinois. A veterinary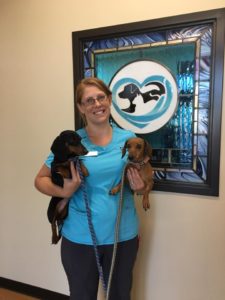 technician, or "vet tech," can do everything a veterinarian does other than diagnose, prescribe, or perform surgery.
"There's a lot that goes into being a technician on a daily basis," Rud says.
Vet techs prepare for surgeries – drawing up medications, administering injections and anesthesia, inserting catheters and breathing tubes, and hooking up pets to machines to monitor things like their oxygen levels, temperatures and heart rates. Then they make sure the pets are doing well during the operation.
In between surgeries, they also refill prescriptions, draw blood, administer vaccines, take X-rays, place follow-up calls to see how patients are doing, collect urine, distract pets with Fear Free techniques like offering tasty treats and toys during exams, and enter computer records.
The work can be physically and emotionally demanding, but Rud finds it rewarding, particularly since she moved to a Fear Free certified practice and became a certified professional herself.
"We just have to take a little more time with the pets and make them feel more comfortable for the appointments, so when they come back, they want to be here," she said. "They won't be afraid and worried and lashing out when they're here."
A certified veterinary technician has completed a two-year degree and passed a certification test. If they like, they can go on to specialize with additional study and testing.
Tricia Kaoihana, CVT, VTS (SAIM), studied to become a Veterinary Technician Specialist in small animal internal medicine (as you can see by the acronyms that follow her name). She has over 18 years of experience as a technician and is the hospital services manager for Fear Free certified Wheat Ridge Animal Hospital in Wheat Ridge, Colorado (where she's also a certified Fear Free professional).
"On the first day of school, they said, 'If you're looking to make a lot of money and you're looking for an easy job, you should probably leave,'" she recalled. "I took that to heart. They said, 'This is a job where you definitely have to have a passion for it,' and I did. I remembered that throughout my career. It is hard on some days, but the satisfaction of watching a dog come in in a critical state and seeing them leave the building and go home to their family keeps me motivated."
Kaoihana enjoys working on a team and building relationships with pet owners. She said working in ER and specialty means seeing a lot of abuse and serious cases, which is obviously tough, but it's empowering to know how to respond in a crisis and help that pet.
"Technicians work side by side with the doctors to get all the information that they need to help find a diagnosis," she said.
She said Fear Free handling techniques help reduce pets' anxiety, as well as the treats used to distract them during procedures. That could mean squeezy cat food during a blood draw, or frozen baby food for dogs donating at the blood bank or having massage therapy.
While every day can vary dramatically, there's one constant for veterinary technicians, according to Kaoihana.
"That's a huge thing for the technicians: we want to do what's in the best interests for every patient that we see," she said. "We treat our patients like our own."
This article was reviewed/edited by board-certified veterinary behaviorist Dr. Kenneth Martin and/or veterinary technician specialist in behavior Debbie Martin, LVT.
Award-winning journalist Jen Reeder is former president of the Dog Writers Association of America.
Published October 13, 2020