Reading Time:
3
minutes
Outgoing. Confident. Friendly. Those three words size up Casey, my four-year-old orange tabby. I often say that Casey has yet to meet a stranger or feel as if he is in a strange place. But even though Casey assists me in our veterinarian-approved pet first aid/CPR classes and travels nicely inside his carrier on road trips, I wondered if he was therapy cat material.
We were on a mission to find out. Becoming a therapy cat team does not occur overnight – and certainly not without following protocols. We enrolled in a national therapy pet program called Love on a Leash.
First step was a required full physical examination and temperament testing of Casey by our veterinarian, Dr. Deb Charles at Casa Linda Animal Hospital in Dallas. As you can see by this photo and short video, Casey aced this step.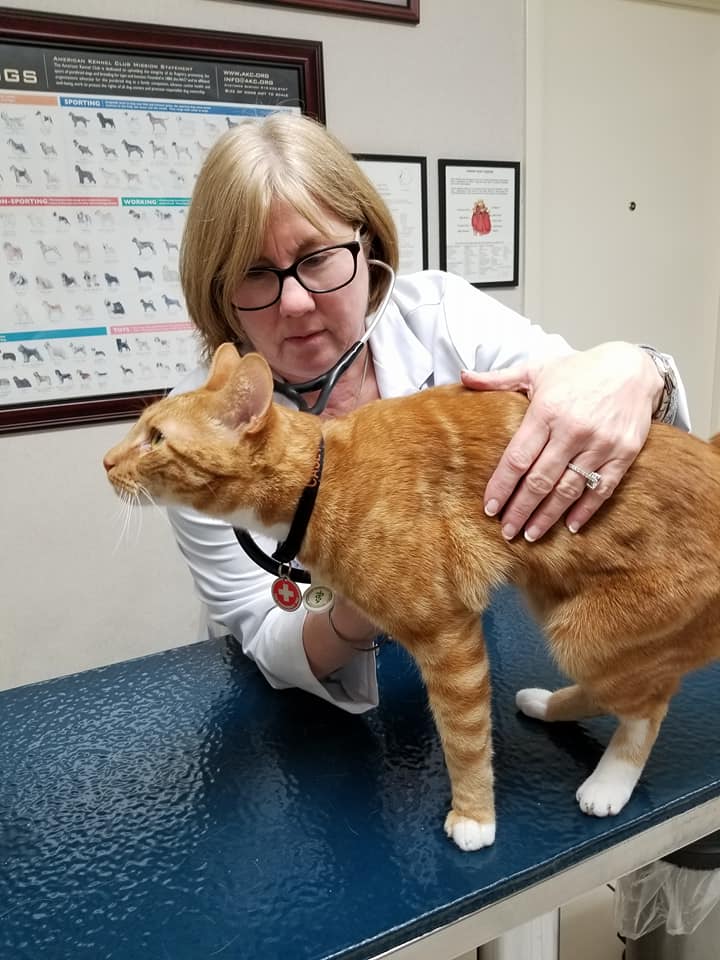 I worked with Peggy Gooch, leader of the LOAL chapter in Greenville, Texas, to find a place where Casey and I could conduct 10 one-hour weekly visits to meet the requirements to become a therapy pet team. We connected with Brookdale, a memory care center in Dallas that is home to about 50 residents. Sarah Wainscott, the center's program director, informed me during a phone conversation that many of the residents had pets prior to being admitted to the center and would enjoy interacting with a friendly pet.
The third step was to keep a promise I made to Casey – and one you need to make to your friendly feline. Even though you may be eager to spread joy to people, your cat may not. Therapy visits must be as pleasant for your cat as they are for you and the people you meet. I paid close attention to Casey's body language, vocalizations, and emotional state before, during, and after our visits to Brookdale.
Prior to each visit, Casey sat calmly as I fitted him in his harness. He then walked into his carrier. On the drive to Brookdale, I heard him purring and noticed his relaxed "meatloaf" position (lying down, relaxed, with his front paws tucked). He maintained a relaxed body posture each time I put him in a pet stroller and wheeled him into the center. He never displayed any signs of being stressed or agitated. His pupils never dilated. He never tensed his body. He never emitted any low growls or made any attempts to dash away or look for a hiding spot. He was always fully present and engaged with the Brookdale staff and residents that I now fondly call Casey's "Brookdale buddies."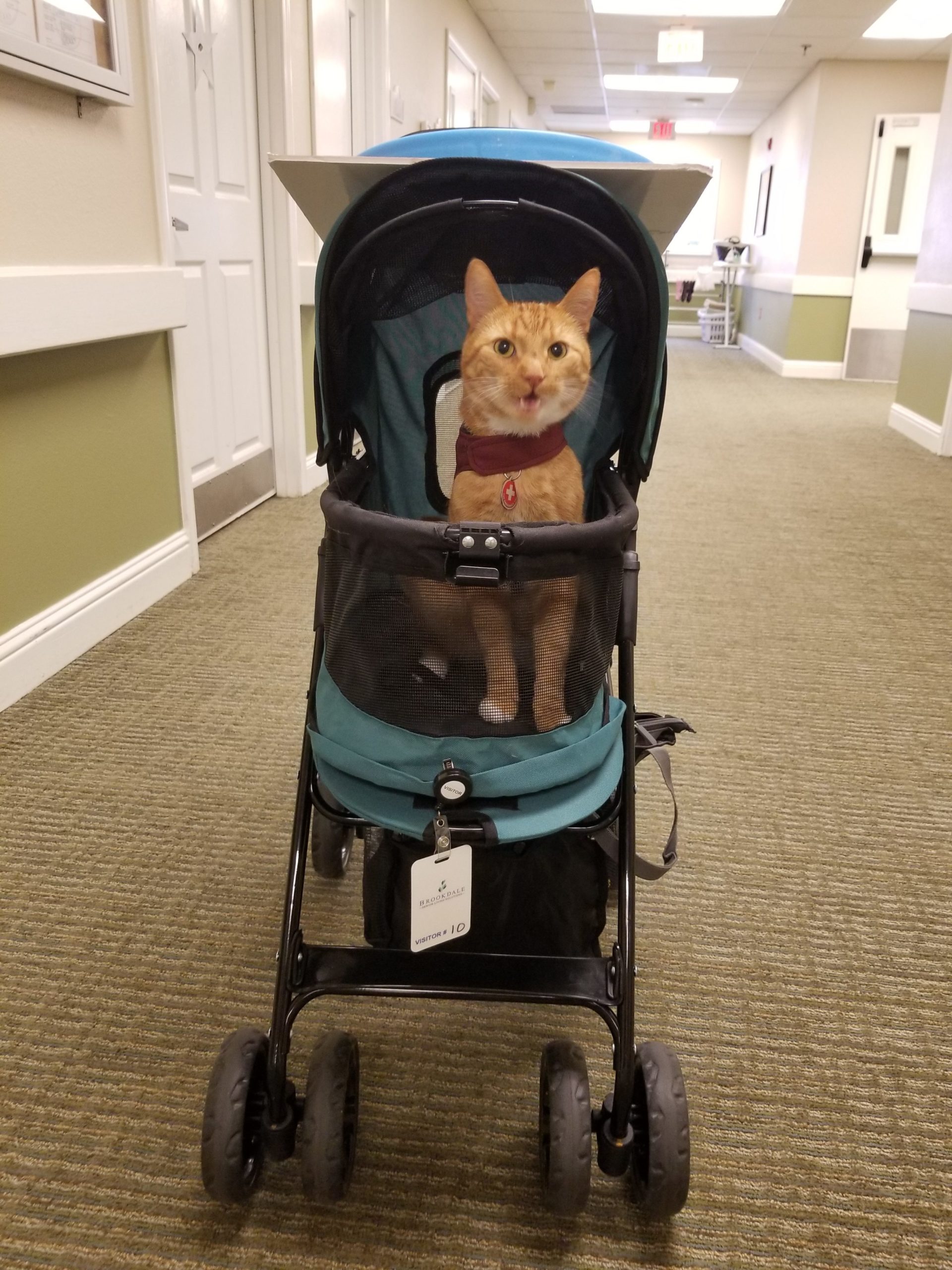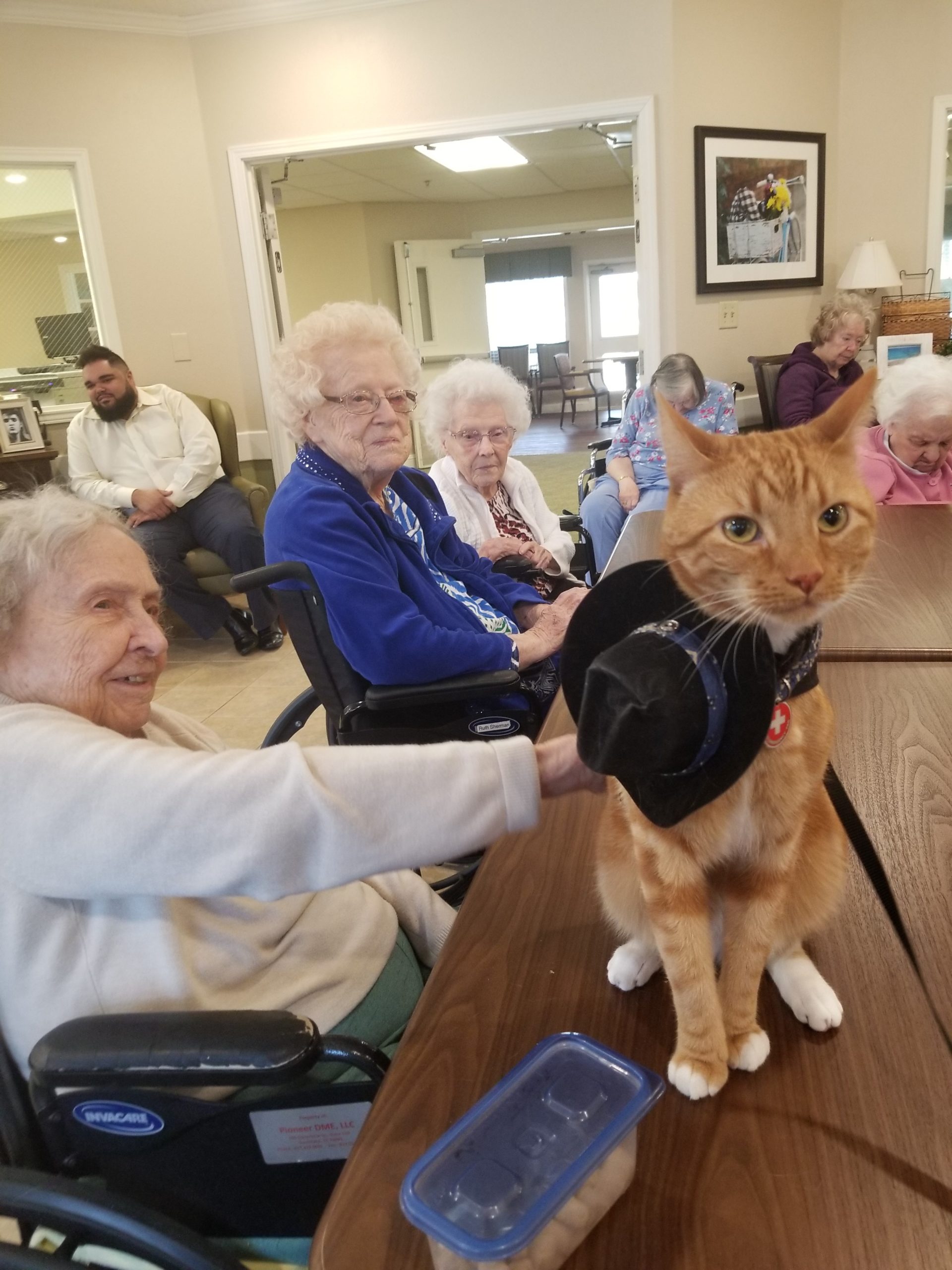 The majority of therapy pets are dogs, but the purr power of cats is also in demand. Therapy cats trigger fond memories for people in nursing homes, generate smiles in kids in hospitals, and deliver joy to people in other places where a furry goodwill ambassador is welcomed and wanted.
The best feline therapy candidates are cats who tolerate being handled not only by their human family members but also by others, including pet sitters, houseguests, and veterinarians and vet techs. These cats welcome having their paw pads pressed, being picked up and cradled, and they remain calm when harnessed and walked on a leash. It is always important to keep tabs on your cat to make sure being a therapy pet is an activity he continues to enjoy doing.
Do you think your cat has what it takes to be a therapy cat? To learn more about therapy pet guidelines, please check out two of the biggest national programs: Love on a Leash and Pet Partners.
This article was reviewed/edited by board-certified veterinary behaviorist Dr. Kenneth Martin and/or veterinary technician specialist in behavior Debbie Martin, LVT.
Published August 1, 2018