Reading Time:
5
minutes
Daphne Tanouye, VMD, had a successful house call practice in Maryland. Then the pandemic came.
"Over the summer we started seeing patients outside. For dogs, it worked out fine, they did well, but for cats it didn't really work," she says. "We did that for a few months, and I realized that the pandemic probably wasn't going anywhere any time soon, and a lot of my cat patients were falling behind on their annuals because we didn't have a safe way to see them."
So she bought a mobile exam room van. It was a big change and a big investment, but it has turned out much better than she expected.
"I did not expect to like the van. I bought it really reluctantly because I wanted to keep my practice going and be there for my clients," she says. "And I love it. I did not expect I would like it so much."
Angela West, DVM, also recently started a Fear Free mobile practice with her husband as her technician and business manager in the Park City, Utah, area. For her, the pandemic timing was coincidental – she had been dreaming of it for a decade, and last summer she sold her brick-and-mortar practice and bought a fully equipped mobile hospital.
"My husband has been in hospital administration for thirty years. He quit his job and we started the practice officially on October 1," she says. "We went through Fear Free training right before that. In my previous practice I wanted to go Fear Free, but my business partner wasn't interested, so as soon as I had the opportunity, my husband and I both went through the training."
Dr. West is enthusiastic about the combination, seeing many ways that mobile practice enhances the Fear Free experience for pet and owner. To start, there's no drive to the veterinarian's office. "A lot of people tell us that when they get their pet in the car – and that can be a thing in itself – by the time they get to veterinarian's office, not only is the pet about to climb the wall, but their anxiety is through the roof as well." So that stress is eliminated – and then, there's no waiting in a crowded waiting room, which can be like a war zone for a nervous pet and their person.
And West says she feels less pressured herself, which has a good effect on the animals. "One thing that Fear Free has taught us is to not be in a hurry. I have been doing this a long, long time, and I have found that in a clinical setting, you're always in a hurry. There are two exam rooms waiting, you've got a surgery on the table… hurry hurry hurry," she says. In her mobile practice, she's truly concentrating on one pet at a time – no multitasking, so no pressure to be in a rush. "I can say, 'Let's not push the animal.' "
One reason it's easy not to be in a rush is that her next patients are waiting comfortably in their own home. "Our clients are flexible. If we're running late, we shoot them a text and they're always fine." So she can reassure owners who are getting anxious when their pets require extra time. "I say I'm not in any hurry. And that's the beauty of it, of being mobile and Fear Free."
One different thing mobile veterinarians need to deal with is getting pets into the van, but neither West nor Tanouye have found it to be a big deal, even though during the pandemic their owners are not coming in with them.
"I go to the door and introduce myself, take a history, have lots of treats in my pockets, sit down on the ground and give them a lot of treats while taking the history," says West. "Most of the time, the owner walks their pet to the van, and the pet just jumps in."
Once again, the secret is not being in a rush. Tanouye says that if a dog is really nervous about getting into the van, her technician will simply take them for a quick walk as a kind of reset. "Then they come back and they get right in."
And once they're in, West says, again, the secret is simply not to rush. "We don't push them. We let them get in the van, we let them sniff around. The kitties jump on the counter and look out the window, and when we feel they've kind of gotten acquainted with their surroundings, then we start the exam."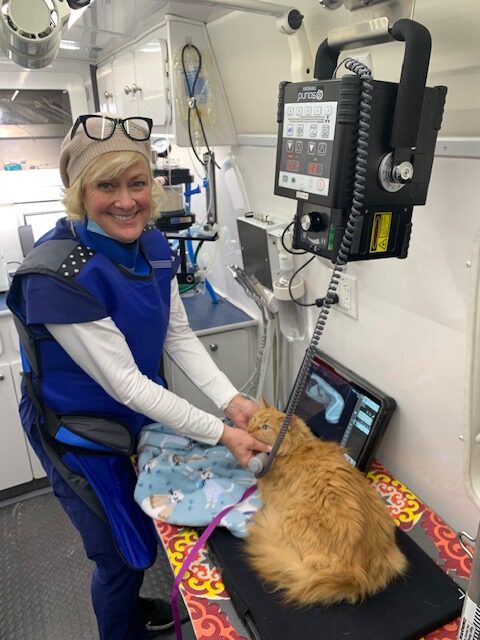 In fact, Tanouye has found that the van works better for some pets than house calls did. "We have a lot of dog patients – aggressive dogs – that we've had a really hard time with in the past who do so much better in the van."
But if they really don't want to get in? West says that's fine, too. "If they don't want to get in, we don't make them. I'll see them in the yard." She recalls one patient who'd recently moved to the area and was so fearful that it had been impossible to take him to the vet's office in the past. "We went and met him in his yard," she says. "He didn't want to go in the van, so we didn't push him, we weren't going to drag him in and make him fearful. So I used a little bit of slight sedation, and x-rayed him right in the front yard. His mom just couldn't believe it. She was so happy that he didn't have a bad experience."
West says she gets a huge amount of positive feedback from owners – and from pets as well. "We have a few pets with chronic conditions that we go back to see often, and they get excited when we drive up now," she says. "They know they're going to get treats and snuggles, so they actually get excited when they hear the big diesel roll into their driveway."
Tanouye's experience has been similar. "We've even seen some dogs during appointments with other patients who are out on walks and pass our van, and they recognize the van and start wagging their tails and want to come in for a visit."
Tanouye, reluctant at first, is a convert. "I think that I will still use the van long term," she says. "Overall, my patients seem happier. We're a lot more efficient; we don't have to carry everything in and back out." While she does miss the hominess of seeing pets in their own living space, there are other things she's happy to live without. "One thing we appreciate is that we usually do a fair number of cat appointments in bathrooms – because if they weren't already in the bathroom they'd run away," she says. "I do not miss seeing appointments in people's bathrooms."
And when West talks about it, she makes it sound like a dream.
"I love the freedom of being on the road," she says. "We fight over who gets to drive the van, it's just so much fun to drive."
This article was reviewed/edited by board-certified veterinary behaviorist Dr. Kenneth Martin and/or veterinary technician specialist in behavior Debbie Martin, LVT.
Linda Lombardi writes about the animals that share our planet and our homes for magazines including The Bark, websites including National Geographic and Mongabay.com, and for the Associated Press. Her most recent book, co-authored with Deirdre Franklin, is The Pit Bull Life: A Dog Lover's Companion.
Published August 2, 2021