Reading Time:
4
minutes
Whether you compete in a particular discipline or trail ride, horse soccer, also called pushball or hoofball, is a great way to have fun with your horse and your friends.
Even better, it's a sport for everyone. The riders in my group range from 20 to 70 years old. I ride my Icelandic, and other team members include a Bureau of Land Management Mustang, Thoroughbred, Haflinger, Paint, and several Quarter Horses. The big horses don't intimidate my little guy.
Why Play Horse Soccer?
Our first soccer player was training her Mustang and found that it was fun to use the ball while practicing the turn on the forehand and other moves. The Mustang's attitude improved, as did her bond with him. She was hooked, and the rest of us soon joined her. Our practice sessions range from three to ten riders at a session.
I've been riding for almost 25 years, but I have few formal lessons under my belt. Since we started playing soccer, I find I am using my hands and legs better and my horse is more responsive. He is more flexible, and my balance has improved. Better yet, we are both having fun! Endless drills or rigid training can become a mechanical or even boring routine. Soccer gets us out of that rut. Ari and I enjoy just pushing the ball around the arena by ourselves when we aren't able to get together with our group.
Safety First: The Rules
You can find rules for equine soccer online. Here are the basics:
Each team is made up of three players: one goalie and two linesmen. As you become more advanced, you might want to increase the number of players.
The arena is about 60 feet by 100 feet, but you can adapt to bigger or smaller areas. We use traffic cones for goal posts and place them 15 to 20 feet apart at each end of the arena.
A referee keeps time, about 10 minutes per half.
Two teams face off and try to score by pushing a 40-inch inflated ball. Only two horses are allowed on the ball at once and they must be at a walk (some rules allow trotting).
No crops or whips are allowed.
Only the horses can touch the ball. Horses push the ball with their front legs or their noses. Some also do what's called "back-em" where the horse pushes the ball away with his rear or kicks it with his hind legs. (The Mustang loved this part!)
If a horse is anxious, the rider moves off the ball and lets a teammate take over. If a horse acts aggressively, the rider removes him from play and takes a break or does circling exercises. We do lots of practice drills where the horses push the ball toward one another or ride side by side. Weaving exercises also get them used to being in proximity without getting pushy.
Introducing Your Horse to the Soccer Ball
With the proper introduction, your horse will quickly learn to enjoy playing soccer. My horse Ari was fearless from the start, but I have seen a variety of reactions.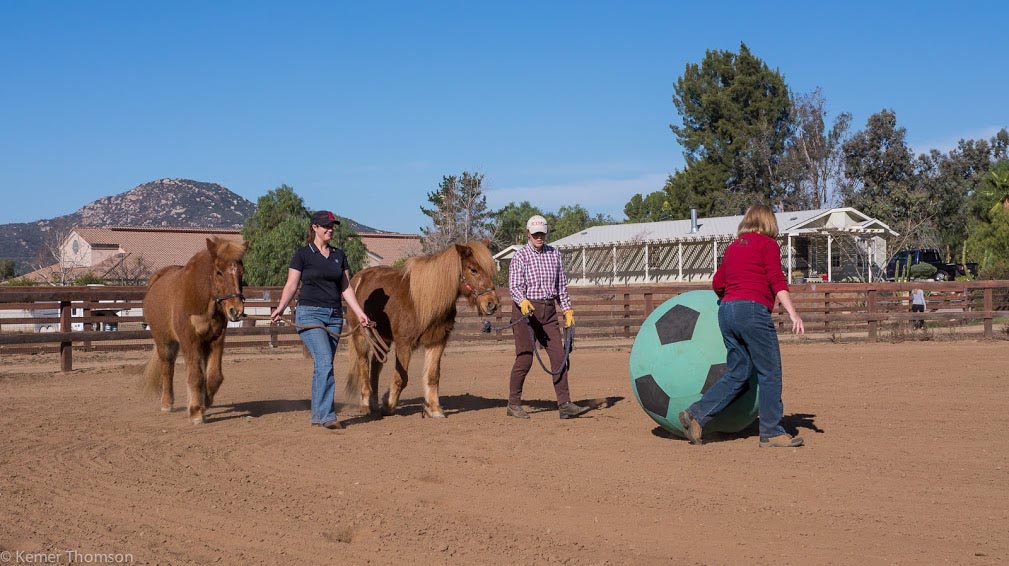 Begin by leading the horse from the ground while a helper ahead pushes the ball away from your horse. Choose a distance that your horse is comfortable with; we started at about 30 feet. A ball moving away is not as threatening as one coming at him. If you are having trouble reading your horse's response, download the Fear Free handout on how to recognize fear, anxiety, and stress in your horse at https://www.fearfreehappyhomes.com/how-to-recognize-your-horses-fas/.
As your horse gets comfortable or seems curious, close the gap. Let him follow the ball at his own speed. If he displays signs of fear, turn him away and start over further back. Keep doing this until your horse approaches the ball on his own. Other horses near the ball may encourage him to investigate. Don't force him; you want this to be a positive experience. If he comes up to the ball and touches it with his nose, this might be enough for the first day.
If he won't go all the way up to the ball, quit when he reaches a spot where he's still comfortable. This is a lot of mental work, so your horse may tire quickly.
The real breakthrough comes when the horse bumps the ball with his nose or lifts his knee and accidentally makes the ball move. Praise him to the skies! In later sessions, when he's comfortable with the ball, we bounce it or roll it against his legs, sides, and rear.
Every week, our riders laugh, yell, and pump the air with our fists like a bunch of rowdy kids. Regardless of what equine sport or activity you participate in, soccer can be a fun break from serious training or reason enough to enjoy time with your horse.
This article was reviewed/edited by board-certified veterinary behaviorist Dr. Kenneth Martin and/or veterinary technician specialist in behavior Debbie Martin, LVT.
Terry Albert is an award-winning writer and pet portrait artist in Bear Valley Springs, California. She has been active in rescuing homeless dogs for more than 20 years and has served on the board of directors for several nonprofit organizations.
Want to stay in the loop on the latest and greatest in keeping your pet happy and healthy? Sign up for our free newsletter by clicking here!
Published June 12, 2023