Reading Time:
7
minutes
So many moments during my trip to the Ukrainian border will never stop playing in my mind. In one of the best, I'm sitting on the hard-dirt ground, surrounded by every make and model of dog: puppy to senior, purse-size to mega-mutt, hippie longhairs to Marine Corps "high-and-tights," solid white/brown/black canines to Jackson Pollock-painted pups, long-legged to low-riders, dogs stretched long like taffy to compact ones who looked as if they'd hit a brick wall doing 70 mph.
Puppies jumped in my lap and gave me kisses. Other dogs ran round and round me like tetherballs on legs. Once I cleared the hurdle of social dogs demanding attention, I looked toward the kennels surrounding the play yards. Dogs tucked into the deepest recesses of doghouses peered out shyly.
I was at Sava's Safe Haven, a rural dog shelter in southeastern Romania near a town called Galati (pronounced Ga-Latz), and I was touring it as a board member of the US-based World Vets (www.worldvets.org), a representative of the organization I founded, Fear Free (fearfreepets.com), and as an unofficial representative of the American Veterinary Medical Foundation (avmf.org). I had traveled to Romania and Moldova to see how we could join global efforts to help pets and their people fleeing the violence and destruction brought upon Ukrainians by the horrific and senseless Russian attacks, and Sava's Safe Haven was my first stop.
As I reveled in the presence of the dogs, I was inspired to toss double-handfuls of Romanian-made dog biscuits high into the air to shower down into the play area.
Almost instantly, I discovered what it was like to be a rock star. I was transported back to the Ed Sullivan Show on Feb 9, 1964, where I was the lead singer of the Beagles singing, "You Want To Lick My Hand!" At least 50 wildly excited fans, er, dogs became attracted to me like metal filings to a magnet. Sure, it was cheating, but I'd never been more popular with the canine set. I was so loved I felt like "Dog Juan." One canine was so crazy excited, he decided to commemorate the event with graffiti on my back, delivered with a cocked leg.
Founded in 2012 by now-25-year-old Alexandra Sava and her mother Oana, and run with the help of father Gabriel, brother Adrian, and friends and volunteers, Sava's Safe Haven is a nongovernmental, nonprofit shelter operating on the belief "Every dog deserves a chance." The dogs who inspired it were Mickey and Bazooka, adopted from the streets by the Sava family. Sadly, they both contracted parvo, a serious, often fatal disease that is almost entirely preventable with vaccinations but expensive and difficult to treat. The Savas were able to afford treatment for only one of the dogs, so despite devoted home nursing of Mickey, only Bazooka survived. Alex recalls the day she came home from school and searched for Mickey, only to be told by her tearful family that Mickey had "gone to a better world."
In Mickey's memory, Sava's Safe Haven, built by Gabriel and Adrian and funded through donations, houses dogs rescued off the street or removed from abusive situations, dogs dropped off outside their gates at night, and now dogs brought by people fleeing the horrors of the Russian war in Ukraine. The organization offers essential veterinary care, pet food, and supplies (both for pets and people) for those in need.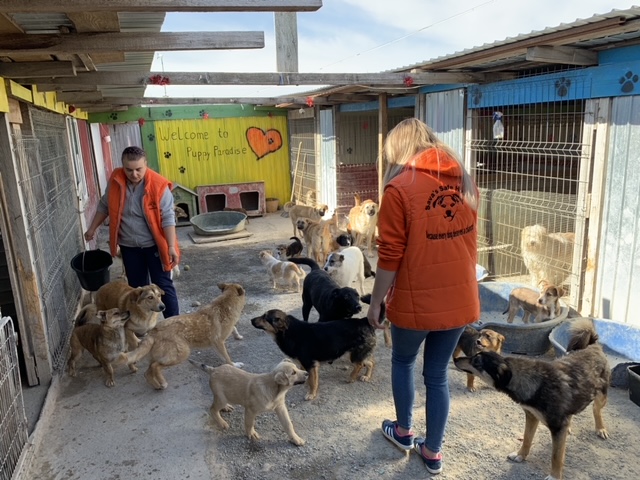 The shelter provides safe, insulated housing and three spacious playgrounds for 300 dogs (because of the war in Ukraine they are about 50 dogs over their normal capacity of 250 dogs), a comfy indoor shelter for about 20 cats, a small veterinary clinic, a surgery recovery area, an isolation room (dogs coming from Ukraine must be quarantined for 21 days because of the risk of rabies), a grooming salon, and storage for pet food and supplies.
What Sava's Safe Haven is not:
1. A modern building in a metropolitan area with rows of dog runs, multiple banks of stainless-steel cages, special rooms for meet-and-greets between shelter pets and potential adoptive families, employee break rooms, central heating, and air conditioning. The entire shelter was built by the Sava family members, mostly with their own funds (father Gabriel is a truck driver, brother Adrian is in the Romanian Navy, and Alex (as she prefers to be called) works as a veterinary technician).
2. A facility with many paid staff and volunteers. Sava is run by the four family members, with help from some supporters in Germany and England who visit at least yearly to help.
3. An organization with sophisticated ways of raising money. Alex is a one-woman band: Overseeing the daily routines, ordering drugs/food, managing the web site, answering correspondence (mail, emails, texts), writing grants or entering contests to raise money or donations, picking up dogs from the community or at the Ukrainian border, and delivering food/medicines/supplies to be taken back across the border into Ukraine where it's needed even more.
4. Supported by any government funds. Sava's Safe Haven is a nonprofit and 100 percent of its funds come from donations or from the Sava family members themselves.
But there are so many amazing things that Sava's Safe Haven is. Ten things stood out when I visited:
1) All the members of the Sava family know the names of all 300 dogs and 20 cats. Even Adrian's girlfriend, Flory, and Alex's husband-to-be (wedding this July 2), Dragos, work at the shelter at least part-time and also know the names.
2) You know what it's like when you arrive back home from a trip around the world or from the local grocery store and your dogs greet you like you're a movie star on the Oscars red carpet? All of the dogs were tail-whipping like furry fan-blades, excited to see the Sava family members.
3) From the time I arrived until I left three hours later, I didn't see or smell a single pile of poop.
4) The dogs and cats I saw were all at an ideal body weight.
5) All of the dogs/cats were vaccinated and routinely given parasite-control products (for fleas, ticks, heartworm, roundworms, tapeworms, etc.).
6) There were detailed medical records on all the pets. A veterinarian visits Sava weekly to spay/neuter pets that need it, and to check out and treat any medical issues. Veteran veterinarians like myself get really good at detecting problems with pets from just observing—limping, head held to one side because of an ear infection, licking paws because of pain, excessive scratching—and that was the healthiest herd of dogs I've ever seen!
7) All the dogs had play areas where they could exercise and interact with other dogs. In the three hours I was there, I saw only one minor dog fight and it was caused by a new dog who had recently arrived and was showing fear-based aggression.
8) The entire facility was what those of us in the veterinary, boarding, and grooming industries call odor-neutral. No malodors from feces or urine, or strong scents trying to cover up bad smells. Odor-neutral means one thing and that is clean.
9) They celebrate pets' birthdays and have communal celebrations at holidays such as Christmas when all the dogs and cats get presents (toys, treats, clothes, etc.)
10) No healthy dogs are ever euthanized.
In ten years, Sava's Safe Haven has placed over 5,000 dogs. That's one family-run no-kill shelter in a rural area of Romania.
Thanks to support from time to time from non-governmental organizations (NGOs) like World Vets for crisis situations (such as the 2019 COVID outbreak that caused the economy to stop in Romania, put people out of work, and made the feeding and care of pets difficult if not impossible; and more recently the Russian invasion of Ukraine that has caused displacement of millions of pets and people), but also from pet lovers from around the globe, just like you, Sava's keeps to their open-door, no-kill, "every dog deserves a chance," give-more-than-we-receive approach. Despite starting to run short of dog food themselves, I witnessed them sending 2.5 tons of dog food to the ferry crossing between Romania and Ukraine to feed Ukrainian pets (both in homes and in shelters). At least every other day, Sava's vehicle makes a run to the border bearing supplies and returns with pets and people in need.
Sava really needs a used van to transport pets and large loads of food. For the time being, they are often forced to use a personal vehicle, and you really can't safely transport two to four people and five to 15 dogs in a vehicle we'd call mid-size if rented at Hertz.
How did my visit end?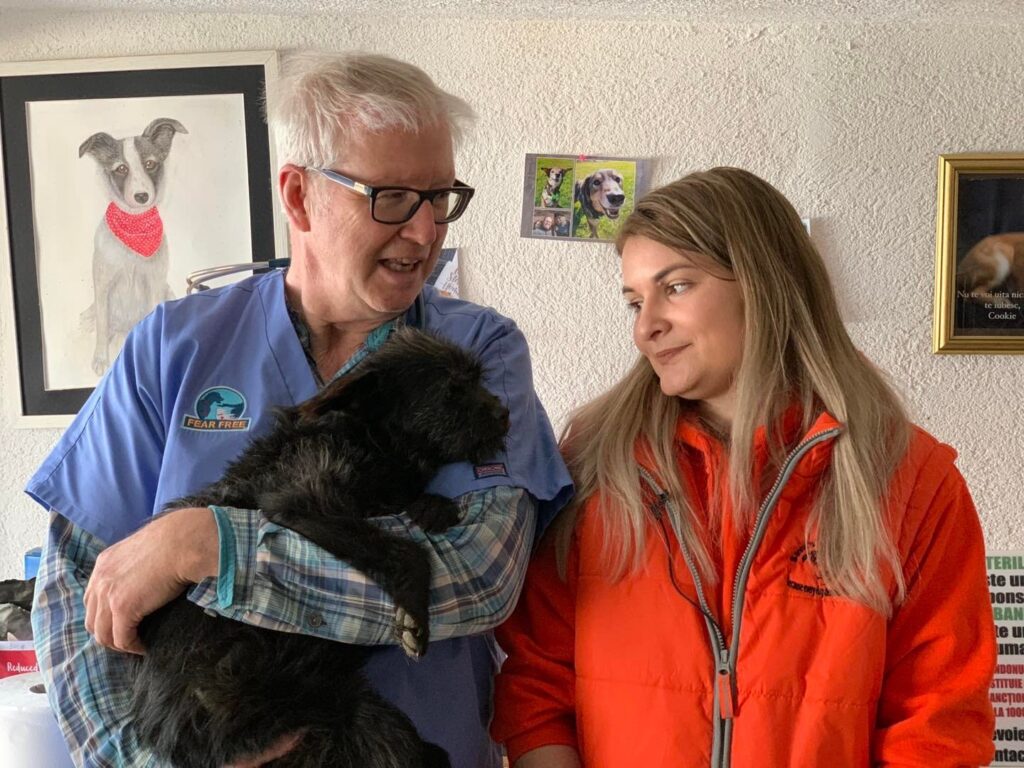 One of the dogs I met was a small, thin, middle-aged female with long black hair who leapt into my lap and stretched up to kiss me. A recent arrival and not yet named, she had the elongated teats I've witnessed in street dogs from Mexico to Mississippi, Bali to Bolivia: a telltale sign of being mama to multiple litters of hungry pups.
As Phyllis looked up and licked me (I gave her the temporary name on the spot as her wiry, spiked hair reminded me of Phyllis Diller's), I stroked the sides of her thin body struggling to build puppies on the starvation diet she'd had before being rescued just days before. We locked eyes. Uh oh. The look was unmistakable. I'm yours. You're mine. Til death do us part.
What about the promise I'd made my wife, Teresa, 72 hours earlier when I left home for Romania? The same promise both of us have made and broken during 45 years of marriage: I WON'T ADOPT ANOTHER PET. WE DON'T HAVE ROOM. IT WOULDN'T BE FAIR TO THE OTHER DOGS.
I'm going to try and fly back to Romania in four to six weeks and bring Phyllis home. She's on layaway. Shhhh. Don't tell Teresa. After all, I promised. Right?
In the meantime, picture me down on my knees begging for you to help Sava's Safe Haven to the extent that you can.
You can go on Sava's Safe Haven's website and donate directly. Or donate to WorldVets.org and ask that the donation go to help Sava's Safe Haven, and their efforts on the border to help pets and people fleeing Ukraine or staying behind fighting for their very lives.
While I've pleaded or petitioned you to give to some other great causes or pets in need in the past, this is my most urgent, most fervent ask ever.
We have a funding goal of $25,000. You can donate through the links below:
Sava's Safe Haven: https://cuddly.com/donate/4904113/ukrainian-animals
World Vets: https://worldvets.org/2022/03/helping-pets-from-ukraine/
This article was reviewed/edited by board-certified veterinary behaviorist Dr. Kenneth Martin and/or veterinary technician specialist in behavior Debbie Martin, LVT.
Dr. Marty Becker is founder of the Fear Free organization and author of many best-selling pet care books. He is chief veterinary correspondent for the American Humane Association, and a member of the AHA board of directors. His special fondness for older pets has led him to a spot on the board of directors of The Grey Muzzle Organization, which is dedicated to helping homeless senior dogs.
Published April 26, 2022