Reading Time:
4
minutes
Watching mothers teaching their puppies lessons that would hold their value for the life of those little dogs greatly informed my understanding of how to train dogs. The mom, or dam, not only nourishes her puppies, not only keeps them clean and safe, but as they get up onto their feet, as they interact with her and each other, she teaches them how to play, how to have good manners, and how to respect their elders. Her teaching is spare and beautiful, never unclear, never too weak or too harsh, and always what a particular puppy needs at a particular moment.
In a way, each litter has two moms, their dog mom who teaches them how to be dogs and their human mom or dad, the breeder, who makes sure each newborn is viable, can breathe, can nurse, will thrive. The care each gives each puppy and the lessons each teaches form a foundation for those of us lucky enough to take a new puppy home.
Last year, when I was looking for an English Shepherd puppy, I knew it was important to find a thoughtful, careful breeder, someone who would not only match the sire and dam carefully but who would give the puppies the care and experience that would make their transition to a new home as smooth as possible. I was fortunate to have been told about Chris Turcotte, who was planning a litter, and asked to be put on her puppy list.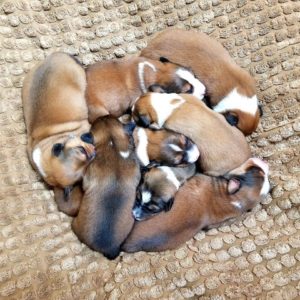 Soon after the excitement of the birth of the puppies, Chris began sending photos and videos so those of us waiting for a pup could see their progress. As the puppies grew and became more active, they were moved from the whelping box to a larger space. Even early on, Chris provided newspaper in one corner so they would start to keep their bed clean. They moved again when they were about a month old, to a huge, safe area in the garage with crates for sleeping, a potty area with pine pellets, and lots of toys. During the day they were outdoors in a big shaded pen with toys, tunnels, steps, and slides.
"Daily handling is crucial," Chris told me. Introducing new faces, places, and experiences helps the pups become accepting of change, which is helpful when they move to a new home. Chris had lots of visitors in to interact with the puppies, she took them for rides in the car, as a group and then solo, and they had slept in crates, several bunched in together and then each on his own. She asked me what kind of crate I used, plastic or wire, so my puppy would be comfortable his very first night at home.
Though Chris didn't teach any formal cues, there were many videos of her calling "pup pup pup" where the little dogs went running to her and others where they would sit and wait for dinner or a treat. They were already learning that words had meanings and that doing what was asked had rewards.
Chris and I both studied the litter and wrote back and forth. Since my puppy would be trained to be my service dog, she knew I needed a dog who was confident but not so full of himself that he wouldn't listen. Service dogs need to sometimes tell their partners what to do, but they need to be laid back enough to lie quietly in a restaurant or wait patiently at a doctor visit. Above all, they need to be able to focus on their person carefully enough so they pick up even subtle changes that mean their help is needed.
While Chris did a formal temperament test and a prey drive test at seven weeks, she told me that "living with growing puppies for two months gives me much more information than a 15-minute test."
In the end, from Chris' closeup observations and my long-distance ones, we decided on the same puppy for me. Because he had already met a variety of people, had time with his litter and by himself, got steps to climb and toys to play with, got to run as fast as he could to Chris when she called him, had a caring breeder and a wonderful dam, the little dog first named Rusty and then Ziggy came to be confident and happy in his new life, curious and comfortable on our city walks, unfazed by passing traffic, happy to meet new people and dogs. He is, it turned out, a born comedian like his dad, a serious worker like others of his breed, and a handsome, attentive companion like his beautiful mother. A good start in life gives a puppy an easier transition to his forever family and a jump start to a future as a happy, well-trained best friend.
This article was reviewed/edited by board-certified veterinary behaviorist Dr. Kenneth Martin and/or veterinary technician specialist in behavior Debbie Martin, LVT.
Carol Lea Benjamin is a noted dog trainer, who, in 2002, was elected to The International Association of Canine Professionals Hall of Fame for "a lifetime of dedication to dogs and their training." She is the author of numerous award-winning books on dog behavior as well as the Shamus Award-winning Rachel Alexander and Dash mystery series. Benjamin lives in New York City with her two dogs, Sky, a Border Collie, and Ziggy, an English Shepherd.
Published May 25, 2020