Reading Time:
5
minutes
Doggie daycare facilities and pet hotels across America have become more than just a place to drop off your fur kid if you're traveling or don't want them home alone, anxiously awaiting your return.
Every morning, a bright yellow van with the words Pet Camp Express emblazoned on the side crisscrosses the streets of San Francisco, stopping at private homes and offices picking up dogs, their tails wagging in excited anticipation to board the bus and get strapped in, knowing there's a day of nonstop fun and games ahead that will render them truly dog-tired when it's time to head home.
Pet Camp's senior counselor Mark Klaiman opened the San Francisco pet resort 25 years ago. Over time, he has seen how the human-animal bond has been enhanced and how it plays out every day, as more pet parents understand that their pet needs more than just company; they need daily enrichment too. He's learned a lot about his canine guests, and how they need to be challenged in different ways. And, most importantly, that not all dogs do well in group play settings.
Pet Camp offers three very different play areas. The Savannah is outdoor terrain with rocks and trees, where dogs can roll around and get muddy. (Yes, they are showered off at the end of play.) The Prairie and the Meadow are turf playgrounds beneath a retractable roof so campers get fresh air and sunshine and are protected when it rains.
Group play in these areas is divided by dog size and socialization skills.
"It's such fun to see them play," says Klaiman. "Some dogs like to play with everyone while others like to seek out a special playmate. They certainly form friendships here."
Kaiju, a one-and-a-half-year-old mixed breed with Shar-Pei and Staffordshire Terrier ancestry, is one lucky dog. He gets to go to camp once a week to burn off extra energy and socialize with doggy friends. His pet parents, Maegan Cowan and Matt Nodurfth, both work from home, so he's never alone, but they feel he benefits from the play and interaction doggie camp has to offer.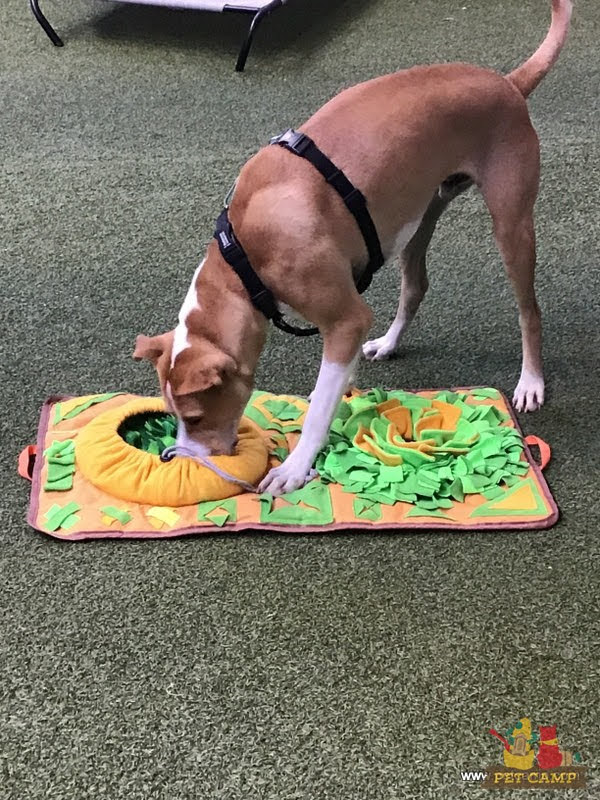 "He particularly loves games of tug or flirt pole," Cowan says. "He's also very food-motivated and enjoys games that involve earning treats. Because he's so high-energy and can get over-excited, having staff that understand him and know how to work him is invaluable and we know he's in safe hands when he's there. He's stayed overnight too."
Pet Camp's staff includes a special canine enrichment team of seven counselors who work exclusively with dogs who are not in group play. Pet parents can sign their pooch up for an agility class, one-on-one training, or special enrichment activities.
Because the location is in the heart of cosmopolitan San Francisco, Klaiman describes Pet Camp as an urban center and says it's much harder being an urban dog than many people realize.
Consequently, he is currently building a new facility to be called the Canine Enrichment Center scheduled to open next year, to specialize in dealing with the needs of the urban hound, such as coping with traffic noise and desensitization to the sounds of sirens, skateboards, or scooters whizzing by. Other sessions will focus on giving them the life skills to cope so they are less anxious and or scared in their daily environment. Campers will be bused to this establishment for classes and then taken back to camp.
When It's Time for ZZZZs
The boarding section offers different sized suites to accommodate doggie families. The floor area is a special rubber and has underfloor heating. Music plays all day throughout the location and there are different playlists for the quiet evening hours, which are staffed 24/7. Klaiman says that apart from the occasion bark, the dogs settle quickly to sleep.
"There's never stress signals such as pawing or whimpering at bedtime. They simply bed down to catch up on their zzzz's so that they are ready to go full speed again the next day," he says.
Taking Care of Cats Too
Across town in the Presidio district, Klaiman runs a feline camp called Cat Safari. Enrichment is the focus for cats boarding here.
Klaiman says that sadly, too many cats are left alone with food and water if their pet parents are gone for a day or two. And many don't benefit from daily enrichment play.
"Cats are given the treatment dogs were previously given a generation ago," he says. "But thankfully, this is beginning to change. Cats are not as aloof as some people like to think. They also need to be enriched and stimulated on a daily basis, and the goal at Cat Safari is to offer activities that use their basic instincts to help ease any anxiety they may feel while they are away from home."
The main focus of Cat Safari is a tropical solarium filled with bamboo and walkways and places to climb and explore as natural light refracts through the greenery and the aquarium towers filled with colorful fish. Feline guests get alone time here or get to play with their house mates if there's a feline family staying together.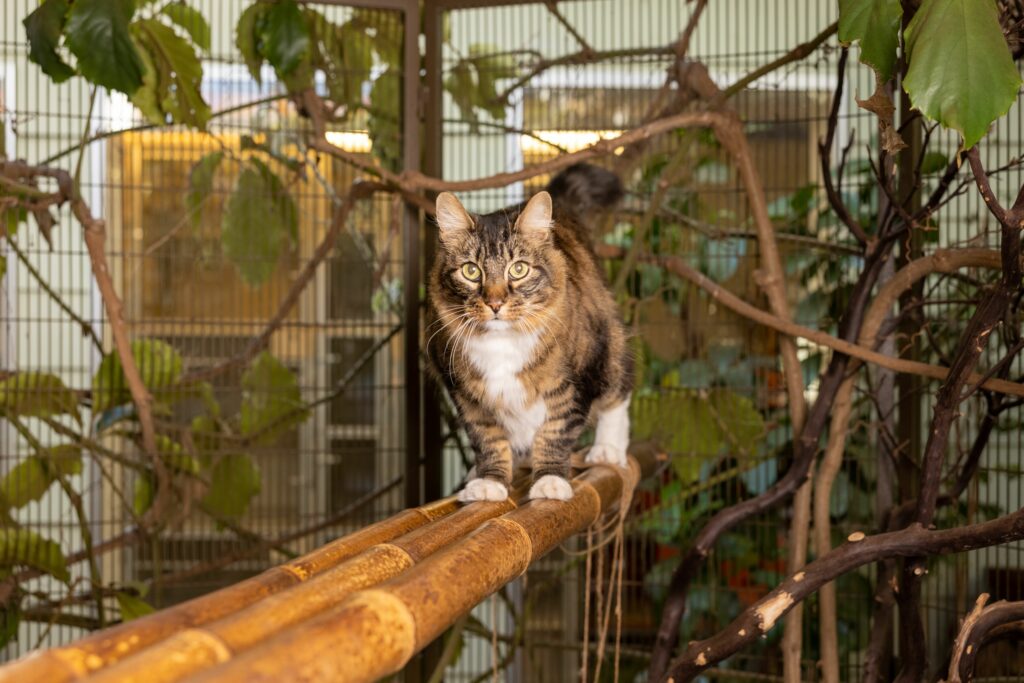 Painting classes are another popular feline activity. The cat is presented with an iPad with an onscreen mouse to pounce on and bat about. These actions simultaneously create a fun artistic design. A camp counselor will then print it and frame it for kitty to take home. Neighborhood strolls in a secure cat stroller add focus to a day.
The Home Backyard
Stephanie Marshall's Dog Ranch Bed & Biscuit in Laguna Beach, California, offers canine daycare and sleepover guests a backyard environment that's designed to be a home away from home–with some extras. A commercial grade misting system keeps play areas cool on hot days. Dog pools are salt water so canine guests aren't exposed to harmful pool chemicals. All the water the dogs drink and are bathed in has passed through a carbon filtration system to ensure it has a refreshing taste and doesn't cause skin irritation.
While Marshall's establishment doesn't offer training, pet parents can request a massage therapy session, reiki, and PEMF therapy (pulsed electromagnetic field), a non-invasive healing treatment designed reduce inflammation and pain. The treatments are given by off-site professionals who come specially to the Ranch to provide their services.
Dogs sleep in glassed-in private areas with piped music and aromatherapy scents to ensure a restful night. Pet parents can request their dog gets a nighttime treat such as bully stick or pork chew, the doggie version of a bedtime story.
Questions and Answers
While establishments around the country may have frivolous and fun names such as Wags and Wiggles, Mo'Tail and Spaw, or Hydrant Pet Hotel, they are strict with regard to medical vaccinations and general health records. And they ask a lot of questions about a pooch's general demeanor and behaviors too.
"Yes, daycare can be fantastic and a great way to enrich a dog's life if the dog enjoys the activities and the staff is well trained," says veterinary behaviorist Lisa Radosta, DVM, DACVB, of Florida Veterinary Behavior Service in Palm Beach, Florida, and coauthor of From Fearful to Fear Free, the Ultimate Guide for Fearful Dogs.
She warns, though, that the environments can be stressful for dogs with undiagnosed behavior problems such as aggression toward other dogs.
Consequently, signing a pet up for daycare or boarding is no different than enrolling a child in a playgroup or kindergarten. Wanting such care for a pet is understandable, but pet parents also must be honest about their pet's behaviors and do their homework to ensure they are sending their pet to a place where they will thrive, such as a facility with Fear Free boarding and daycare certification.
This article was reviewed/edited by board-certified veterinary behaviorist Dr. Kenneth Martin and/or veterinary technician specialist in behavior Debbie Martin, LVT.
Sandy Robins is an award-winning pet lifestyle journalist and author of For the Love of Cats, Fabulous Felines: Health and Beauty Secrets for the Pampered Cat, The Original Cat Bible, and Making the Most of All Nine Lives: The Extraordinary Life of Buffy The Cat.
Published August 8, 2022