Reading Time:
4
minutes
When Robert Hampton recently moved into the Brookdale Memory Care Center in Dallas, his wife, Marilyn, knew exactly what he needed to boost his spirits and to encourage him to be social with other residents.
She brought in four friendly cats from a local pet rescue group into her husband's room and said, "Pick one."
He did – a sweet, talkative gray-striped tabby named Sarah, who often is the first to greet any visitors to his room.
A few miles away at the Lakeland Hills Senior Living Center, a retirement community, Jim Clark is also happily sharing his one-bedroom unit with a gray tabby named Melissa.
"She is the lady of the house," he declares. "She is such good company for me. We communicate well with each other."
Rosie Picaso is about to move into Lakeland Hills with a special roomie – Little Girl, her 7-year-old Siamese cat.
"I love, love, love this cat," says Picaso. "She is my best friend. My home is too much for me to take care of, so I am looking forward to moving here with Little Girl."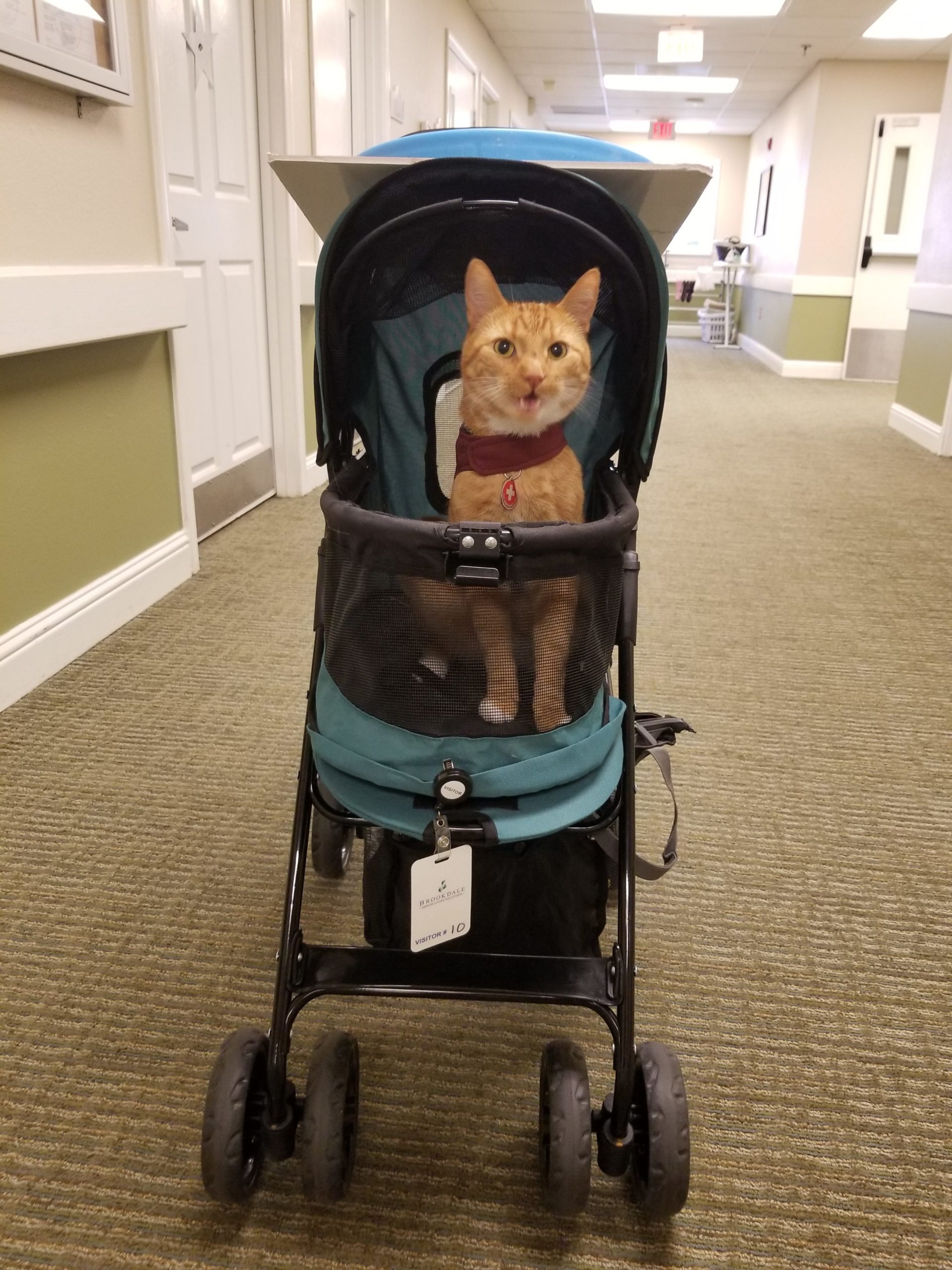 Mia Miller has had dogs all her life until she retired to Lakeland Hills. When she spotted the arrival of a therapy dog named Kona, she reached out her arms to coax Kona over for a friendly hug. As she stroked Kona's chest and pet her ears, Miller talked about her favorite dog named Boo, a large mixed breed who always sported a ready grin when she was around.
"I just love dogs," says Miller. "Always have and always will."
Never underestimate the power of pets to any one of any age or living situation.
"Animals bring out something wonderful in our residents – and our staff," says Jennifer Hinckley, executive director of the Brookdale memory care center.
Hinckley says well-mannered cats and dogs are welcomed to live with residents and therapy pet visits are always popular events for residents who no longer are able to care for their own pets.
"Pets give them a reason to get up and they give them a sense of responsibility," she notes.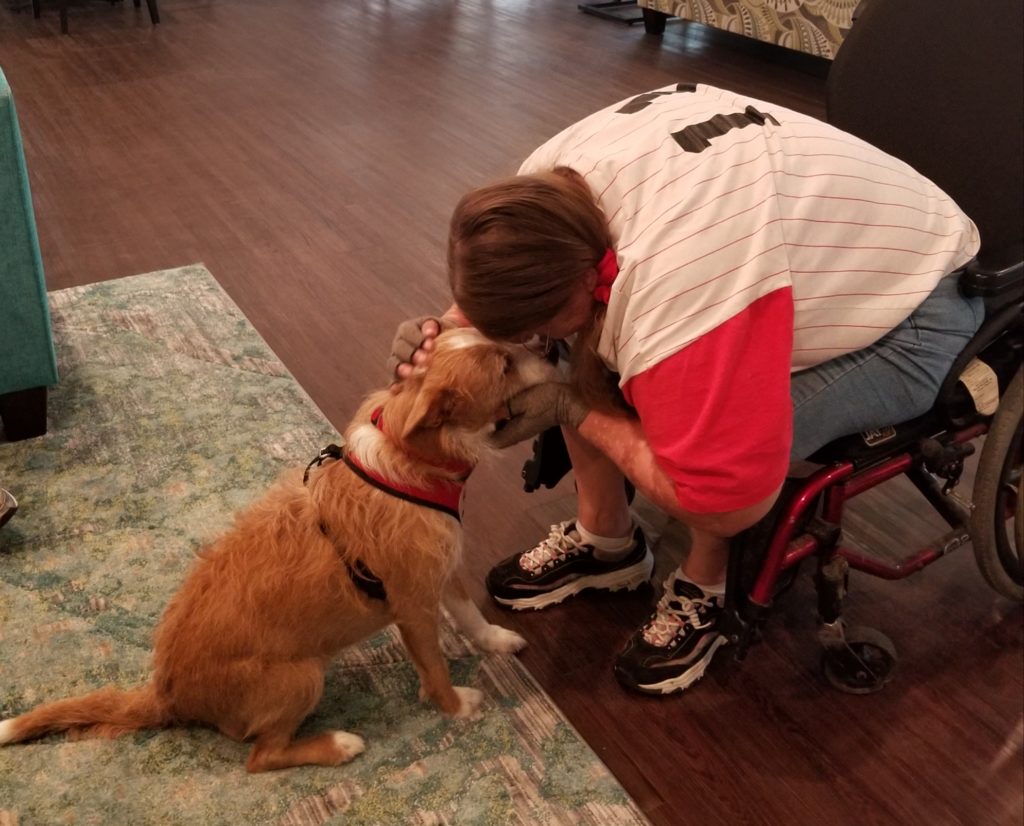 Hinckley, a lifelong animal lover, adopted a toy Australian Shepherd named Lucy, who is now roaming the Brookdale halls as the center's canine mascot. Each night, the now-five-month-old Lucy gets to go home with one of the many pet-loving staffers. Each morning, she returns to meet and greet the Brookdale residents.
"One of our residents tends to mumble and speak gibberish – that is, until the day she saw Lucy," says Hinckley. "She and Lucy are now fast friends. The other day in a very clear voice, she said, 'Come on, Lucy. I know you're following me. Let's go.' It was wonderful to hear and to see."
Sarah Wainscott, program director at the Brookdale center, adds, "Everyone here has had a pet or more in their past it seems. Remembering the past is so important for people with dementia. The disease seems to first impact short-term memory, but some here still have long-term memory, including fond memories of childhood pets."
Steve Teisch, DVM, a house-call veterinarian in Palm Beach County, Florida, treats cats, dogs and other companion animals in houses, condos, apartments and yes, in assisted living centers that permit pets to be with residents.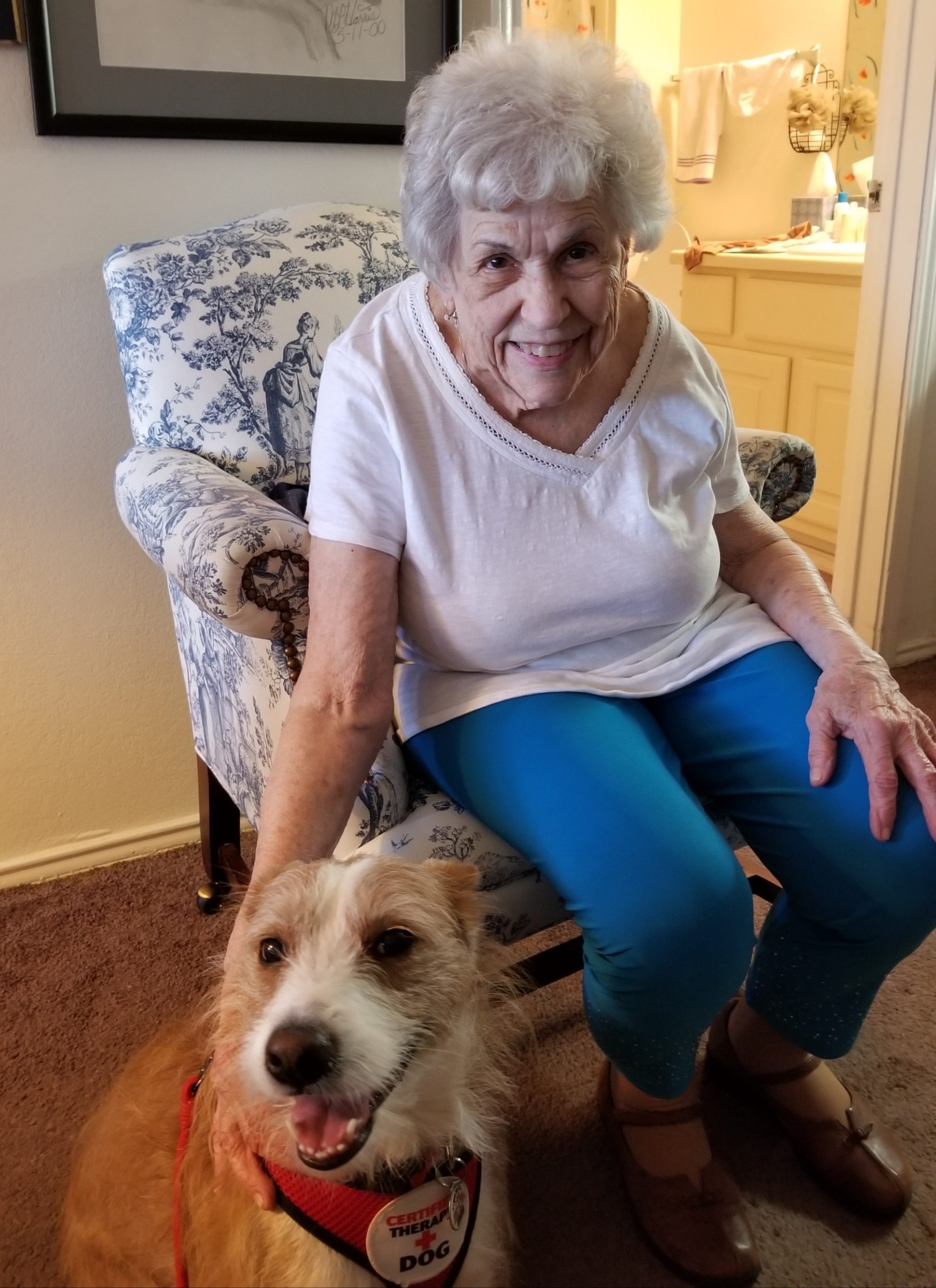 "It is the residents' responsibility to keep their pets up-to-date on their needed vaccinations and veterinary care," says Dr. Teisch, who operates All About Town Pets. "I laugh because sometimes when we enter the resident's home, the cat dashes under the bed and we need to coax out the cat with treats. During our visits, we answer health and behavior questions posed by the residents and make recommendations on food, grooming and other pet care issues. It is so nice to see pets at nursing homes and assisted living centers."
For residents who are not able to have pets due to a variety of reasons, they look forward to regular visits by certified therapy pets. Twice a month, I bring my therapy cat, Casey and therapy dog, Kona to visit the "Brookdale buddies" at this Dallas memory care center.
Awaiting us forming a circle in the recreational room are more than a dozen residents, including 84-year-old Peggy Palmer. Her face illuminates into a big smile when we enter with Kona on a loose leash and Casey riding a pet stroller.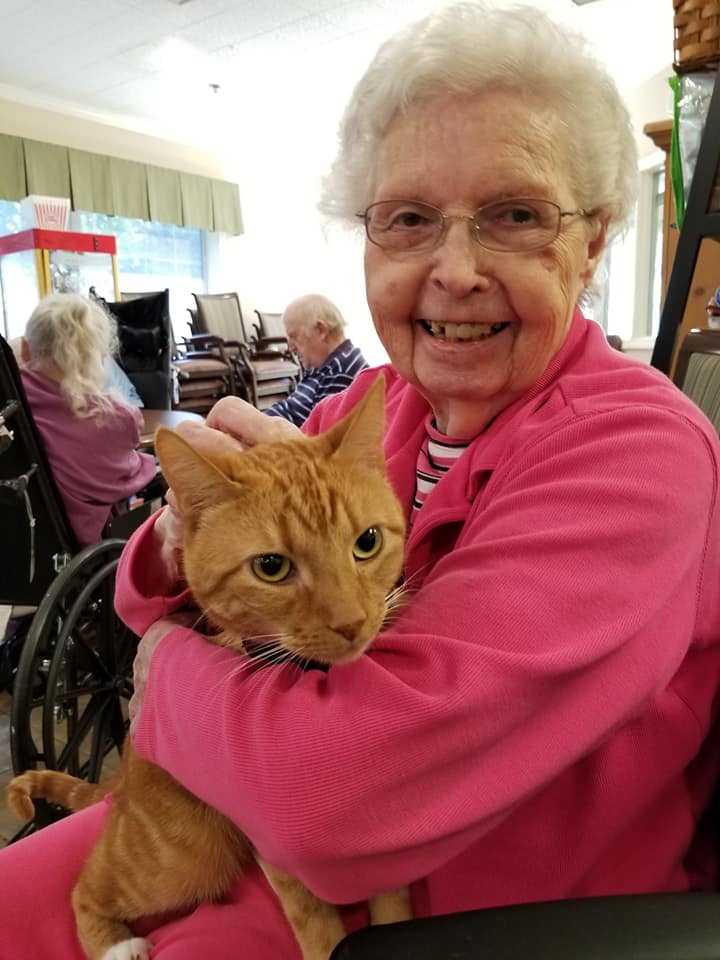 Palmer stretches out her arms and calls out, "Peggy loves Casey! Peggy loves Kona!"
During our visit, Kona and Casey perform tricks and welcome hugs and pets from the residents.
And even though this Brookdale center has a resident dog in Lucy, Wainscott says that the therapy pet visits rank among the most popular social activities among the residents.
"Pets are a universal source of happiness – I see that occur here every day," she says.
As for pets living in retirement or assisted living centers, they also enjoy perks. They get to live with their favorite people, feel safe inside a facility, and garner lots of attention from pet-loving staff and other residents.
"It's definitely a win-win for pets and the people living in these places," says Dr. Teisch. "These pets can get lots of enrichment and positive attention."
This article was reviewed/edited by board-certified veterinary behaviorist Dr. Kenneth Martin and/or veterinary technician specialist in behavior Debbie Martin, LVT.
Published October 29, 2018