Reading Time:
5
minutes
Raise your hand if you just finished or are in the midst of a major house renovation. Nod your head if your frustration and uncertainty during this ordeal sparked a spat or two with your spouse or made you want to scream out loud.
As stressful as these construction projects can be to us, imagine the toll they can take on our pets. Their levels of fear, stress, and anxiety can skyrocket due to the constant coming and going of crew members, the loud noises from construction tools, and the daily disruptions to their household routine.
And let's not overlook how our stress levels throughout this ordeal can affect our pets' emotional health, causing them to shiver, hide, have upset stomachs, or even try to bolt out doors left ajar.
But you and your pets can thrive during a major makeover. We–as in my wife, Julie, our five pets, and myself–are living proof. For the past year, we employed Fear Free techniques with our three dogs and two cats to keep them relatively happy, contented, and engaged during our full year of construction. Their emotional wellbeing and safety were as important to us as the major additions to our home in Dallas.
Master Plans
During the past year, we hired a construction company to expand our cramped 1,150-square-foot home into a spacious, more functional 1,600-square-foot home. To our two-bedroom, one-tiny-bathroom home, we added a spacious master bedroom, a walk-in closet, a master bathroom, a hallway, a new roof, central air conditioning and heating, and a roomy deck. We completely modernized the outdated kitchen and constructed a 200-square-foot tiny house in our backyard to serve as my office.
All of this was accomplished under the watchful eyes of dogs Bujeau, Cleo, and Kona and our indoor cats, Casey and Mikey.
Construction Prep For Pets
Major home renovations require budgeting, seeking bids, and doing lots of research (time spent viewing home improvement shows on HGTV) before the first nail is hammered. Here's how to use this time:
Ensure your cats become BFFs (best feline friends) with their sturdy carriers. Weeks before our project began, I introduced shy Mikey to his carrier by tossing in treats and leaving it next to his favorite place – the scratching tree in the living room. Gradually, I zipped him inside and carried him around the house to build up his acceptance level. Casey, my certified therapy and pet first aid demo cat, is very accustomed to riding in a carrier and in a car and being in new places.
Get your dogs into a "saddle up" routine. For each bathroom outing, we got our three dogs in the habit of being fitted in harnesses and leashed before exiting into the backyard. Using praise and treats, we reinforced the "sit and stay" cue to condition them not to try to bolt out the door.
Introduce stress-relieving pheromone products such as Feliway for cats and DAP (dog appeasing pheromone) for dogs to test whether these sprays or diffusers help bring a sense of calm to your pets.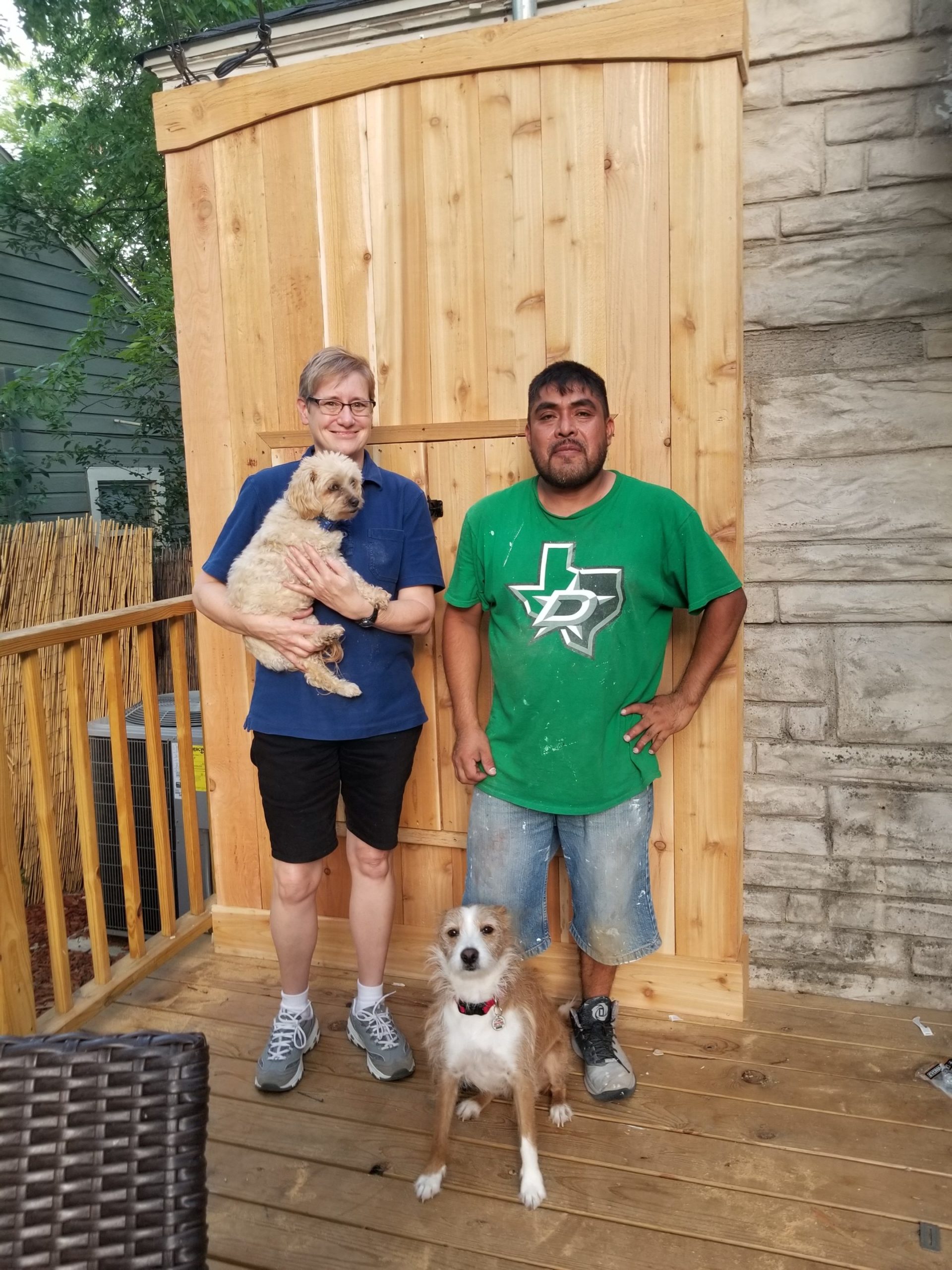 Routine Maintenance
Once the construction project begins, try to stick as much to your household routine as possible when it comes to waking hours, doggy bathroom outings, mealtime, naptime, and playtime for your pets.
"Gear yourself and your pets up for success," says Julie Reck, DVM, veterinarian and owner of Veterinary Medical Center of Fort Mill in South Carolina. "Some dogs can get stressed by new people constantly coming to the door and bark to sound the alarm. It can be overwhelming to them, so schedule an early morning vigorous walk with them before the crew arrives. Or arrange for your social dog to spend the day at a doggy day care."
To enrich our pets during the construction, we introduced them to food puzzles and new interactive toys and a new backyard wading pool. I also continued to take certified therapy pets Kona and Casey to our regular weekly visits to a memory care center in Dallas.
Serenity And Safety
Kenneth Martin, DVM and board-certified veterinary behaviorist, and his wife, Debbie, a veterinary technician specialist in behavior, who operate Veterinary Behavior Consultations in Spicewood, Texas, know first hand the impact renovations can have on pets. They recently added 900 square feet to their ranch home and are now having a garage with living quarters built for their retired parents on their property.
Witnessing the action are their four dogs, who range in age from 10 to 14 years old.
"We have found that white noise machines and music therapy or classical music can calm heart rates in our dogs," says Dr. Martin. "We live out in the country, so we kept our blinds closed so our dogs would not see all the workmen coming and going."
Safety is also a priority. Debbie Martin put up temporary barriers using exercise pens at the front door as a buffer to prevent canine escapes should the front door blow open or a crew member fail to shut the door completely.
Fortunately, the Martins' dogs enjoy life on the road, so the family would sometimes escape the construction by taking a long drive in their RV.
"Just like we wanted to get out of the house, our dogs did, too, at times," says Dr. Martin.
For our home, Julie and I opted to have construction done in three phases: the tiny house, then the home addition, and finally the new kitchen. This way, I was able to usher all five pets each morning into our tiny house in the backyard before the crew arrived. I made sure the tiny house had dog beds and cat window perches as well as fresh water, a litter box, and of course healthy treats and toys. I also kept the television on a smooth jazz channel or HGTV–two channels my pets are used to seeing and hearing with me.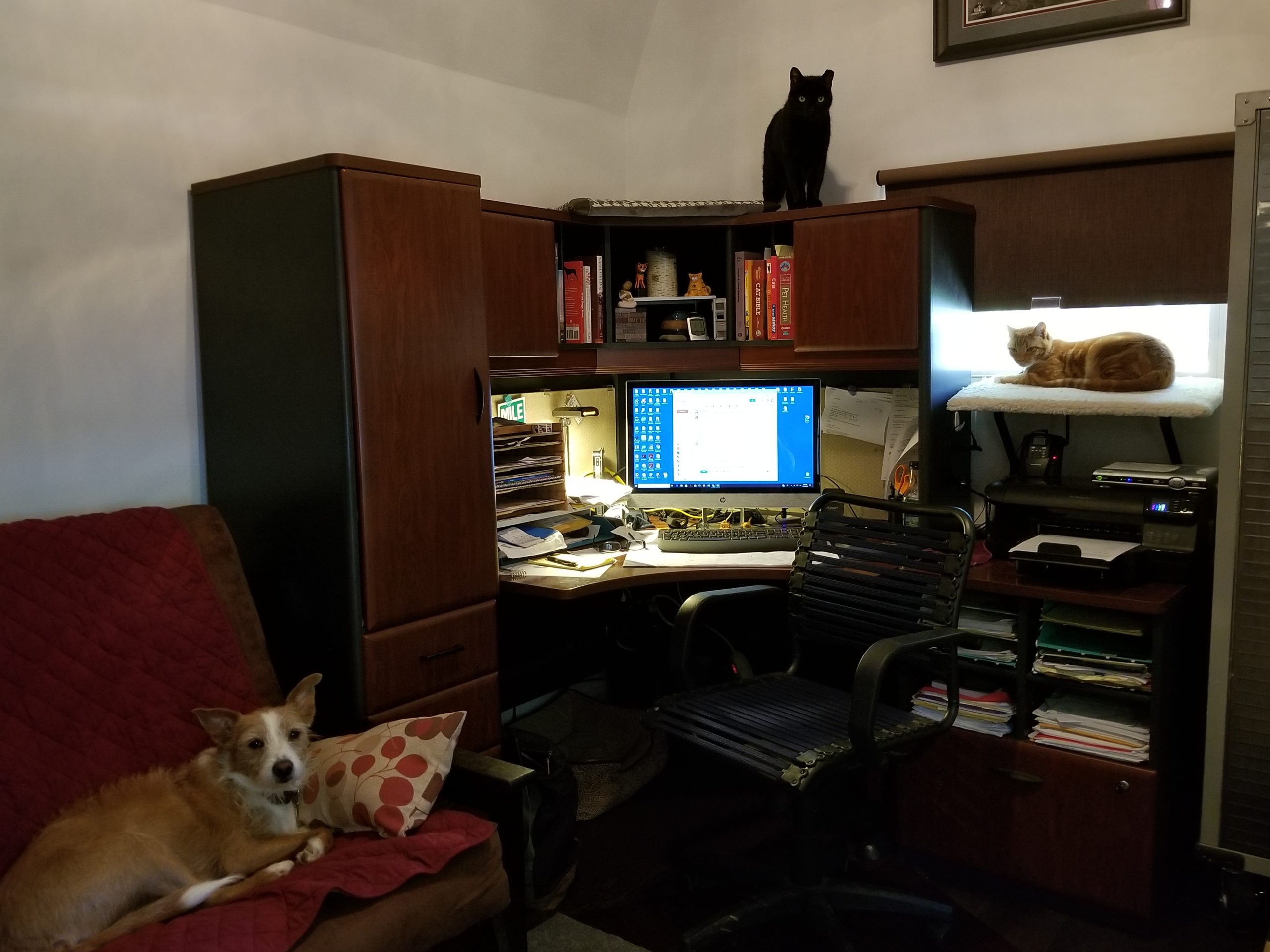 We also did the following:
Kept pet bowls, food, and treat containers accessible and away from construction debris or dust.
Wiped pet paws to rid them of dirt, debris, or construction material that could make them sick.
Did our best to serve meals on time and provide familiar foods. Pets seem to sport invisible watches and can become stressed if mealtime is late.
Fought off our stress with laughter and patience. We watched lots of comedies as we reminded ourselves that the project did have an end date and that our pets are reading and reacting to our emotions.
Acknowledged some crew members love pets and others may be afraid of them, especially large black dogs such as Bujeau. Don't force crew-to-pet introductions as it will escalate stress in everyone. Do keep your friendly dog on leash and ask him to sit so a dog-loving crew member can offer a treat.
Patrolled the yard and inside the house to pick up nails, other metal objects, and meal wrappers or chicken bones left over by crew members that could injure or sicken our pets.
Double checked to make sure the back gate was locked before letting our dogs out after the crew left our fenced backyard.
Blocked off the kitchen during renovation by using doggy gates and thick plastic sheeting.
Bottom line: we survived and so did our pets. And I think the renovation actually bonded us even closer. Got a project coming up? We wish you much stress-free success.
This article was reviewed/edited by board-certified veterinary behaviorist Dr. Kenneth Martin and/or veterinary technician specialist in behavior Debbie Martin, LVT.
Published September 11, 2018