Reading Time:
3
minutes
Moving from San Diego to Dallas a few years ago, I bravely left my being-single comfort zone and joined an online dating service. My biggest concern wasn't if I would find the person of my dreams, but rather, how dating would emotionally impact my dogs, Kona and Cleo, and my cat, Casey.
Seriously. And, I'm betting I am not alone in that priority. The reason is simple: our pets often represent that one positive constant in our lives for 10 or more years. In the past decade, I'm betting you have changed jobs, moved, entered a new personal relationship, or made other major life decisions. Through this entire time, your pet has been your supportive ally.
In some instances, changes in household routines can affect a pet's confidence and even trigger fear and anxiety. Imagine what might be going on in the mind of your pet when dating evolves into a marriage proposal and a merger of other pets under one roof.
But that's exactly what my spouse, Julie, and I did. Her fur family consisted of Bujeau, a 6-year-old Bernese Mountain Dog mix, and Mikey, a shy 12-year-old black cat. Mine comprised Kona, an energetic 3-year-old terrier mix; Cleo, a sweet 16-year-old terrier mix; and Casey, a confident 4-year-old orange tabby.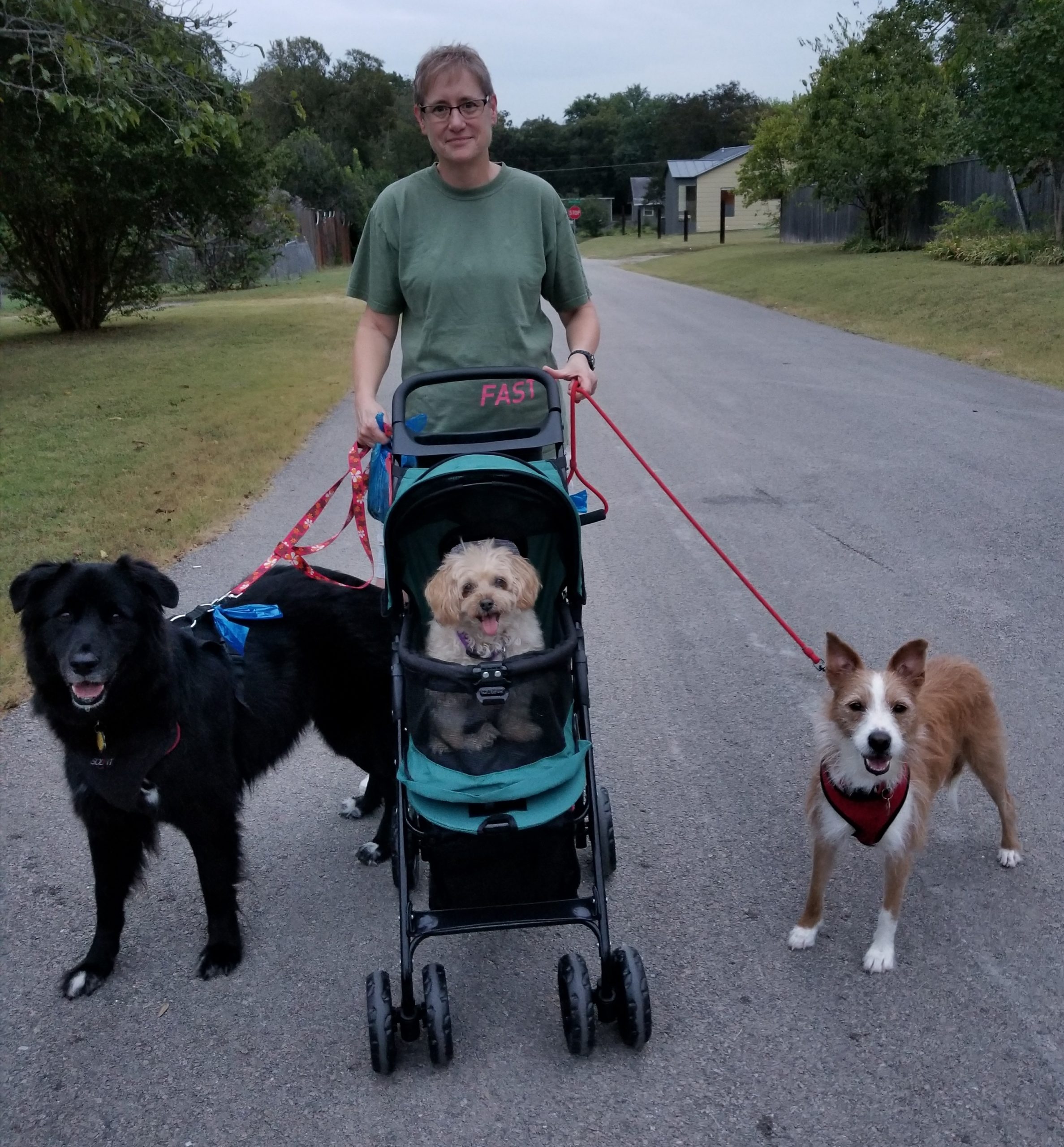 Together, we created a harmonious Furry Brady Bunch. If a blending of pets is in your future due to a marriage or roommate situation, let me offer tips on how to accomplish this without fur flying:
Be candid about your pets. For successful introductions, come clean about your dog's or cat's experiences with other pets. Fortunately, Julie's pets and mine have lived with other pets. All of the pets have lived with other cats and dogs. Casey and Kona travel with me to teach pet behavior and pet first aid classes, so they have been exposed to other pets all over the country. However, if your dog is reactive or your cat has a hissy fit in the company of another feline, it is important to consult a professional pet trainer or behaviorist to help with the intros.
Don't rush the pet intros. Recognizing that dogs and cats possess superior senses of smell, we intentionally had my pets "meet" her pets and vice versa by having the pets first download the other pets' scents on our clothing without actually meeting.
Arrange for a neutral canine meet and greet. The first time Bujeau met Kona was on a leashed walk at dog-friendly White Rock Lake Park in Dallas. Kona and I met Julie and Bujeau at a neutral place in the park. I came packing bite-sized dog treats. Julie and I sported upbeat attitudes. Dogs are stellar at reading our emotional states. We had our dogs plop into sits at a safe distance and handed out treats. We then did a parallel walk in which Kona was on my outside and Bujeau was on the outside of Julie. The goal is to tone down the intro. Eventually, we were able to position Kona and Bujeau so that they were walking side by side.
Reach for the towel. To introduce the felines, Casey and Mikey, I first ran a hand towel over Casey inside a spare bathroom in Julie's house. I kept Casey in the bathroom as I then ran that towel over Mikey, resting in the kitchen. I repeated this action to exchange scents of each cat.
Plan for a safe kitty peekaboo. When we were ready to have Casey and Mikey meet face-to-face, I put Casey inside his portable pet carrier and placed it on the living room floor. The curious Mikey approached slowly. We stood back and let the cats have time to see and sniff one another. The dogs were purposely outside in the fenced backyard playing.
Play it safe. The final intro involved my 12-pound geriatric dog Cleo and Julie's 75-pound playful Bujeau. For the initial meeting, we let Cleo roam Julie's backyard while keeping Bujeau on a long lead. We could step on the lead if we felt Bujeau was being too pushy with Cleo, but that never happened. Cleo had shared most of her life with a big Husky mix named Chipper, so she seemed to easily accept Bujeau as her new stepsister.
Don't play favorites. Julie and I consciously make efforts to spend one-on-one time with each of our pets. When Julie is hanging out with little Cleo on the couch, I am taking Bujeau out for a walk in the neighborhood. We also take turns feeding our Furry Brady Bunch, cleaning the litter boxes, and grooming their coats.
I never imagined one day I would become a stepmom. But that day has arrived, and I am blessed to share my life with Bujeau and Mikey as well as my Kona, Casey and Cleo.
This article was reviewed/edited by board-certified veterinary behaviorist Dr. Kenneth Martin and/or veterinary technician specialist in behavior Debbie Martin, LVT.
Published May 15, 2018