Reading Time:
4
minutes
It's a sad fact that roughly six million dogs and a similar number of cats are diagnosed with cancer each year in the United States, according to the Animal Cancer Foundation. No animal lover wants to hear the dreaded "C" word, but many of us have or will.
Colorado resident Britton Slagle knows the pain of a beloved pet's cancer diagnosis all too well. In 2012, she noticed an enlarged belly on her Labrador retriever mix, Suetra – then saw blood in her urine. She rushed Sue to the veterinarian and learned that her dog not only had hermangiosarcoma, a cancer of the blood vessels, but that a tumor had burst and the dog was bleeding to death. Slagle had to make the difficult but loving decision to end Sue's suffering right away.
"It's still a little emotional for me to think about because it puts me right back in that place," she says.
Meeting Needs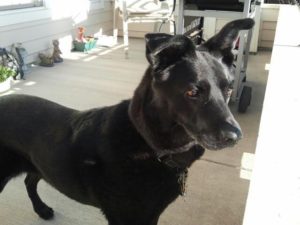 After the subsequent deaths of her other dog, Karma, and guinea pig, Boogie, Slagle decided to channel her grief into a way to help others. She earned a master's degree in nonprofit management and wrote her thesis on the nonprofit she went on to create in 2016: KarmaSue. A large part of her research involved interviewing numerous people about what they needed when their pet was diagnosed with cancer. She learned the biggest needs were for education, counseling, and financial assistance.
As a result, KarmaSue offers free or low-cost educational counseling as well as financial assistance to Colorado families whose companion animals have cancer. Slagle hopes to spread the word that it's normal to feel overwhelmed or scared when a pet is diagnosed with cancer.
"They love you unconditionally and you want to do the same for them," she said.
Tips on Coping
It's also important to remember that every situation and animal is different: a cancer diagnosis is not necessarily a death sentence. We've all seen "tripods" (a.k.a. "tripawds") with an amputated leg thrive after surviving cancer. But pets don't always receive a promising prognosis. How can we cope?
Slagle suggests being open and honest with your veterinarian and veterinary oncologist. A good veterinarian will listen to your questions and concerns and offer resources. She recommends these communication tips:
Ask for clarification if you don't understand a term or phrase.
Request a cost estimate for recommended protocols, as well as any secondary options. Also ask what your pet's life expectancy is with and without treatment, and about staging (cancer stages).
Talking about a pet's illness can be a lot to process, so bring a notepad and take notes. A friend can also help listen during the visit. Consider bringing a list of your pet's medications and food to the appointment.
Ask your veterinarian about alternative therapies that might help with pain, such as laser therapy, acupuncture, or massage.
Find out if there is anything that could help make your pet more comfortable at home, such as moving a water dish closer to their bed, and whether your veterinarian has any dietary or exercise suggestions.
See if your veterinarian recommends any resources: support groups, books, financial aid programs such as The Brodie Fund or Waggle Foundation, or payment options like CareCredit.
Ask if there are multiple treatment options and what is best for your pet.
Finding ways to emotionally cope during your pet's cancer journey is of paramount importance. Slagle says many people want to spend every minute with a pet after a cancer diagnosis, which can lead to compassion fatigue and burnout. She suggests allowing yourself to take a break from caregiving from time to time, even if you need to ask a friend to sit with your animal while you check the mail or take a shower.
"You have to not only take care of your animals, but also take care of yourself and your own wellbeing," she says.
Slagle's suggested coping strategies include the following:
Ask for help when you need it. "I really want to try to break the stigma of the shame in requesting assistance from your family, friends, advocates, and counselors," she said. "It takes a village to combat companion animal cancer."
Take educational therapy or group workshops.
Trust your veterinary team more than "Dr. Google." When you do research online, consult credible sources like the Morris Animal Foundation.
Keep your daily routine as close to normal as possible for both you and your pet.
Create a "love list" and post it on the refrigerator. The list should include things you enjoy doing, from free activities–listening to music, reading a book, hiking–to splurges like massages. Do one thing on the list every day.
Give yourself permission to fall apart from time to time. "A lot of us try to remain strong and that only goes so far, so it's okay to fall apart and allow yourself space to do that."
Remember that it's okay to laugh and smile and forget that your pet has cancer sometimes.
Spend time loving your pet.
While it can be hurtful when people make insensitive comments like, "It's just a pet," many animal lovers relate to what you're going through, Slagle says.
"There are people that understand the human-animal connection and that your loved one that has been diagnosed with cancer is not "just a pet" – he or she is your family member," she says. "You're not alone."
This article was reviewed/edited by board-certified veterinary behaviorist Dr. Kenneth Martin and/or veterinary technician specialist in behavior Debbie Martin, LVT.
Published June 10, 2019