Reading Time:
3
minutes
"No vet suffering with PTSD should be without a service dog."–Greg Melien, former Canadian Armed Forces, Petawawa Base.
What is a service dog? A service dog is trained to work with people with disabilities, seen and unseen, and perform tasks as needed.
The transition from service member to civilian can be difficult. Sadly, statistics show each day roughly 20 veterans are lost to suicide. Veterans who have post-traumatic stress disorder (PTSD) can benefit from partnering with dogs who are trained to alert to anxiety and recognize and interrupt harmful behaviors.
"I've worked with a few veterans over the years, whose mental health has been positively impacted by their service dogs. For example, I worked with one veteran with PTSD and TBI [traumatic brain injury]. His dog was trained to calm him when he woke up disoriented and anxious from nightmares," says Stephanie N. Miller, Ph.D., a clinical psychologist for the Suicide Prevention Team at James A. Haley Veterans Hospital in Tampa, Florida.
Greg Melien found that Scooby McGurk, his American Hairless Terrier, helped him prior to his PTSD diagnosis. "Vets don't like to talk, but if we want to get better, we have to. I talked to Scooby long before I could talk with a professional or my family. He didn't judge and loved me no matter what. I learned my family is here for me in the same way."
Rob Robinson was already having some difficulties when his house was destroyed in a storm. He was able to recover a camera and began to take pictures of his own dogs. From there, he began to photograph dog competitions like dock diving and lure coursing. "It saved my life. When I'm photographing dogs, I feel like I'm wearing armor," he says. "In the grocery store, I get nervous. My three aren't trained service dogs, but they keep me from being isolated." See his photos at www.badazzdogz.net.
K9 Partners for Patriots works with veterans who have PTSD, military sexual trauma, or TBI. "We don't just hand the dog to the vet," says Gregg Laskoski, communications director. "The dog lives with them but they're required to attend weekly training sessions as a team for six months." Vets do two hours of homework with the dog each day, in small increments."
Real-life scenario training areas simulate crowded situations, stores, restaurants, and waiting rooms, so the team knows what to do when someone tries to pet the dog, questions what he does, or thinks he isn't allowed indoors. The dog is comfortable, and his person stays calm.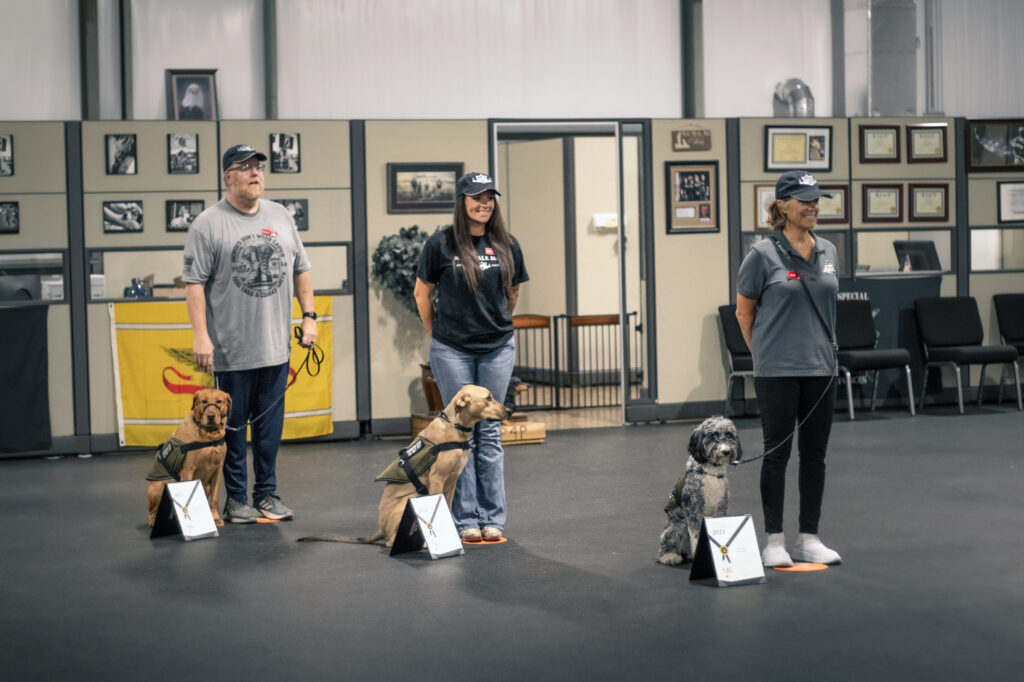 "Veterans look at the dog as a second chance at life. We hear from families the dog brings back the confidence to participate, to get out of the house. Spouses especially see the benefits," says Gregg. "It's not the dog breed or size but the nose. Night terrors, anxiety, and stress, all release adrenalines. The dog smells it and knows to redirect the vet's attention. To reduce anxiety, we train with a maximum of ten teams in a large space." Funded by a grant and donations, there's no charge to the vets.
What can service dogs do? He'll stand between his person and the next in line, to create space. If his person falls, the dog helps him up. Dogs pick things up, open and close drawers and doors, flip light switches, tug laundry baskets from one room to another. He'll be a valet to help with getting dressed or undressed. When shopping, he'll push the handicap button to open a door, hold a credit card to pay, and take the bag from the cashier. www.k9partnersforpatriots.com
The most important thing for the public to know is, the dog is working. Veterans have given so much, the least we can do is give them space. The most important thing for veterans to know is that help is available. It comes in a furry suit.
This article was reviewed/edited by board-certified veterinary behaviorist Dr. Kenneth Martin and/or veterinary technician specialist in behavior Debbie Martin, LVT.
Sandra Murphy lives in St. Louis, Missouri, with Ozzie, a Westie-ish dog and Louie, a tuxedo cat. Both are ridiculously spoiled. She is a freelance writer about all animals, eco-friendly topics, and oddball notions. She's edited two fiction anthologies, A Murder of Crows, crime stories involving animals, and Peace, Love, and Crime: Crime Stories Inspired by the Music of the '60s. From Hay to Eternity: Ten Devilish Tales of Crime and Deception is a collection of her own stories.
Published May 30, 2022