Reading Time:
4
minutes
It's natural to wonder exactly how much exercise your dog needs. Your friend, the marathoner, runs with her dog. Your neighbor, the lawyer, who is gone all day and half the evening, has a dog walker. When you were a kid, you couldn't wait to get home from school to go exploring with your dog. You were out for hours and always late for dinner.
But what about now? Does your dog need the same amount of exercise every day? What do you do when the weather is awful? What about when your knees hurt? What if your dog is very old, or very young?
Puppy Play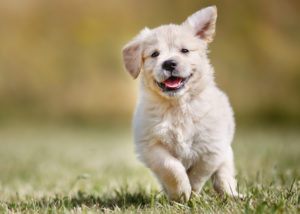 Let's suppose your dog is still a puppy. Then you surely don't want to run with her. You don't want to put your puppy in the position of having no choice but to keep going. When puppies play, they stop and start. They take little breaks when they need them and sometimes just fall asleep in the middle of things. This is good. Their bodies tell them what they need. Reasonable walks, several times a day, are great, and play with other puppies is terrific.
What's not good for puppies is repetitive motion over long periods. If you throw a ball, throw it just a few feet and just three or four times, not until the puppy's tongue is hanging out. On walks, take a break and rest on a bench or ledge so your puppy can take a break, too. That might be a good time to practice "Sit" or "Watch me" or just enjoy hanging out for a few minutes and doing nothing.
Your puppy's mind needs exercise as well, and mental work will tire a puppy in a good way, so name everything. Don't stop with basic cues. Name the toys your puppy plays with. As you walk into the kitchen, ask if she wants dinner. When you are out for walks and you get to the corner, tell your puppy left, right, or straight. Everything you teach your puppy will help her learn faster and use up some of her boundless energy.
Adult Dogs
What if your puppy is all grown up? The most important thing to know is that the more you exercise your dog, the more he will be punched up to need that amount of exercise. While it's fine for you and your dog to take a hike on the weekend but not walk that far every single day, if you give your dog two hours of hard exercise a day, that's what he will come to need. He needs exercise, but he needs an amount that you are able to reasonably do with him or hire someone else to do with him. Don't make your dog an athlete if his daily workouts do not fit in with your schedule or your own physical capacity. On the other hand, if you have a good size, active dog and you go out and run after work most days, by all means take your grown dog along if your veterinarian gives you a thumbs up. But if a brisk half-hour walk is more your cup of tea, stick to that.
There's a limit to tailoring the dog's exercise to your own habits and abilities. While it's important to figure out what works for both of you, if you do all your exercise at the gym, or if you opt not to do any at all, your dog will still need to use his energy in a constructive, healthy way. Inviting a dog pal over to play might be the answer.
For some people, hiring a walker does the trick. A friend of mine has a walker who takes a group of dogs to the local dog run every day. Others walk dogs singly or run with the dogs they visit every day. If, like me, you work at home, taking your dog for a hike may be exactly what you need for your own physical and mental health.
For old dogs, dogs with short muzzles who may have breathing problems, growing puppies, and even perfectly healthy adult dogs, it's always best to check your exercise plan with your veterinarian. On rainy days, indoor games are great. Just as thinking will tire out your puppy, it's also great exercise for adult dogs on days when walking, running, or hiking are not possible. No matter what his age, no matter what the weather is, your dog counts on you to help him use his energy in a fun, constructive way. With a little thought and some guidance from your veterinarian, you can figure out what's best for both of you.
This article was reviewed/edited by board-certified veterinary behaviorist Dr. Kenneth Martin and/or veterinary technician specialist in behavior Debbie Martin, LVT.
Carol Lea Benjamin is a noted dog trainer, who, in 2002, was elected to The International Association of Canine Professionals Hall of Fame for "a lifetime of dedication to dogs and their training." She is the author of numerous award-winning books on dog behavior as well as the Shamus Award-winning Rachel Alexander and Dash mystery series. Benjamin lives in New York City with her two dogs, Sky, a Border Collie, and Ziggy, an English Shepherd.
Published February 17, 2020