Reading Time:
4
minutes
From the minute she was whelped and I tied a red ribbon around her neck, I knew this puppy would be my keeper. In a litter of seven black Labrador retrievers, she racked up the "firsts" in my first breeding. Miss Red was the first to respond to my presence, the first to crawl into my lap when I sat in the whelping box. She escaped the whelping box, then the weaning pen. A fearless puppy at 15 ounces, she would be a lot of dog at maturity. I wanted to give her the best start possible.
Fearless puppies don't just pop out of their dam, say hello to the world, and settle into biddable dogs. My goal as breeder was to raise confident, bombproof puppies who would adapt to situations as they matured. I started long before the breeding, though. Both my bitch and the stud were health-tested and had desirable breed traits; the sire was an AKC Grand Champion, and my girl was champion-pointed and had earned companion titles. But most important was their temperaments. Both dogs were calm and confident Labs at home or on the road.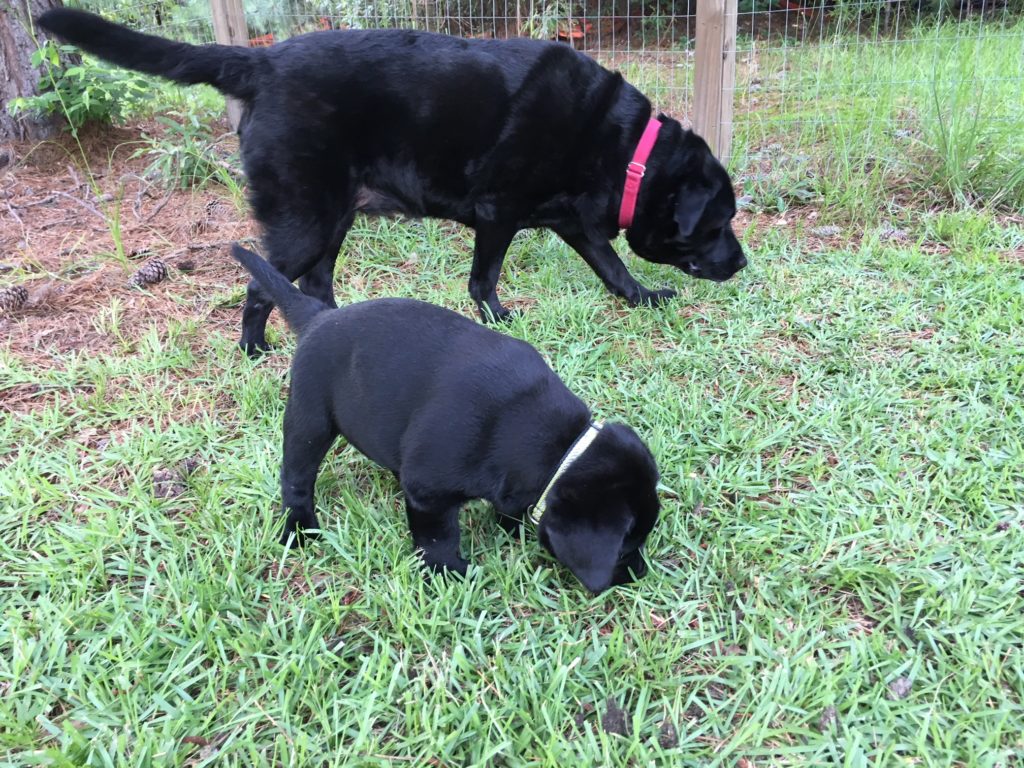 Mentors suggested a puppy development protocol developed by author/breeder/trainer Jane Killion. Her Puppy Culture program of neurostimulation exercises helps puppies adapt to and accept a range of motions, sensations, and information. Each phase in the program can reduce stress and startle reactions and support and encourage bold little puppies.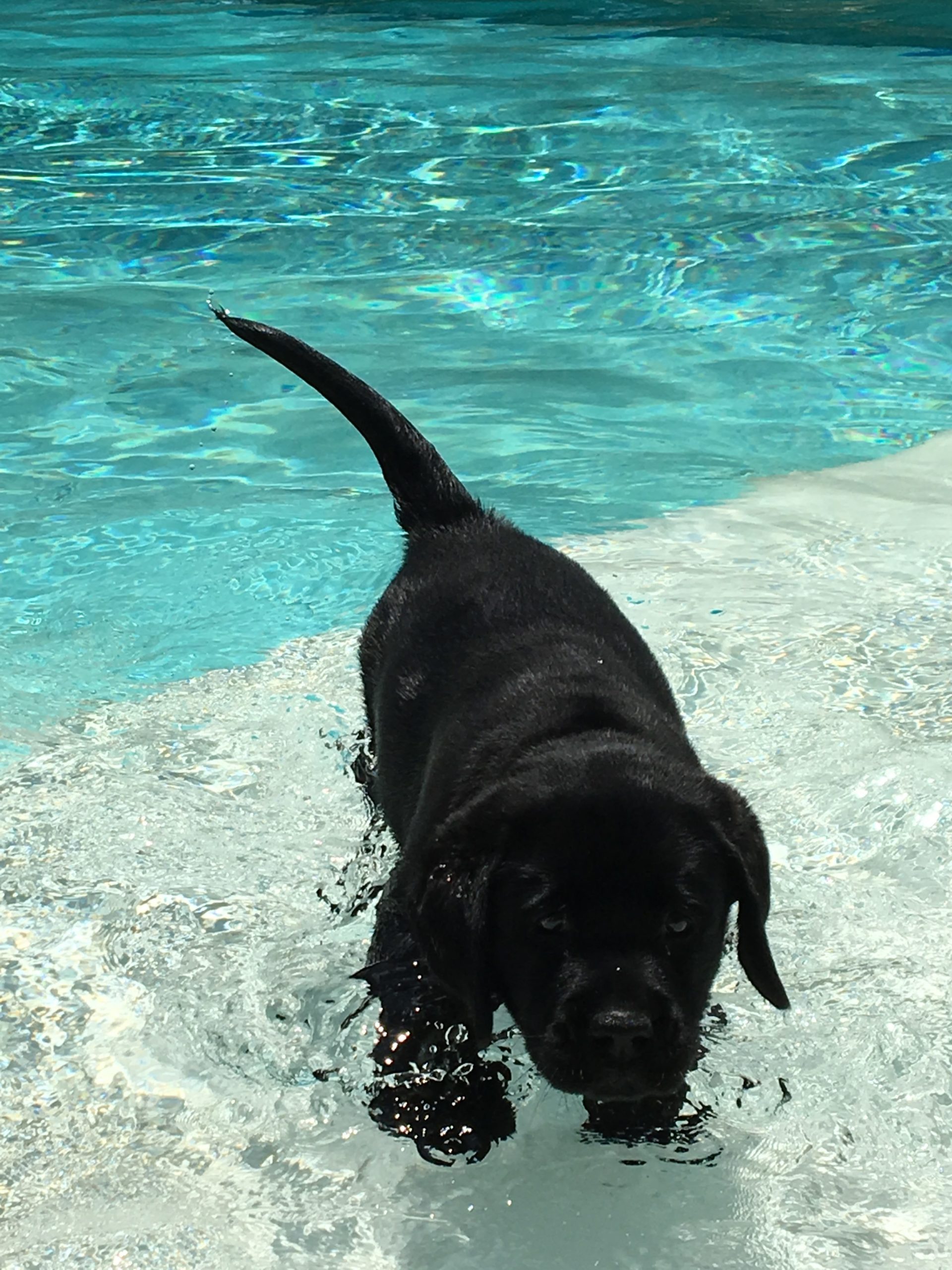 We added a novel toy, sound, or texture to their pen every day. They heard the older dogs bark and pots clang in the kitchen. They crawled through a tunnel (a rectangular cardboard box) and scaled a mountain (an old suitcase). We tickled their feet, opened their mouths, rubbed tender gums, and gave lots of cuddles. At four weeks the pups were introduced to clicker training.
The play/sleep/meal areas gradually extended from the whelping room to the screened porch to a grassy exercise pen to acreage. They splashed in a kiddy pool, then in our adult pool. They retrieved pinecones and sticks. They heard (from a distance) the staccato of gunfire and the whoosh-boom of July fireworks. They watched, curious, when the older dogs were blown dry after swims or when we cared for nails. They stood while other breeders examined them and were temperament tested by my long-time obedience trainer. To get ready for their new homes, they slept in crates and ate from separate bowls.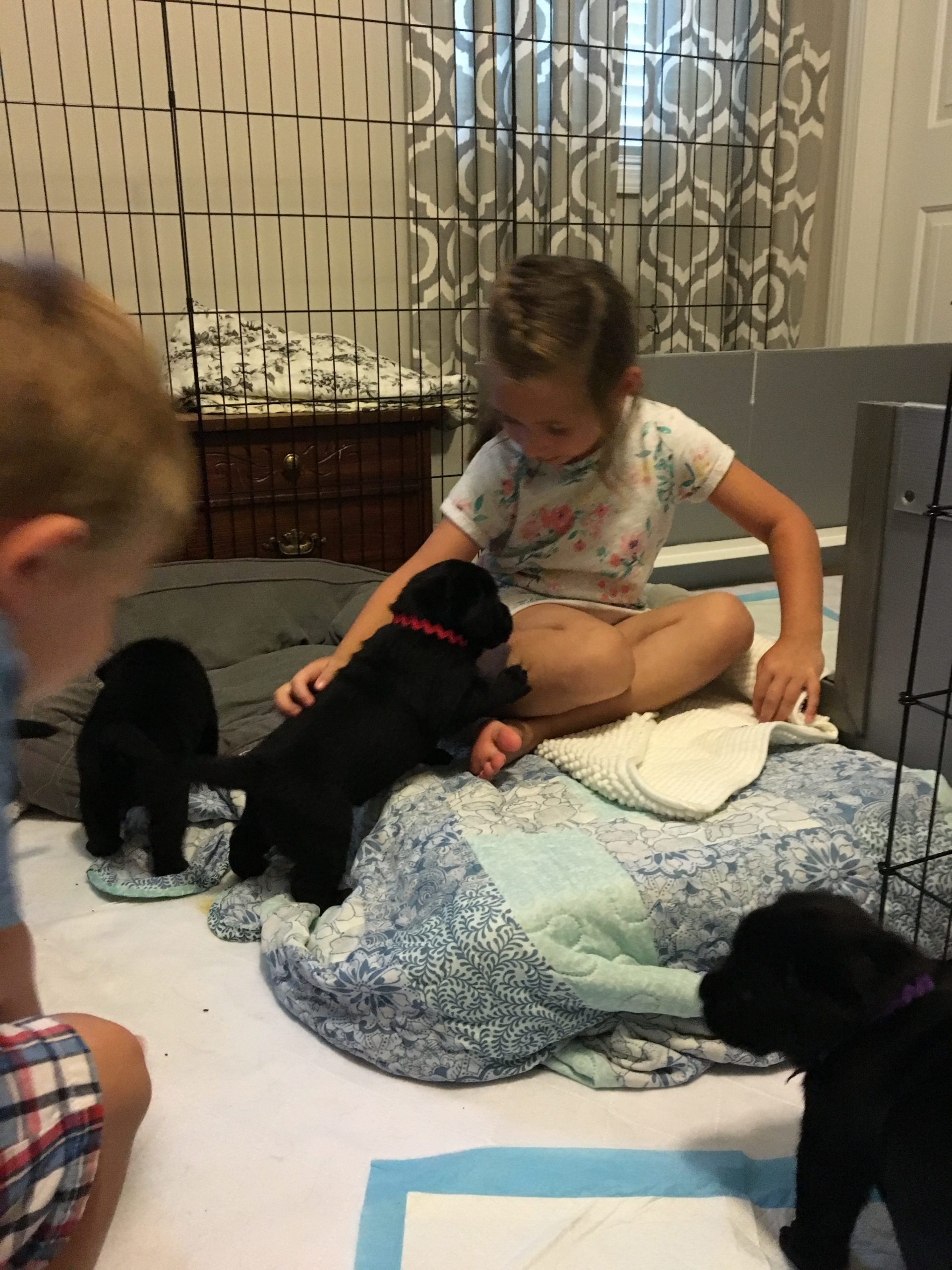 Behaviorists tell us about canine fear periods, so at the end of their fifth week we minimized potentially frightening experiences. Visitors were asked to wait another week, and new toys were simpler, like balls the puppies could carry or manipulate. If any puppy reacted fearfully to a stimulus, we backed up and helped her recover through reassurance. By the end of the sixth week, they all went for their first veterinary health check. Only one pup whimpered when microchipped. The vet and techs were generous with kisses and treats before and after the exams, a key to future Fear Free health care.
I wrote detailed notes on their health, behaviors, strengths and weaknesses. I knew from conversations what each puppy buyer wanted in their Labs, so I placed them accordingly.
Mister Green would live with older dogs and participate in outdoor sports, so he learned to honor my senior dogs. Miss Pink's future family included young children, so little kids came to socialize the pups. Because Mister Purple would live part-time at a lake house, we made sure he was well adjusted around water.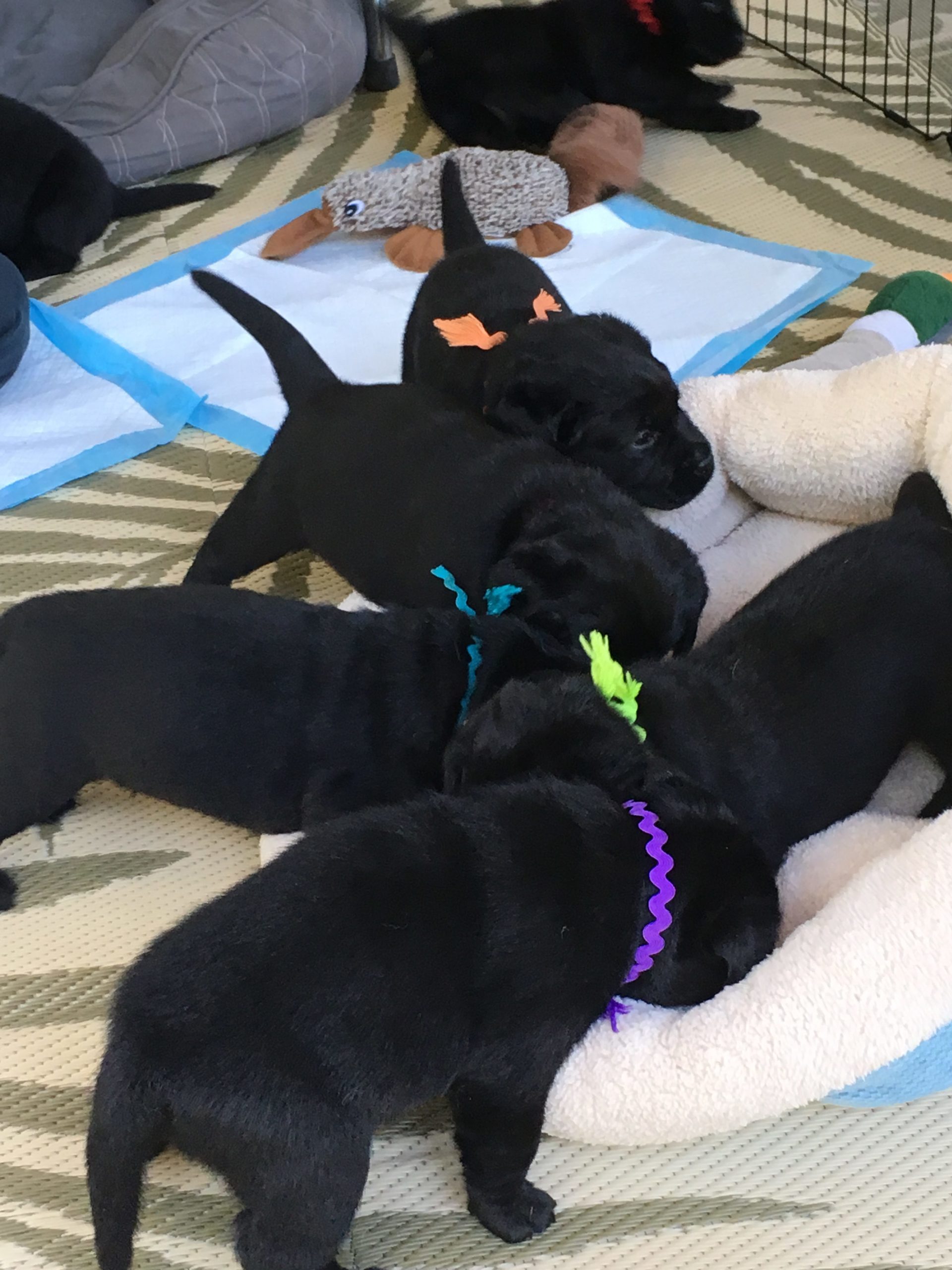 I wasn't surprised, then, to hear that Green, now known as Porter, slept in the keel of a canoe during a river float when he was 10 weeks old. Or that Orange, aka HoneyBee, slept through the night in her crate. Or that all the pups had successful first visits with their new veterinarians. We had worked hard to raise healthy, happy, and confident puppies.
Miss Red, now called Teaser, continues with the "firsts." She passed her puppy obedience class. At her inaugural conformation show in a large and loud environment, she gaited to Best Puppy in Breed. I have to work on Teaser's thievery, though: she stole my heart at birth and hasn't let go.
This article was reviewed/edited by board-certified veterinary behaviorist Dr. Kenneth Martin and/or veterinary technician specialist in behavior Debbie Martin, LVT
Published January 30, 2018