Reading Time:
3
minutes
Whenever I comb my 9-pound Poodle, Peach, she cranes her neck, coos with pleasure, and wiggles her way into my lap to be as close as possible. She doesn't approve when I try to comb her legs and feet, but having her neck combed when she's not wearing a collar sends her into rapture.
My Lab mix, Rio, always comes over to us because he doesn't want to miss the fun, so I end up combing him, too. Then they both get a treat to conclude our little pampering party.
I'm a firm believer that there are some things best left to professional groomers (I'm not brave enough to attempt an anal gland expression, for starters), and our groomer knows how to make Peach look and feel her best. But in between visits, spending a little time grooming her at home gives her a special enrichment activity.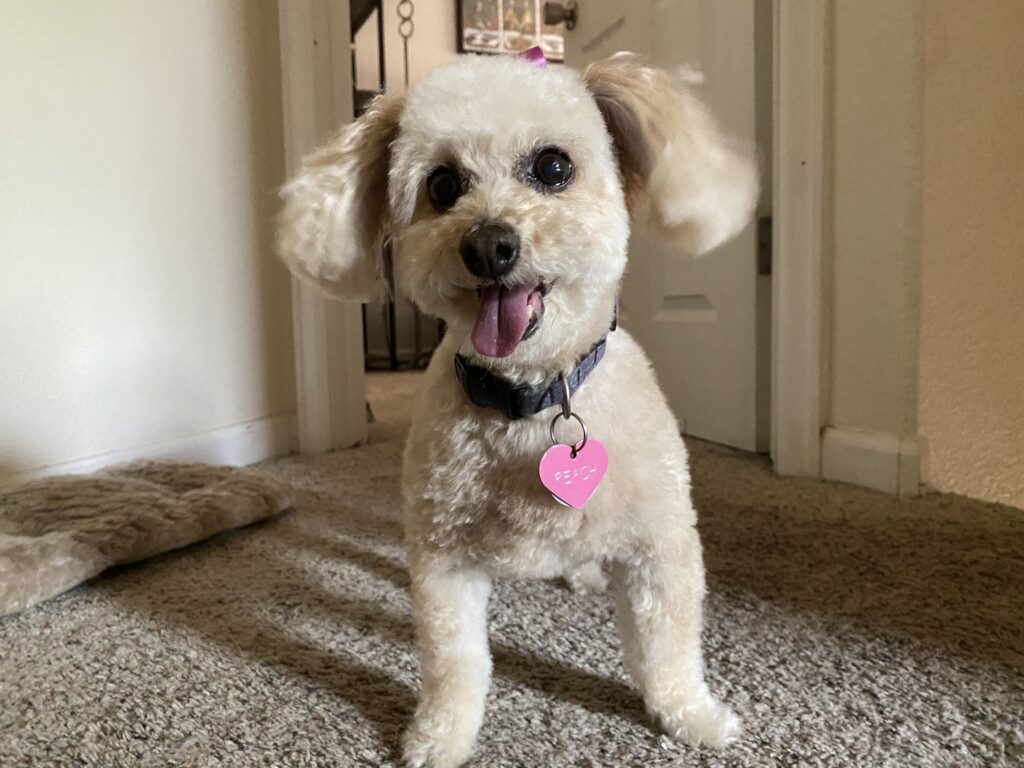 Dogs enjoy being groomed when it's done right, according to Brian Taylor, aka The Dogfather of Harlem. He's the owner of Harlem Doggie Day Spa in New York and the founder of The Pup Relief Tour, a recurring event in which members of the Black Groomers Association offer free grooming services to those in need during the pandemic and beyond.
"Pet parents and the dog can actually really bond," he said. "We also get a sense of learning what the dog likes, doesn't like, what makes the dog feel happy, and what you should stay away from."
Taylor's tips for keeping home grooming fun for our dogs and ourselves include the following:
Keep treats or a favorite toy handy.
Stay relaxed. "If you're more relaxed, you can pay attention to the cues that the dog gives you."
Play music you both enjoy.
Groom at a time of day when your dog is typically calm.
Don't rush. "You want to take your time and you want it to be an activity," he noted.
Speak to your dog with a happy tone of voice.
Start with brushing. "Dogs always like to get brushed on the top and in the neck area."
Keep it positive. If your dog doesn't like something, just move on.
Stick to the routine. "When I groom, I start in the back legs and consistently groom the dog the same pattern every time they come in," Taylor says.
Don't wait so long that fur becomes matted. If the hair is about 1 ½ inches long and it curls, you'll want to brush at least three to four times a week, he said. For longer hair, try twice a day, possibly after breakfast and dinner.
Use the same dog shampoo that your groomer uses. "Especially for a double-coated dog or a curly coat, it helps strengthen and build that coat."
Invest in a dog hair dryer so your dog doesn't get too hot. "If you're going to wash your dog, get a dog dryer with decent power so you can fully dry the dog in less than 10 minutes," he says.
Leave some tasks to the professionals. Taylor says pet parents should avoid expressing anal glands or trimming around the face and mouth.
Finally, Taylor suggests working with a groomer to develop a home-care plan that works with your budget, and to create a grooming schedule. He noted that Tik Tok is full of videos of home clipping jobs gone wrong during the pandemic, so be sure not to bite off more than you can chew.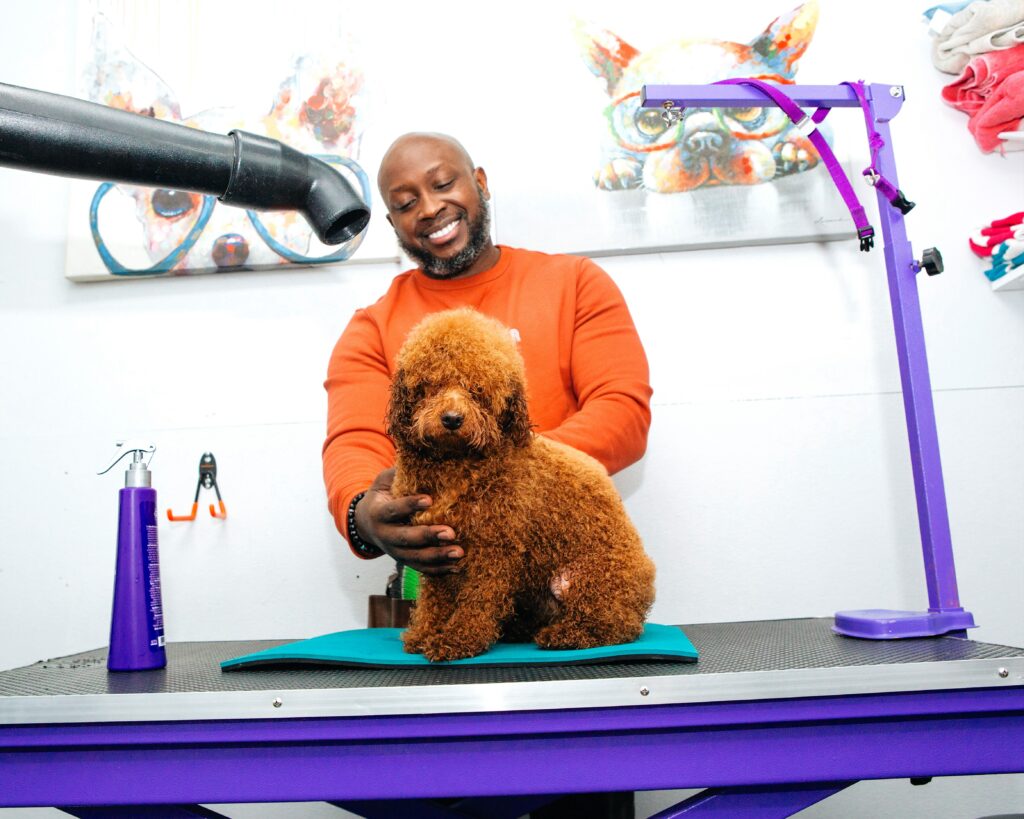 "If you focus on just making it a fun activity and a positive experience, it will help the dog reduce stress and also eliminate any form of anxiety," he concluded. "Dogs like being pampered."
The Dogfather of Harlem's Pup Relief Tour could be coming to you! Upcoming 2021 dates:
July 26-27: Philadelphia, Pennsylvania, Stylish Pooch
July 29-30: Orlando, Florida, The Paw Shop
August 1-2: Birmingham, Alabama, Beautiful Barks
August 4-5: Fort Wayne, Indiana, KandiKutz Grooming Salon and Spa
August 7-8: Las Vegas, Nevada, StreetDogz
For more information, visit: instagram.com/puprelieftour
This article was reviewed/edited by board-certified veterinary behaviorist Dr. Kenneth Martin and/or veterinary technician specialist in behavior Debbie Martin, LVT.
Award-winning journalist Jen Reeder is former president of the Dog Writers Association of America.
Photos: Tayler Smith for Dogfather of Harlem; Peach, Jen Reeder
---
Published July 19, 2021