Reading Time:
3
minutes
Cats are devoted homebodies. They like their routines and comfy naps in the sun, and if they do go out, it's for a quick trip to the veterinarian's office or maybe a secure outing with leash and harness.
However, sometimes you have to take them on a Big Journey. Holidays may be that time – perhaps the pet sitter fell through, special medication is needed, or you don't want to face a family gathering without purr therapy.
Preparation is key to minimizing stress and making your cat a fear-free traveler.
Know Your Cat
All cats are different, and each cat may react differently to travel. You can take steps to desensitize her, but more often than not, you should abide by her wishes if she decides she's not a traveler.
Liz Tobey of Washington, D.C., has traveled to Boston to visit her father, both by plane and car with her cats, Miss Kitty, Tookie, and Sage. She says each experience has been different.
Air Travel
Before planning a trip, check airline regulations for traveling with pets. Some airlines have fees to carry your cat into the cabin, and reservations for pets are needed far in advance. Tobey says Jet Blue charged her $120 each way, something to keep in mind if you're on a budget. Traveling in the cabin is a must for cats.
Carriers must fit beneath the seat. Check with the airline for specific dimensions. Tobey has used both a soft-sided carrier and a small plastic hard carrier. She prefers the hard-sided carrier because it's easier to clean if the cat has an accident, adding that zippers on soft carriers sometimes come open. Label the carrier with your name and contact information.
For short plane trips, Tobey brings cleaning wipes, paper towels in case of accidents, a soft blanket or towel in the carrier, and treats, along with her cat's toys, food, meds, and a bowl. Don't forget an ID tag with your cell phone number, your cat's rabies tag, and proof of vaccination.
To Medicate or Not
Whether you medicate your cat depends on her reaction to travel. If your cat experiences motion sickness or is anxious with travel, contact your veterinarian, who may prescribe an appropriate medication for travel.
Car Travel
Tobey has also taken her cats on long car trips, driving 10 to 14 hours between Boston and Washington, D.C. She tries to split either the initial or return trip into two days, staying overnight at a pet-friendly motel in New Jersey.
On the road, her cats travel in a large folding travel crate in the backseat of the car. It's large enough to hold a cat bed, small litter box, and food and water bowls. She also brings a smaller carrier to use when transporting the cats from the car into the motel room. That's easier than moving the large crate.
She packs a bag of litter and a litter box, litter box liners and scoop, a cardboard cat scratcher, and extra food and water.
Tobey avoids car travel with cats in hot weather, and never leaves them alone in a hot car. She says it's helpful to travel with a friend to make pit stops easier.
Whether you travel by plane or car, she urges caution when removing kitty from the carrier, such as in the airport for screening or at a hotel for the evening.
Arrival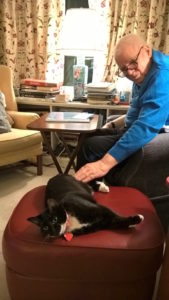 Tobey typically stays at her father's home with her cats for four to 10 days; any less time is not worth the adjustment period, she says. Her cat Sage usually recognizes her dad's apartment after she has been there a few hours, but it takes her time to re-acclimate. Tobey orders supplies online to have on hand during the stay.
Wherever you're staying, be sure there's a safe place for your cat, with access to food and litter box, especially if there are other pets in the household.
In terms of future travel, Tobey says Tookie did well both on the plane and in the car. While Sage was all right on her first two plane trips, she has since become a bit anxious and may need some help in the future. And Miss Kitty? She has cast her vote for staying at home.
This article was reviewed/edited by board-certified veterinary behaviorist Dr. Kenneth Martin and/or veterinary technician specialist in behavior Debbie Martin, LVT.
Sally E. Bahner has more than 40 years experience as a writer and editor on topics ranging from construction to cats. Bahner is an award-winning member of the Cat Writers Association and the Connecticut Chapter of the Society of Professional Journalists. She resides in Branford, Connecticut, with her husband Paul, and cats, Tekla, Mollie, and Sofiya.
Published November 4, 2019