Reading Time:
3
minutes
An unusual form of animal-assisted therapy sprang from tough times.
In 2016, Oregon resident Lainey Morse was coping with an autoimmune disease and a divorce while working a demanding corporate job.
Her saving grace: sitting in the barn or fields on her ranch and spending time with her pet goats, including a Nigerian Dwarf goat named Annie.
"All their qualities really helped me," Morse recalled. "I have pretty significant anxiety issues, and they have this sense of calm. When you're around that, you take on that energy. Even when they're chewing their cud, it's very methodical. To watch it was relaxing."
Morse realized her goats could help other people, and started inviting friends over, particularly when she knew they were stressed or depressed.
"We started calling it 'Goat Happy Hour' because everyone left happy," she said.
One fateful day, Morse invited a yoga instructor who was so taken by the beautiful scenery and goats that she asked to teach a yoga class there – outside, with the goats. Morse decided to give it a try.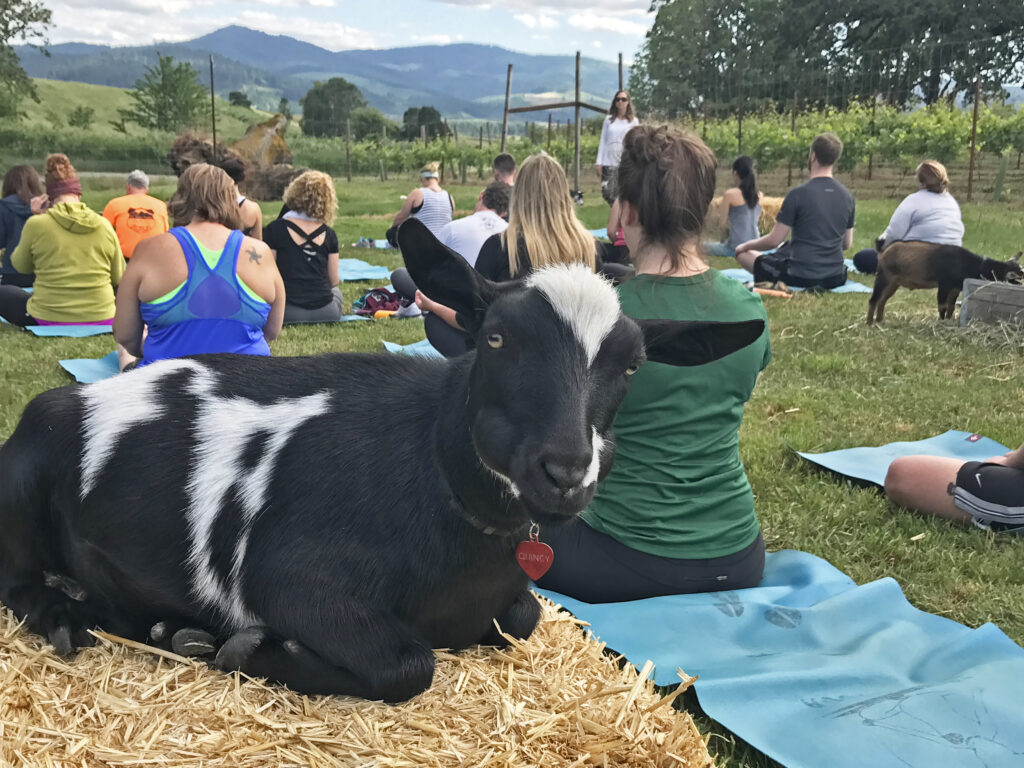 The first class sold out, with people driving from California to hang out with goats at Morse's No Regrets Farm & Sanctuary in Monroe, Oregon.
The Original Goat Yoga was born.
The goats sometimes climb on people's backs or pee near their mats, but that's just part of the experience. Morse is quick to point out that goats are different than the impression many people have who associate goats with petting zoos, where they're headbutting or acting obsessed with treats.
"But when goats are raised with love, that's all they want back," she said. "My goats have never been given treats. They look at every human who comes to this farm – and all my locations – as 'I just know I love you.' These therapy animals are just amazing."
Most of Morse's goats are rescues. Ansel, Adams, Preston, Quincy, Annie, Romeo, Fabio, Louis, Hudson, Dempsey, Jim, and Tilly are protected by three Great Pyrenees: Filson, Cinder, and Muppet.
"People are really surprised by how friendly and social goats are," she said.
She noted that goats can be great at walking on leash, particularly if a leash is introduced early in life, because they are herd animals and like to stay by your side. She has even walked in parades with a goat on a leash.
Goats can be easier to care for than dogs, according to Morse, though they require at least an acre of land on which to graze – and good fencing, since they tend to be escape artists. They need to have their hooves trimmed every couple of months and to be dewormed about twice a year.
"I just give them a little bit of hay at night and then they graze during the day," she said. "Goats can really be great, great pets."
It's a companionship she loves sharing with others. One woman participated – at the urging of her daughter – while caregiving for her sick husband, and said it was the first time she'd smiled in six months.
Another participant learned about goat yoga while she was undergoing chemotherapy treatments and tweeted that she was going to try it at Morse's ranch when she was done. Sure enough, a year later she contacted Morse to say she no longer had cancer and was bringing all her friends and supporters with her for goat yoga.
"She walked in and I just started bawling," Morse said. "It's something that seems so simple, but it's just so powerful."
During the pandemic, since yoga classes weren't possible, she's been essentially renting out time with her goats to families who simply want to be with them for "Original Goat Happy Hour." Participants are grateful to have something special to do outside.
There are about a dozen locations across America that are part of the "Original Goat Yoga" franchise, thanks to Morse's goal of "farming happiness" as a way to support agritourism in rural communities. Morse said the hosts enjoy making other people and their goats happy while benefitting themselves as well.
"The goats get really excited to have people here, so it's such a win/win for the goats and humans alike," she said. "I've seen it help so many people. And it still helps me every single day."
For more information, visit GoatYoga.net
This article was reviewed/edited by board-certified veterinary behaviorist Dr. Kenneth Martin and/or veterinary technician specialist in behavior Debbie Martin, LVT.
Award-winning journalist Jen Reeder is former president of the Dog Writers Association of America.
Photos courtesy Lainey Morse
Published May 24, 2021