Reading Time:
3
minutes
I started something last month that I've been wanting to do for a long time: kitten fostering!
I picked out my first kitten when I was five years old and named the little black ball of fluff Mr. Boo since Halloween was coming up. He was a great friend for a little girl, and I had cats for many years thereafter.
But our last cat died nearly 20 years ago at the venerable age of 19. I thought another cat would come along pretty soon, but it never happened, and my life became busy with dogs. Our condo wasn't really suited to a cat's needs—no good place for a litter box being a major issue—so I tucked my love of cats away in the back of my mind for some later time.
Nearly three months ago, our Cavalier Keeper died, and we were left with only one senior dog in our home. The last time we had visited family members with cats, Harper had been indifferent to them, as opposed to her younger years when she chased them with relish. "It's time for foster kittens," I thought.
I signed up with a group called SPOT: Saving Pets One at a Time. Once approved, I was given all the supplies I needed—food, litter, litter box, toys, and even a little cat tree—and assigned my first litter of kittens. I met up with their first foster in a parking lot to transfer the little purr boxes to my car and take them home.
Fayetteville, Hinton and Seebert—named after towns in West Virginia—were the perfect beginner litter. Charming, funny, and already spayed and neutered, the three little kittens were with us for less than a week before being adopted.
We're ready for more and as we waited for some new kittens to become available, I asked fellow fosterers how they got started and what they loved about caring for kittens.
Jamie Forrest Gothro answered a Facebook ad seeking people to foster. "Four years and hundreds of cats later, I'm still doing it," she says, adding that any heartaches are outweighed by the rewards of taking sick, dirty, fragile babies and helping them to recover and blossom.
Fostering can bring families closer together, too. That was a bonus that Wendy Mastin Grebbien wasn't expecting. She began fostering when her kids were in high school. "They all had busy lives at that time, but we would all spend time hanging out with the kittens and it was a really good family time," she says. "They don't live at home anymore, but I wouldn't be surprised if they foster someday themselves."
For Gothro, the best part of fostering is the adoptions. She loves seeing the excitement and happiness on the faces of the people taking her foster babies home. "I especially like adoptions that include children, knowing they are going to grow up with the cat and have life adventures together."
I'm enjoying it because it fulfills a desire to have some young animals in the house again. It has been nearly 15 years since Harper was a puppy, and I think we have benefited from the presence of some furry youngsters racing around the house—even Harper, who was a little taken aback by their presence. We overcame that with a clicker and some tasty treats as a reward for calmly letting them approach and sniff her.
Fostering is also special because I know that kittens are among the most vulnerable of shelter animals, adorable though they might be. Getting them from baby kittenhood to adoption age is fraught with peril, and not all of them make it. Foster homes help. Many shelters have foster programs or work with independent foster networks such as SPOT.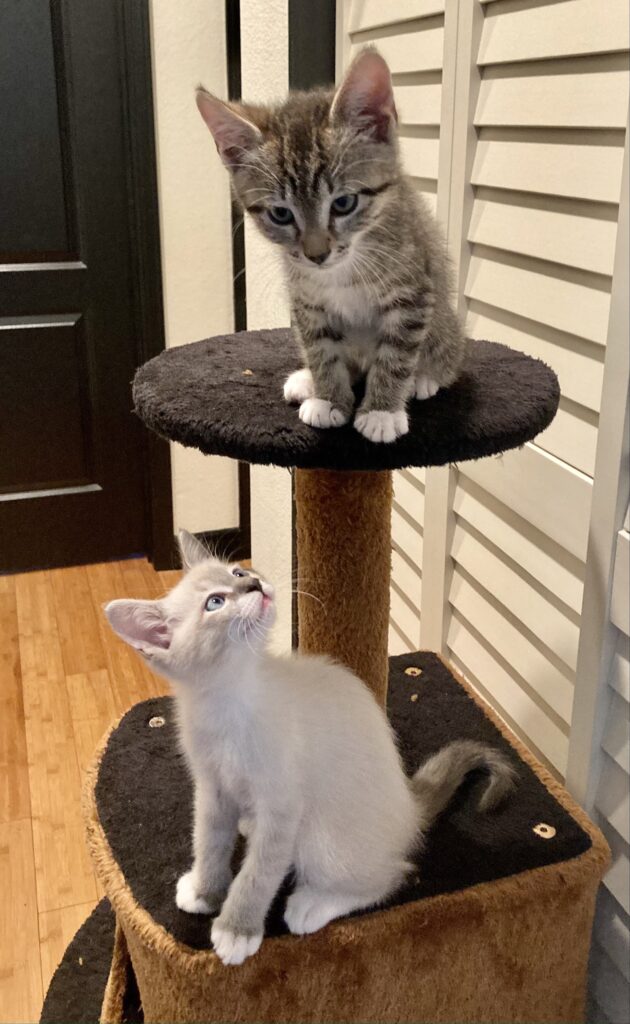 Now, during National Foster a Pet Month, we're on our second litter: Bear and Roxy. They are doing an excellent job of keeping us entertained.
Bring on the kittens!
This article was reviewed/edited by board-certified veterinary behaviorist Dr. Kenneth Martin and/or veterinary technician specialist in behavior Debbie Martin, LVT.
Kim Campbell Thornton is content manager for Fear Free Pets and is an Elite Fear Free Certified Professional. She has been writing about dogs, cats, wildlife, and marine life since 1985 and is a recipient of multiple awards from the Cat Writers Association, Dog Writers Association of America, and American Society of Journalists and Authors.
Want to stay in the loop on the latest and greatest in keeping your pet happy and healthy? Sign up for our free newsletter by clicking here!
Photos by Kim Campbell Thornton
Published June 7, 2022