Reading Time:
4
minutes
We recently moved our household (two humans and six indoor cats) from a large home to our much smaller original house. I was concerned about whether the cats would be able to adjust to the smaller space, but I noticed that our inclusion of two cat condos seemed to be making the transition easier for the cats.
I wanted to understand exactly why the cats seemed happier with the inclusion of two cat trees (in a very small space), so I reached out to Kate Benjamin, cat style expert and founder of www.hauspanther.com, a site featuring the latest design finds for those who love cats. Benjamin and Hauspanther are devoted to "spreading the word about how good design can enhance the way we live with cats, improving our lives and the lives of our beloved feline companions." Benjamin is also coauthor of New York Times bestsellers Catification and Catify to Satisfy.
Cat Furniture Characteristics
How does well-designed cat furniture make your cat's life better? What should you look for when choosing cat furniture that will help your household felines feel secure and help them peacefully coexist?
Provide your cat with choices. Cat furniture should include multiple levels for climbing and perching, as well as hiding places. Focus on what will work best in your space and give your cats what they need – there is no optimal number of levels in a cat tree, for example.
The design of cat furniture should not create any "dead ends" where cats can be cornered or trapped.
"Hiding spaces should have multiple openings for entrance and exit, and cat shelves or other pathways should have multiple on/off access points without any paths leading to dead ends," Benjamin says. She advises cat lovers to think about how a cat will use a piece of furniture or travel along a pathway. "Consider all the directions he or she can go in, eliminating any dead ends or unsafe jumps. Adding non-slip surfaces to all climbing surfaces is also recommended."
To ensure that your cat feels safe using a cat tree or cat climbing furniture, make sure the installation is sturdy and secure. Safety should be a priority. Benjamin recommends using appropriate wall anchors to secure freestanding furniture such as cat trees to the wall to prevent them from tipping.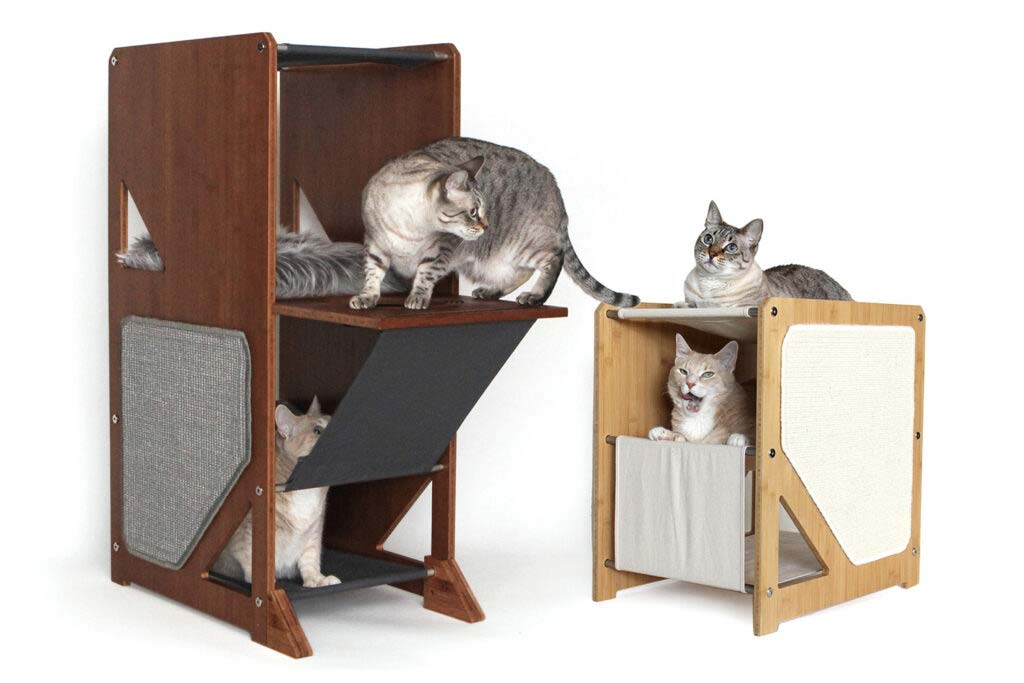 Look for multi-functionality. A well-designed piece of cat furniture will allow for climbing, hiding, lounging, scratching, and playing, and will help save space while providing lots of enrichment for your cat. Benjamin says: "To extend your investment, look for furniture with replaceable parts like scratchers, pads, etc. This way you can just swap out worn parts without needing to dispose of the entire piece."
Cat Furniture Placement
Where do you spend the most time in your home space? Your cat likely wants to be near you, so if you can, place the cat condo near the places where you spend a lot of time – bedroom, sofa, or desk, for example.
In a multi-cat household, strategic placement of cat trees or condos can give your cat options and, in some cases, alleviate conflict. For example, in a high-traffic area where conflicts between cats occur, place a cat tree in that spot or very close by to give cats an alternative route to take to avoid conflict. "Instead of meeting face-to-face, one cat can jump up while the other walks around," Benjamin says. I have witnessed my cats exercising this option in my household, without realizing that I had helped facilitate it.
If there is a lot of visitor traffic in your household, you might want to provide your cats with a "basecamp," which could include cat furniture in a quieter area. Benjamin suggests that the basecamp should be a secluded area of the living space that your cat can retreat to if they feel stressed. Make it comfortable with beds, hideaways, a litter box, food, and water.
Special Challenges – Many Cats, Small Home!
Living in a small space requires us to get even more creative, especially in a multi-cat household. Benjamin again stresses providing options for your cats. "Placing cat trees, shelves, perches, bridges, beds, and scratchers in different locations and at varying heights gives all the cats choices."
In a small space, get clever and creative and integrate existing furniture or architectural elements into your cat superhighway. "This can be as easy as cleaning off the top of a bookshelf and placing a cat condo or cat shelves on either side to make it easy for your cats to reach the top of the shelf. Look for other areas that could be used by cats, like the top of cabinets or high pot shelves."
Benjamin highly recommends adding a catio to your household if you are able. It needs to be secure enough that cats cannot escape and predators cannot get in.
It is possible to create an enriching, stress-free environment for our cat/s, without sacrificing style, says Benjamin. There are countless pieces of cat furniture on the market today with all kinds of features and in every decorating style. Doing it yourself is an option as well if you have the materials and the motivation. The possibilities are endless, she says, when it comes to selecting and placing cat furniture that will help cats feel safe, secure, and enriched at home.
This article was reviewed/edited by board-certified veterinary behaviorist Dr. Kenneth Martin and/or veterinary technician specialist in behavior Debbie Martin, LVT.
Catherine Holm is the award-winning author of cat fantasy fiction and cat-themed memoir. She lives in Minnesota with her husband and six well-loved cats. Learn more about her work at www.catherineholm.com.
Published December 20, 2021