Reading Time:
5
minutes
Anyone who spends much time on Instagram has seen them: cats in backpacks, cats hiking up trails, cats on leashes enjoying the wild outdoors with their people. There's even a dedicated hashtag for these kitties: #adventurecat. In fact, a whole book was written about these intrepid felines. Adventure Cats: Living 9 Lives to the Fullest began as a website, adventurecats.org, before becoming a print resource for people who want to take their cats on treks.
Adventure cats are a thing these days. But is it just a fad, or something that's growing? And what about your cat: does she have an untapped lust for the adventure life?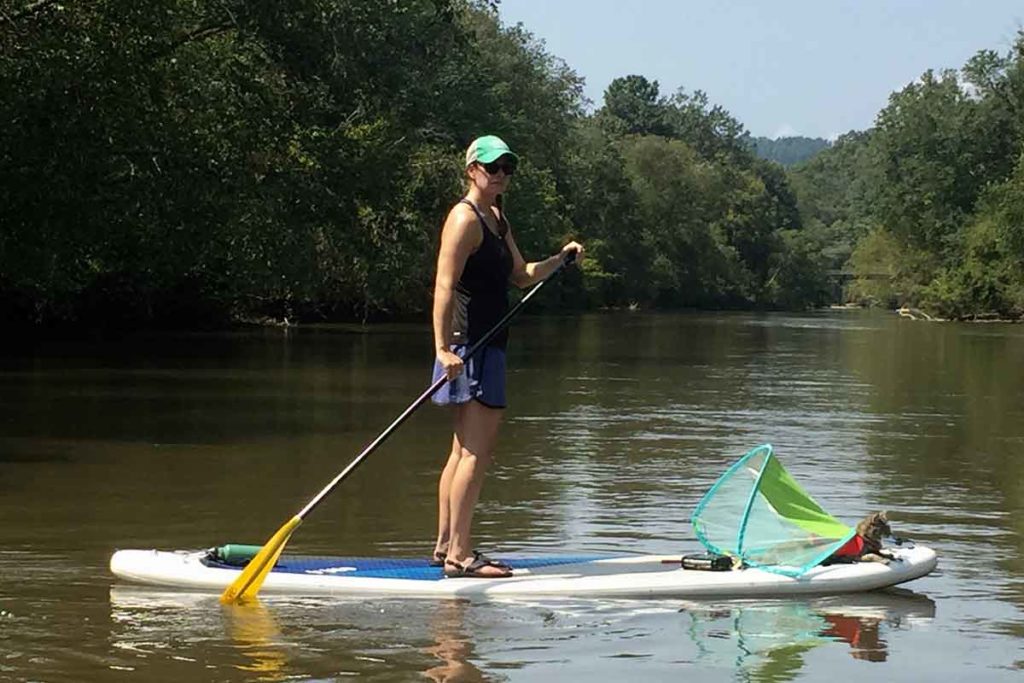 Who's Doing It?
Millennials are leading the way with the adventure cat trend. These young adults are more focused on experiences than in possessions, and they love their pets. If they enjoy the outdoors, it only makes sense that they'd want to bring their cats along. Take college student Danielle Thompson. She adopted Tecumseh last year, and already knew she'd be taking him with her on her travels. "I purposely tried to look for a kitten that wasn't timid and was okay with being picked up," she says. Tecumseh has accompanied her on hikes around Wichita, and flown with her to Washington, D.C.
Twenty-eight-year-old Emily Hall lives in Macon, Georgia, with her husband, seven cats, a dog, and a pair of sugar gliders. Three of her cats, Sophie, Kylo Ren, and Caster, are the adventurers. Sophie has cerebellar hypoplasia, a condition that affects motor skills, but it hasn't stopped her from enjoying nature. Kylo Ren is a newer addition to the family, but he adapted right away to treks and boating. Caster was older when he began going on outings, but he is easing into the lifestyle.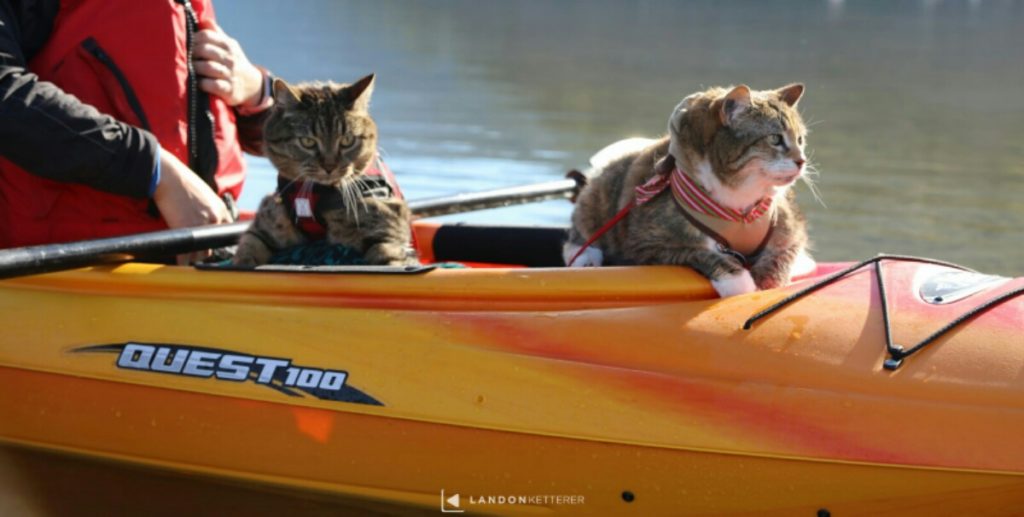 But adventure cats aren't just for millennials. Forty-six-year-old Megan Ferney takes her orange longhaired cat, Leon, to a variety of nature parks around Spokane, Washington. "Recently we took a trip to Portland, the Oregon Coast, and the Gorge, which was amazing!" she says.
There are also older cats out on the trail. Stephanie Ketterer's cats, Mike and Lily, are 12 and 14 respectively. "When we take them out on adventures, they would much rather do passive things like sitting on a patio, kayaking or riding in the backpacks when we go for bike rides," she confesses, but she does make sure they get out and hike. "I feel that it is important for them to stay active since they don't have the ability to run around much in our current home," she says.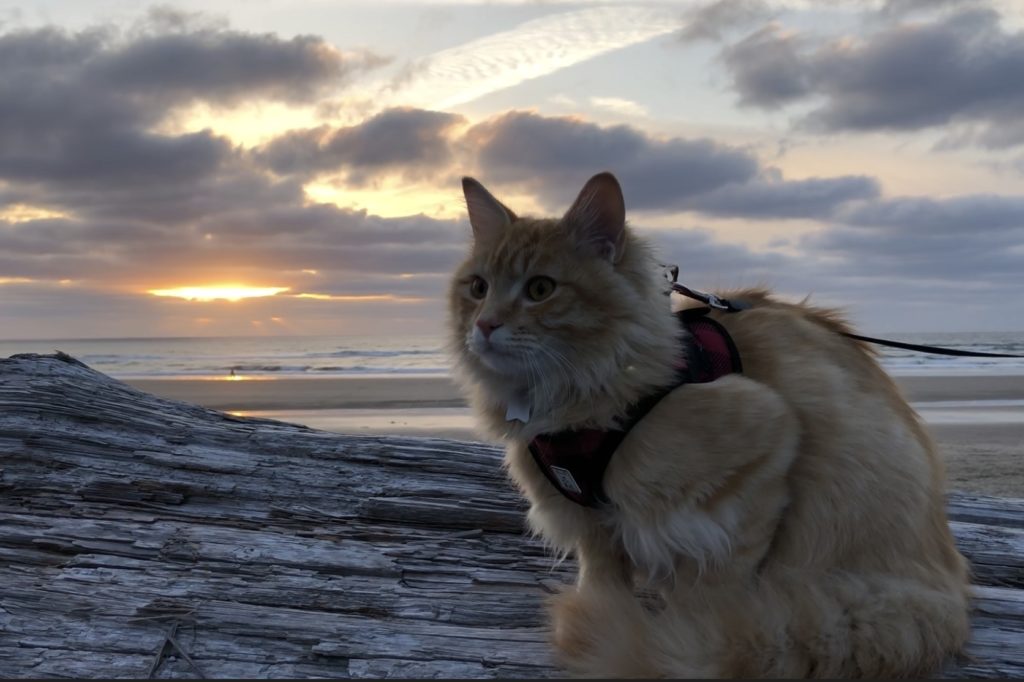 Safely Beat Feline Boredom, Stress
Is the adventure cat life right for your kitty? Annie King, DVM, a Fear Free certified veterinarian, goes hiking and boating in the Southern Appalachians with her cat, Emmylou, and dog, Muppet, and she thinks it might be a good idea for many cats. While she notes that living primarily indoors is the best and safest lifestyle for a cat, experiencing the outdoors in a controlled way can help with the boredom and stress she has seen as a veterinarian in many cats who stay home.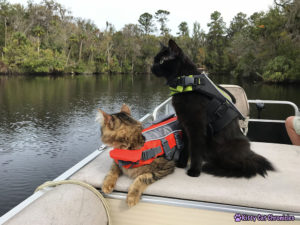 Dr. King has some advice for those who want to give their cats a chance to accompany them in nature:
Take your time. "Pushing them past their comfort zone too fast will cause many cats to panic and ruin all your progress," King says. In fact, every adventure cat owner emphasized patience when training a cat to be comfortable outdoors, from harness and leash training, through every step of the process. "Our cats wore harnesses in the house for a long time before we ever took them outside," says Stephanie Ketterer.
Be consistent. Cats thrive on routine, so take the unusual and make it usual. "We try to do something weekly, even if it's just a trip to the pet store or a walk around the neighborhood," King says. Keep in mind creature comforts – food, water, and protection from heat and cold also.
Provide a safe place for your cat to escape and hide on every adventure, like a backpack or carrier. Even if she stays in her safe space the whole trip, she's still being exposed to new smells and sights, and that's good. Never force your cat into situations that scare her.
Be aware of your surroundings. "When Emmylou is out exploring, I am constantly watching and listening for potential threats – mainly off-leash dogs," says King. "If there's a threat, I quickly pick her up and give her the option to get in her backpack."
Protect your cat against parasites that live outdoors by making sure she is up to date on her vaccines and flea and heartworm prevention.
Adventures provide an outlet for energetic young cats. "When Emmylou's tearing up the furniture or attacking our legs, it's time to get outside!" says King. Older cats, like Mike and Lily, stay mentally and physically stimulated. For small homes and apartment dwellers, treks give their cat more space and exercise. And enjoying adventures together enhances the relationship for both cats and their people.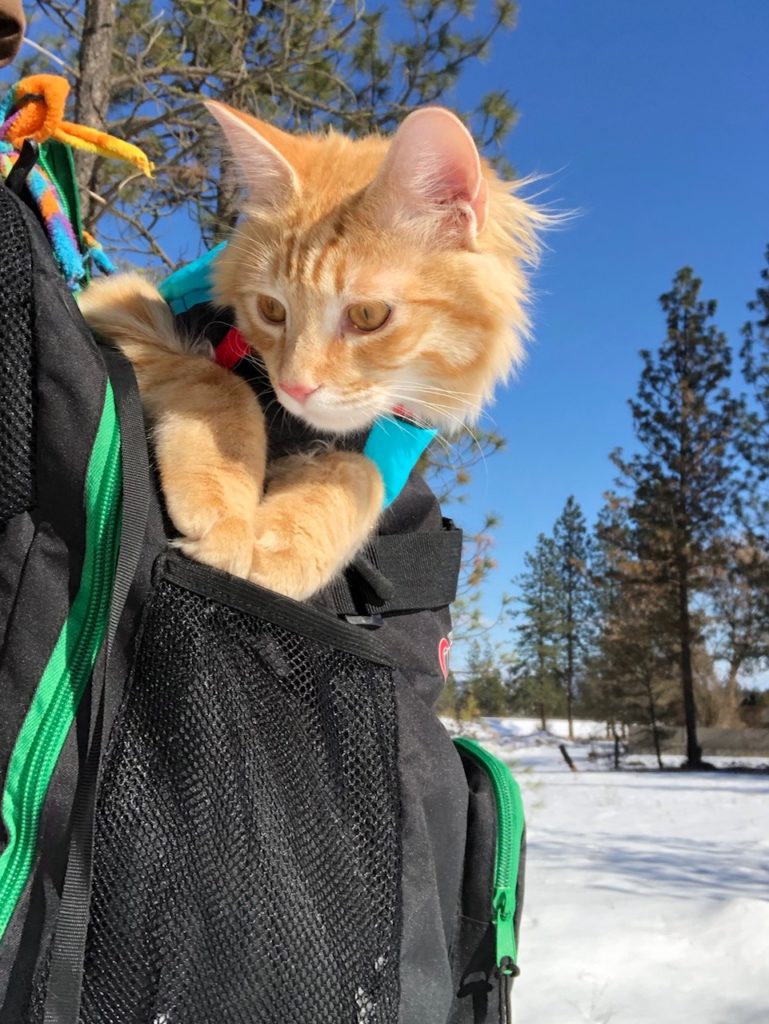 The owners also benefit in many unexpected ways. "We get better sleep! Adventuring during the day keeps Emmylou on our sleep/wake cycle so she sleeps at night and is active during the day," says King. "I have made more efforts to go on small hikes and to be out in nature because I know Leon needs to burn off some energy," says Megan. "It's been a great excuse to visit the local parks and I have found quite a few trails and even a waterfall I never knew existed!"
Adventure cats offer their people a unique experience out in nature, one that is very different than with a dog or fellow humans. "Parks I have been to a thousand times look different because I see how Tecumseh looks at the world," says Danielle. "I notice so much more about nature. I love it!"
This article was reviewed/edited by board-certified veterinary behaviorist Dr. Kenneth Martin and/or veterinary technician specialist in behavior Debbie Martin, LVT.
PHOTOS FROM AUTHOR/SOURCES
Cover Image: Danielle Thompson and Tecumseh. Credit: Danielle Thompson/Tecumseh: https://www.instagram.com/tecumseh_the_adventurer/
Published July 9, 2018