Reading Time:
4
minutes
Hunt. Play. Nibble. These activities are the perfect interactive de-stressing trifecta for cats, as boredom can lead to anxiety, and that's not what we want for cats who live in Fear Free Happy Homes. Growing some safe, edible plants indoors or in catios can help keep them engaged and happy.
While fresh catnip and wheat grass are feline favorites, there are lots of other nontoxic options they can safely munch that will also provide decorative flowers and foliage around your home. (You just have to be willing to share them with your cat.)
Plotting Before Planting
The ASPCA.org website has an excellent list that differentiates nontoxic plants from toxic ones. Because plants have heat, light, and shade preferences, this list will help with basic homework. Once you have sorted your location and planters, it's a good idea to have a final conversation at a local nursery to get the best advice about what will thrive in your home.
Ready, Set, Plant
"A mixture of peat moss, pumice, and sand is best for indoor plants," says landscape designer Nancy Matsuoka, of Laguna Hills Nursery in Santa Ana, California, who has designed many special indoor planters for felines. "Shade plants thrive better in an acid mix made up of equal parts of peat moss and pumice."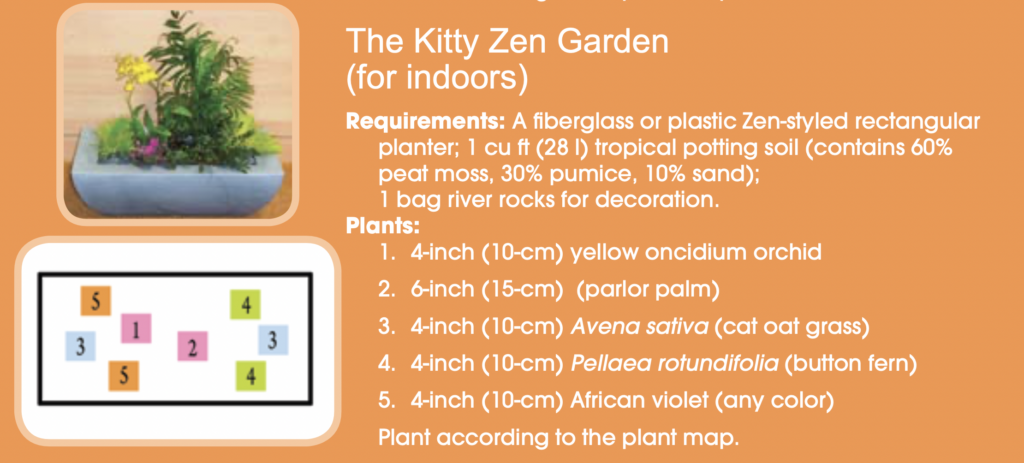 Some nurseries sell such mixes prepackaged, so ask. The same soil mixes can be used for outdoor planters if your yard is a cat-safe area.
It's a good idea to first map out your plants on paper and then plant them accordingly in the container. From a design standpoint, always plant taller plants in the middle and scale down in size toward the sides of the planter. The best planters have three components: Thrillers, the tall accent plants; fillers, planted around the thriller; and spillers, which trail over the sides.
Indoor Salad Bar
As with anything cat-related, location is everything! If your cat likes to sun herself on a kitchen counter or near a window, place a planter alongside this popular snooze zone. Planters should have a drainage hole and a saucer to contain excess water.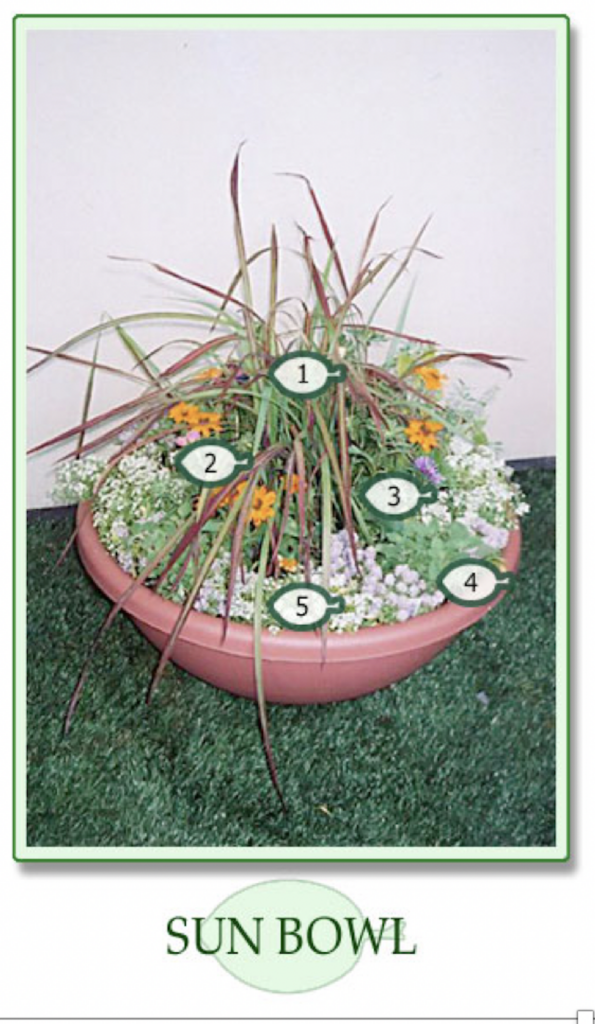 Strawberry pots, or similar designs that accommodate more than one plant, are a great option for providing a variety of edibles and different nibble heights. Low, round planters can be an attractive feature in a living room. And because cats love to climb, consider placing a planter on a shelf that your cat is able to access—without knocking off the plant!
Cat-Approved Greenery
Of course, top of the list is catnip! Fresh catnip is a treat for cats who are only used to dry buds or nip-filled toys. The essential oil produced by Nepeta catania is nepetalactone, and it has a powerful effect on some cats, revving up their play skills and prey drive and instantly turning snoozing couch potatoes into ecstatic balls of fur.
For Impatient Felines
Wheatgrass, barley, organic oats, chia grass, and rye can be purchased in seedling form. Organically grown is always best for feline edibles. Planting seeds is also a good bet because they usually sprout in four to six days. Because cats only nibble, they're not going to munch grasses down to soil level. Trim grasses regularly to keep them growing. Renew the crop by regularly adding seeds or plant a second crop and rotate them.
Getting Creative and Decorative
Don't overlook decorative edible grasses that can also grow indoors such as Eaton canyon grass (Pennisetum), fiber-optic grass, (Scirpus cernuus), Japanese clumping grass (Carex hachijoensis), aka"Evergold," and blue oat grass (Helictotrichon sempervirens).
Orchids are a popular cat-friendly choice for indoor plant decoration because of their magnificent long-lasting blooms. Also consider small palms such as the parlor palm, ferns such as the button fern (pallaea rotundifolia), and African violets.
Edibles in the Catio
What you can plant in your cat's outdoor space depends on the size of your area, as well as the sun or shade at specific times of day. Depending on your space, cats love tree bark to scratch on. If you are adding a tree, make sure the area is secured above the branches so cats can't get out! Again, this is a feature to discuss at your local nursery. A tall commercial cat tree with silk leaves but real bark areas is a good alternative as it offers places to snooze comfortably as well.
It's a good idea to plant everything in pots and position them accordingly. Remember that the best planters are low so cats have easy nibble access. Real grass can be grown in a framed box for easy maintenance. And shelves positioned like stairs at difference heights offer great vertical views and look great with plants. Just ensure the shelves are big enough for a cat to sit and nibble from both sides. Secure planters with museum glue so they don't topple off.
Final note: Even plants considered nontoxic can cause stomach upset or vomiting if your cat nibbles too much of them, so keep an eye on intake.
Here are some more suggestions from Matsuoka to consider for indoor or catio use:
Perennials (Sun)
Aster, Gerbera Daisy (Gerbera), Coral Bells (Heuchera), Polka Dot Plant (Hypoestes), African Daisy (Osteospermum), Sage (Salvia), Pincushion Flower (Scabiosa).
Annuals: (Sun)
Alyssum, Aster, Calendula, Celosia, Iresine, Marigold, Pansies, Snapdragon, Zinnia.
Herbs
Basil, Cat Grass, Cilantro, Dill, Lavender, Lemon Balm, Thyme.
Ferns
Mother Fern (Asplenium bulbiferum) Holly Fern (Cyrtomium falcatum), Sword Fern (Nephrolepis), Boston Fern, Button Fern (Pellea rotunifolia).
Shade Plants
Aspidistra, Spider Plant (Chlorophytum), Creeping Charlie (Tradescantia)
Tropical Plants
Golden, or Fishpole, Bamboo, Banana, Jungle Geranium (Ixora).
This article was reviewed/edited by board-certified veterinary behaviorist Dr. Kenneth Martin and/or veterinary technician specialist in behavior Debbie Martin, LVT.
Sandy Robins is an award-winning pet lifestyle journalist and author of For the Love of Cats, Fabulous Felines: Health and Beauty Secrets for the Pampered Cat, The Original Cat Bible, and Making the Most of All Nine Lives: The Extraordinary Life of Buffy The Cat.
Planter and diagram image courtesy Nancy Matsuoka and Sandy Robins.
Published September 5, 2022