Reading Time:
5
minutes
Each year we trek to Global Pet Expo in Orlando, Florida, to check out the latest and greatest in toys, training devices, and other pet paraphernalia. It's a tough job, but somebody's got to walk the miles and miles of aisles to see all the products. We chose items in four categories: Dog Enrichment, Cat Enrichment, Dog FAS (fear, anxiety, and stress) Reduction, and Cat FAS Reduction. Here's what we (and our pets) liked best. Look for them at pet supply stores, online, or contact the manufacturer. Some products are brand-new and may not be available until later in the year.
Dog Enrichment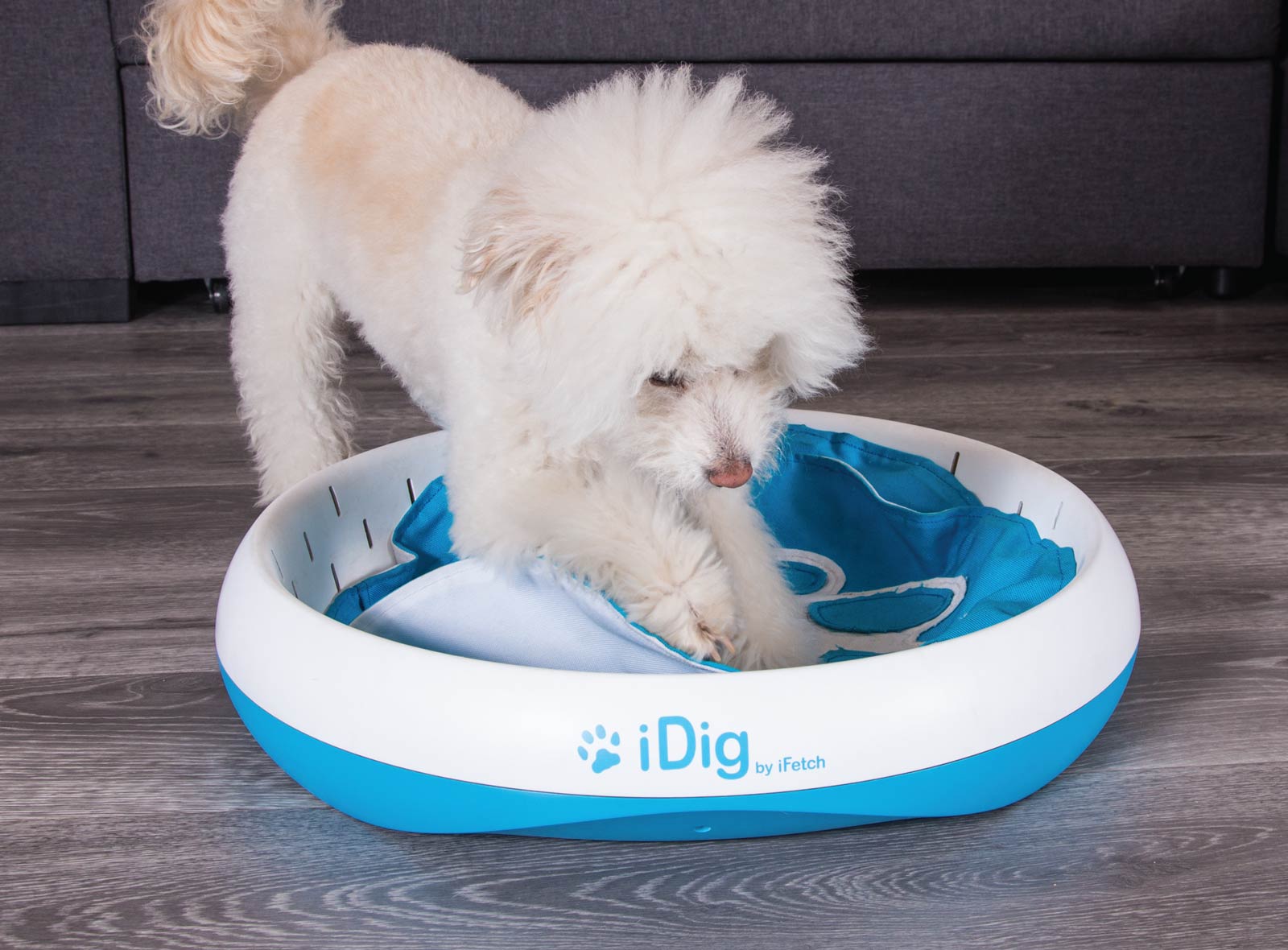 Top dog in this category was iDig, a foraging challenge that's a new take on dog enrichment toys, says Fear Free lead trainer Mikkel Becker. "I know from experience how much dogs dig the iDig," she says. "I bury Indy's chews, treats, toys, and more in this, and it keeps him really interested and engaged for hours. Willy, my 12-year-old Pug, also loved it and it was great stimulation for his senior brain." Add layers to increase the fun. Two models: a hard shell for home and a flexible one to pack and go. www.goifetch.com; $79.99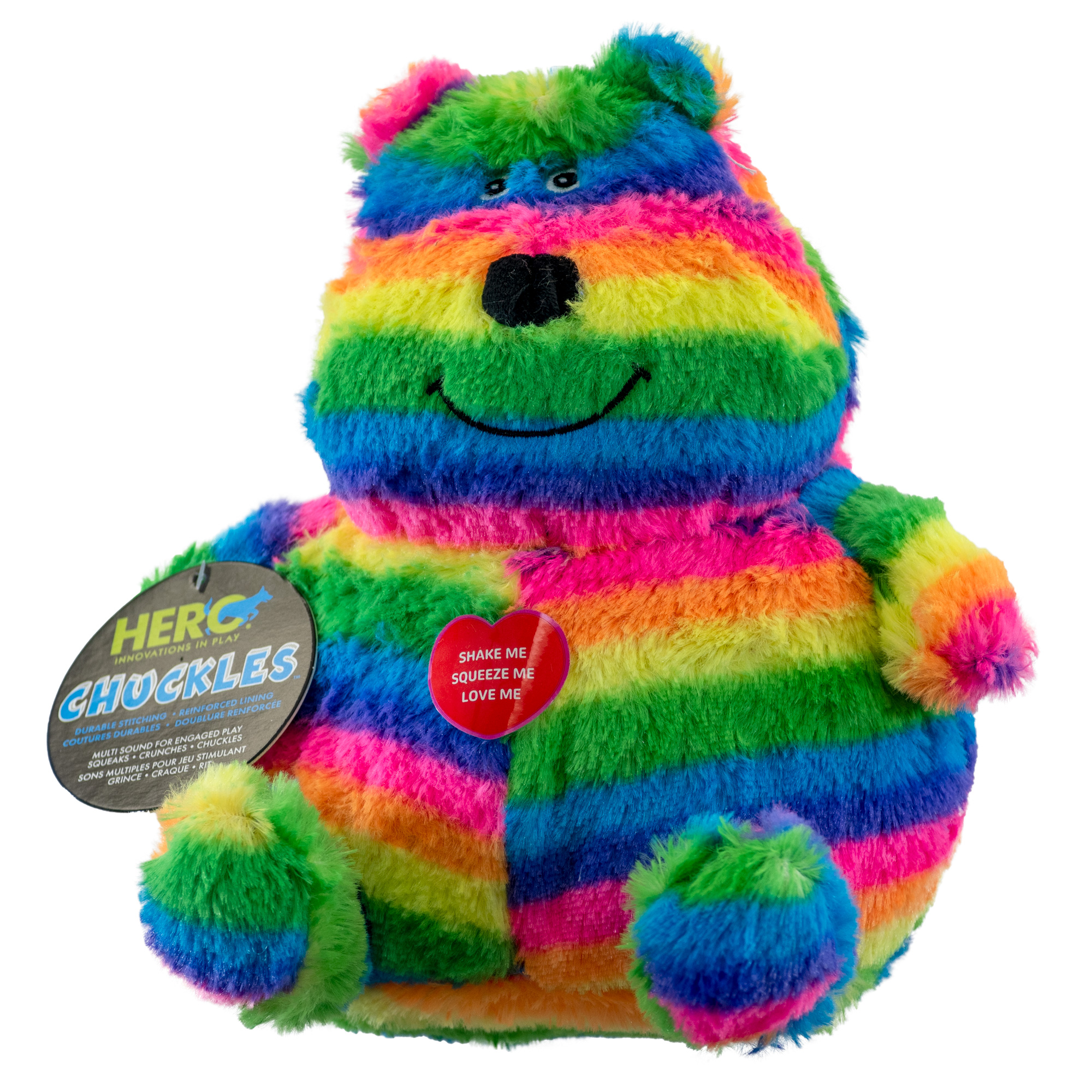 Chuckles toys, fun, multicolored stuffed animals that make chuckling, squeaking, and crunching sounds, have also been hits with Becker's dogs. "It's super-fun and makes so many sounds," she says. Her puggle, Indiana Bones, loves packing it around the house. www.caitec.com; $15.99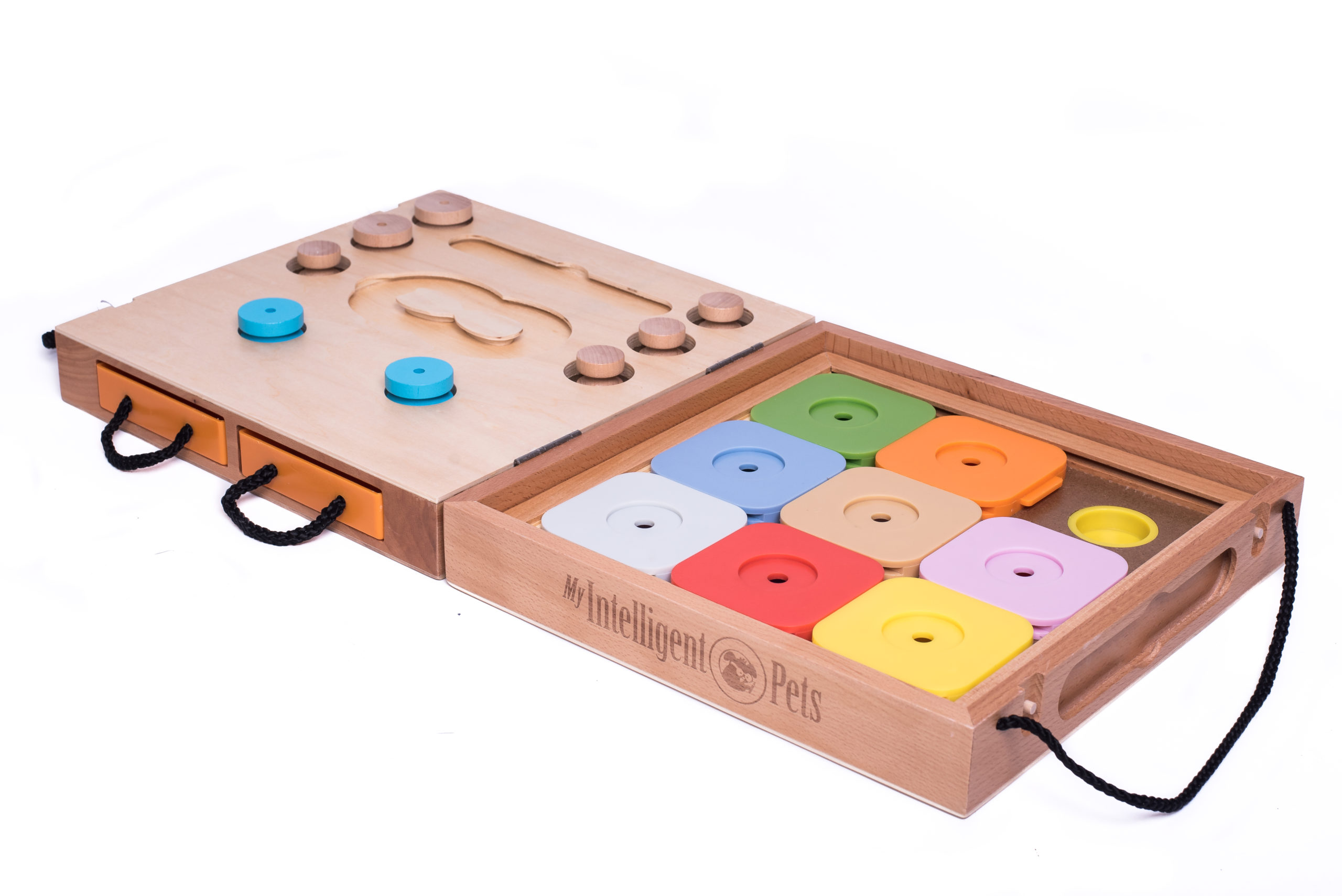 Travel Dog food puzzle tests canine dexterity, concentration, and scenting ability. Built in the shape of a suitcase, the cleverly designed toy contains two games in one, with various cylinders and "hats" for hiding treats. Vary the game's level of difficulty by adding or removing pieces. With the dual game design, two dogs can play at the same time. www.myintelligentdogs.com; $68
Cat Enrichment
You heard it here first, folks: cats need mental stimulation as much as dogs do—if not more. Here's what we found to engage those smart kitty brains.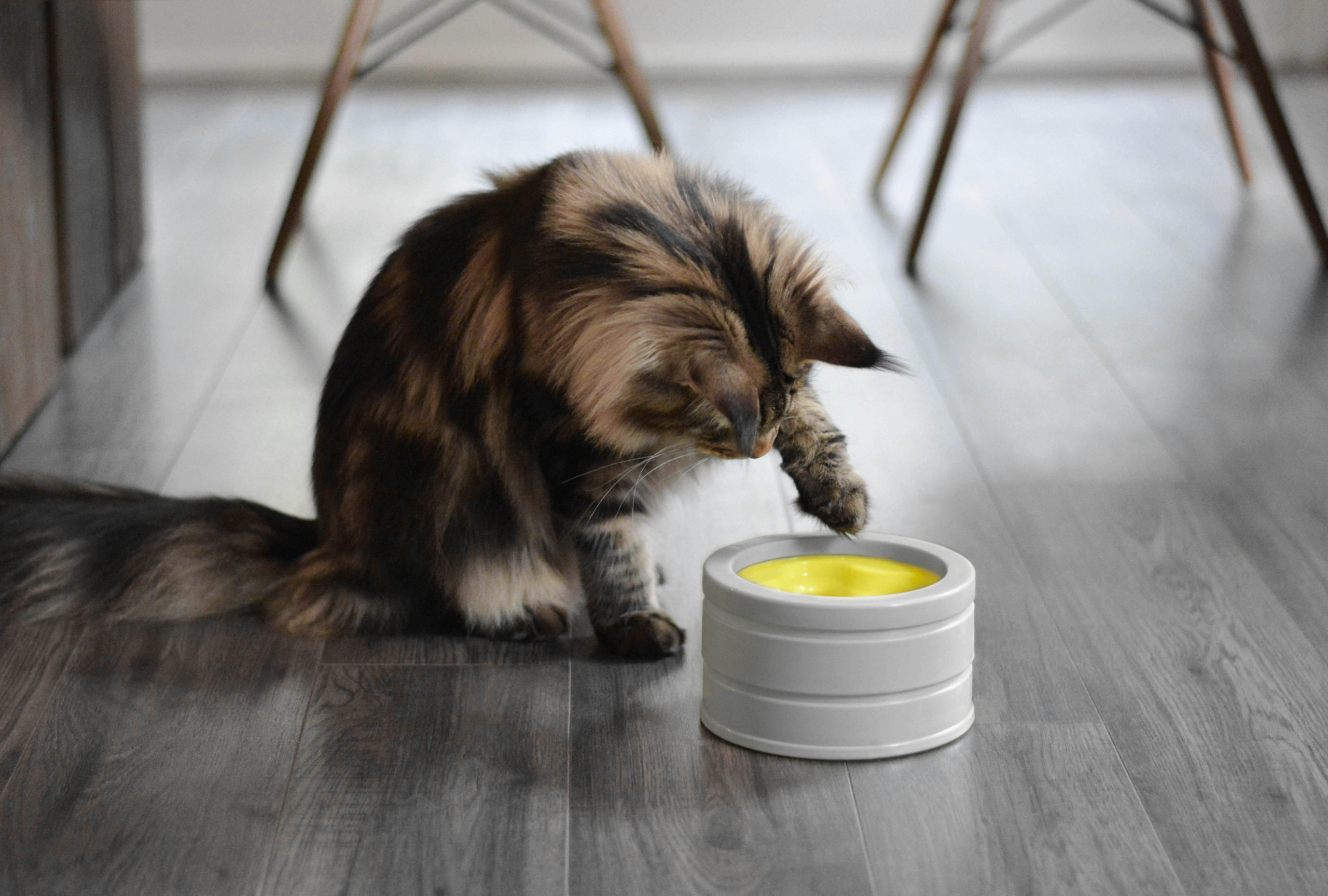 Intellikatt's food bowl builds on cats' love of playing with food and offers a stimulating hunting challenge. With three levels of difficulty and over 500 different combinations, it can be adapted to any cat's abilities, including "mewbies" new to foraging for food. www.beonebreed.com; $19.99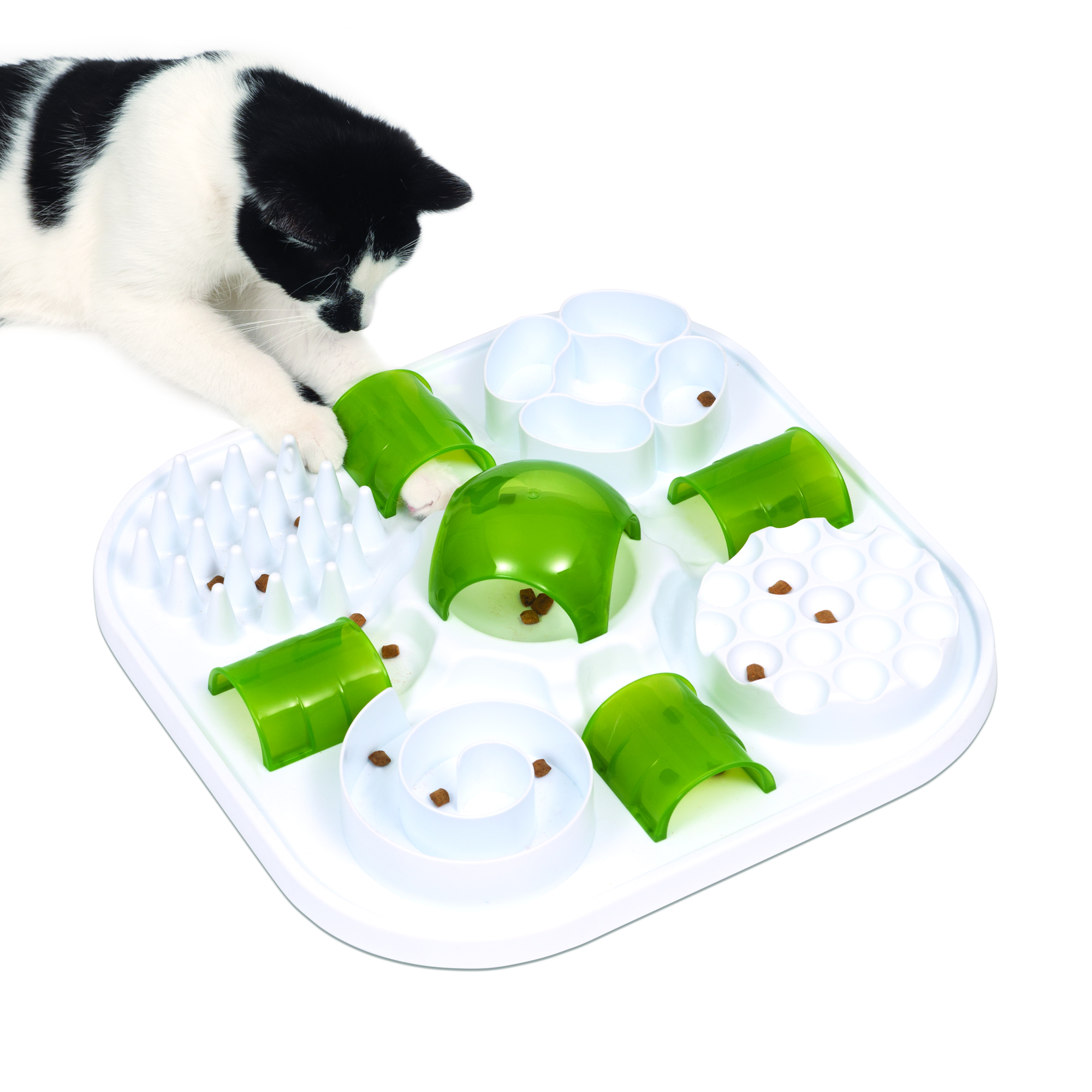 Catit scores with Play Treat Puzzle, a slow feeder with six different ways for cats to have fun while they eat, including tubs, caves, and tunnels where kibbles can lurk, just waiting for a patient paw to scoop them out. Cats eat more slowly, helping to reduce upchucking, while using their brains and motor skills the way they were meant to be used—for hunting. www.catit.com; $21.99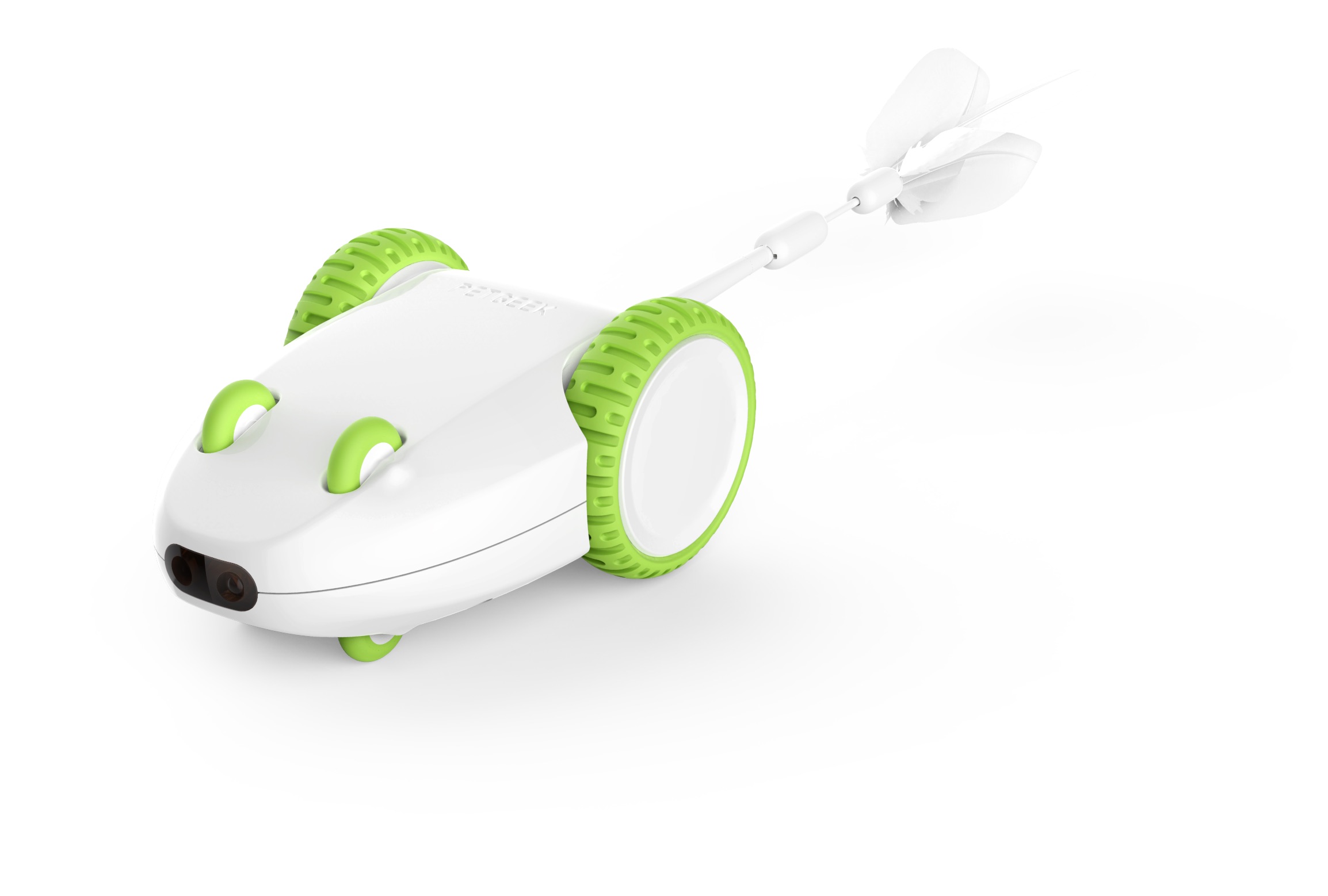 Furious Mouse by Pet Geek moves in all directions, including while it's upside down. It detects obstacles and moves backward to avoid them. The rotating tail—replaceable if your cat destroys it—and squeaking sounds rouse a cat's hunting instincts. A fitting challenge for the feline who loves to stalk and chase. http://petgeek.com.hk/Furious-Mouse.html; $49.99
FAS Reduction for Dogs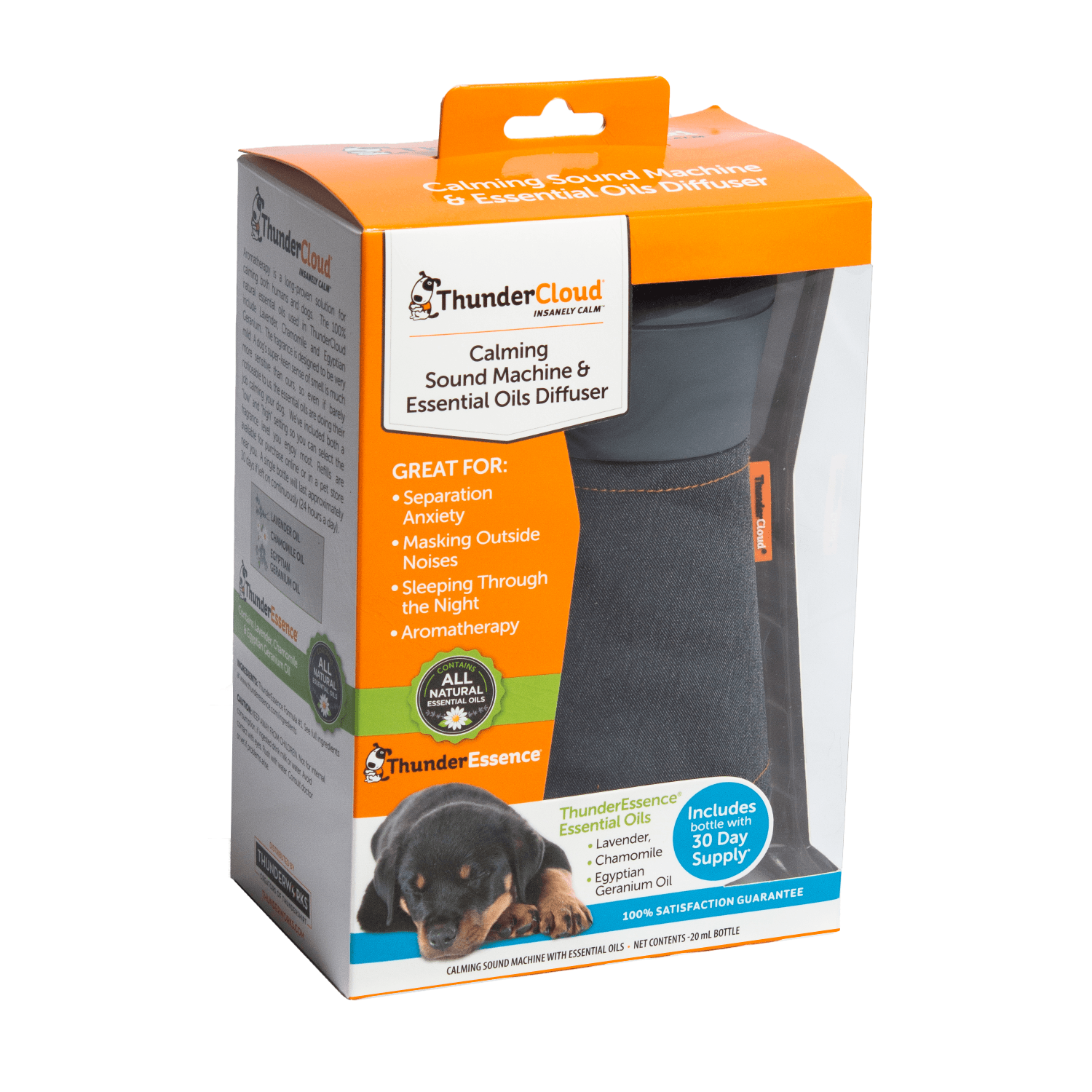 We all know dogs fearful of thunderstorms, fireworks, and other loud sounds. Thundercloud combines relaxing sounds with soothing scents to create a serene environment. "There are a lot of ways this could be used to keep dogs calm," Becker says. www.thundershirt.com; $39.99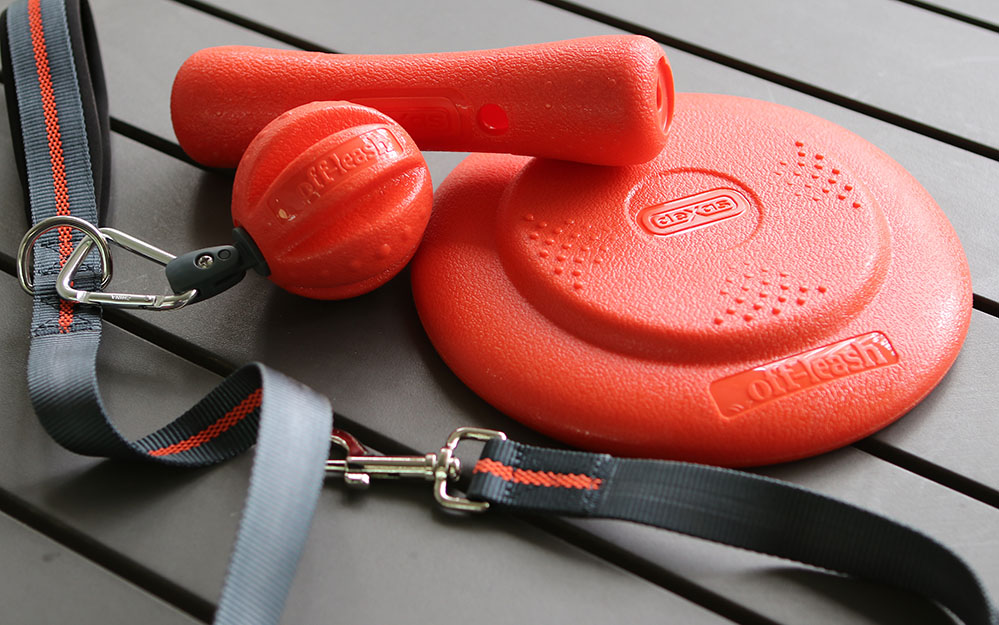 Stress-busting off-leash toys are easily available on a walk if your dog needs distraction. "The toys by Dexas were something that we've never seen before," Becker says. "They store easily on any leash and are easy to take off or put back on." www.dexas.com; $14.99
Kong's Marathon, a treat and toy combo, is perfect for keeping canine chewers occupied for long periods. www.kongcompany.com; $8.99
FAS Reduction for Cats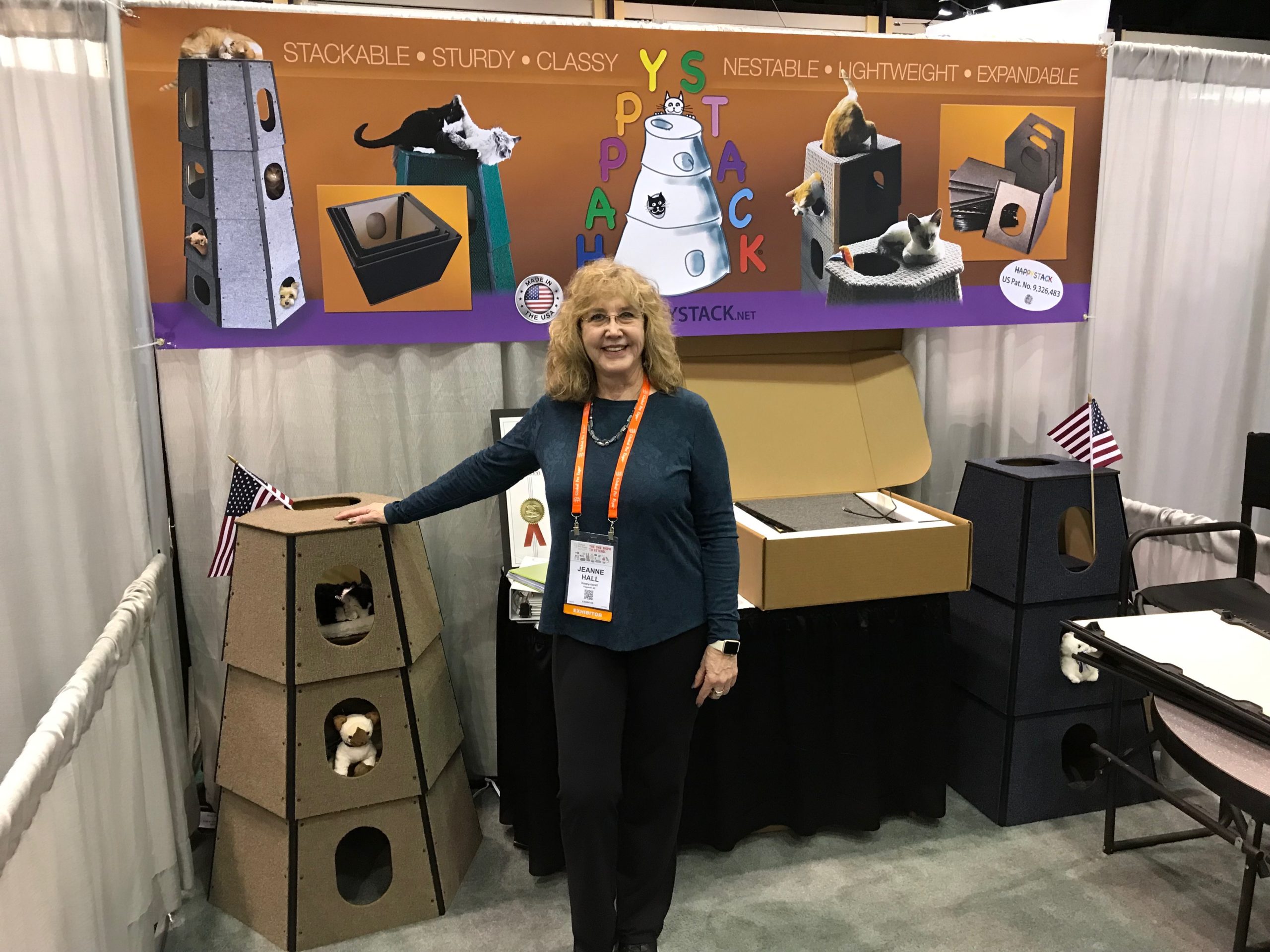 Happy Stack is a mobile alternative to the traditional "cat tree." Stack pieces in various configurations that allow your cat to climb, scratch, nap, or hide. A latching mechanism ensures safety, and it's easy to pick up, nest, and move pieces. www.happystack.net; $99.99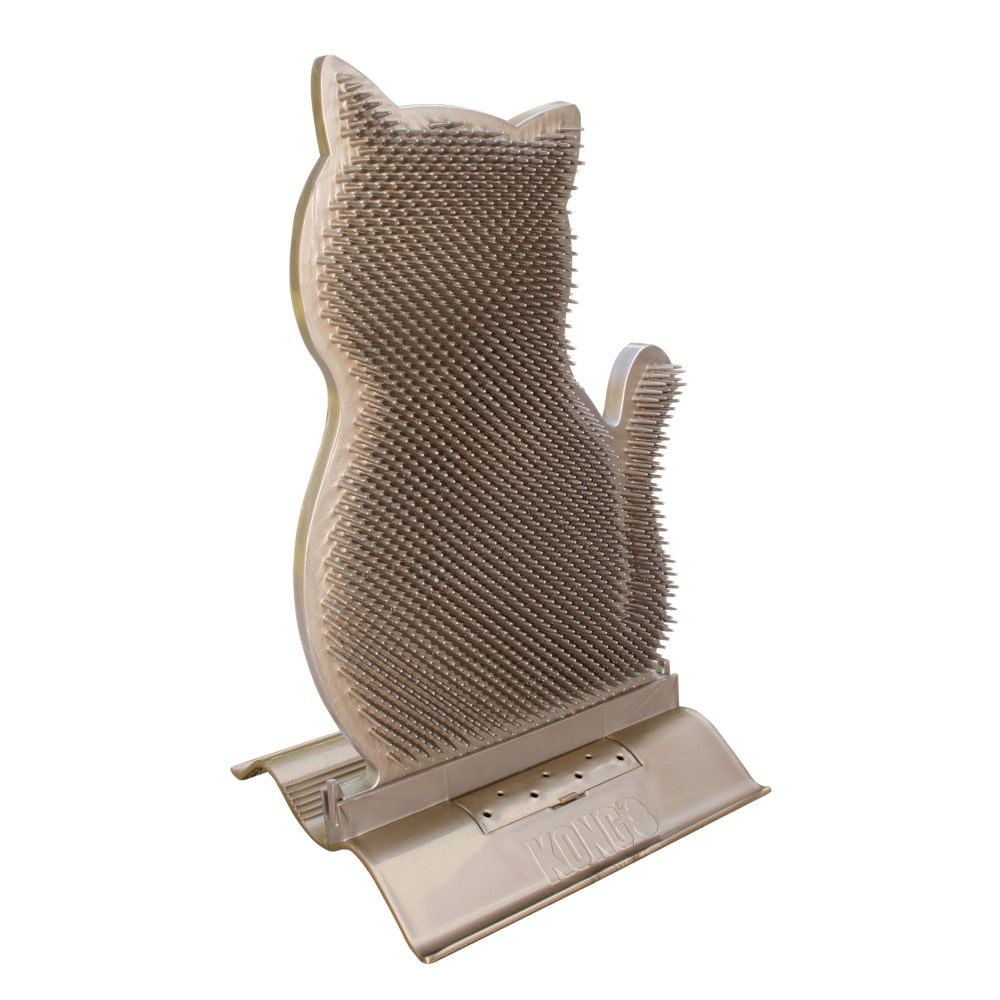 We don't always have time to give cats the brushing they enjoy, and that's where the KONG Connects Kitty Comber comes in. Set it up and let your kitty rub against it for a self-massage that lasts as long as she wants. You can add catnip for more fun. www.kongcompany.com; $15.99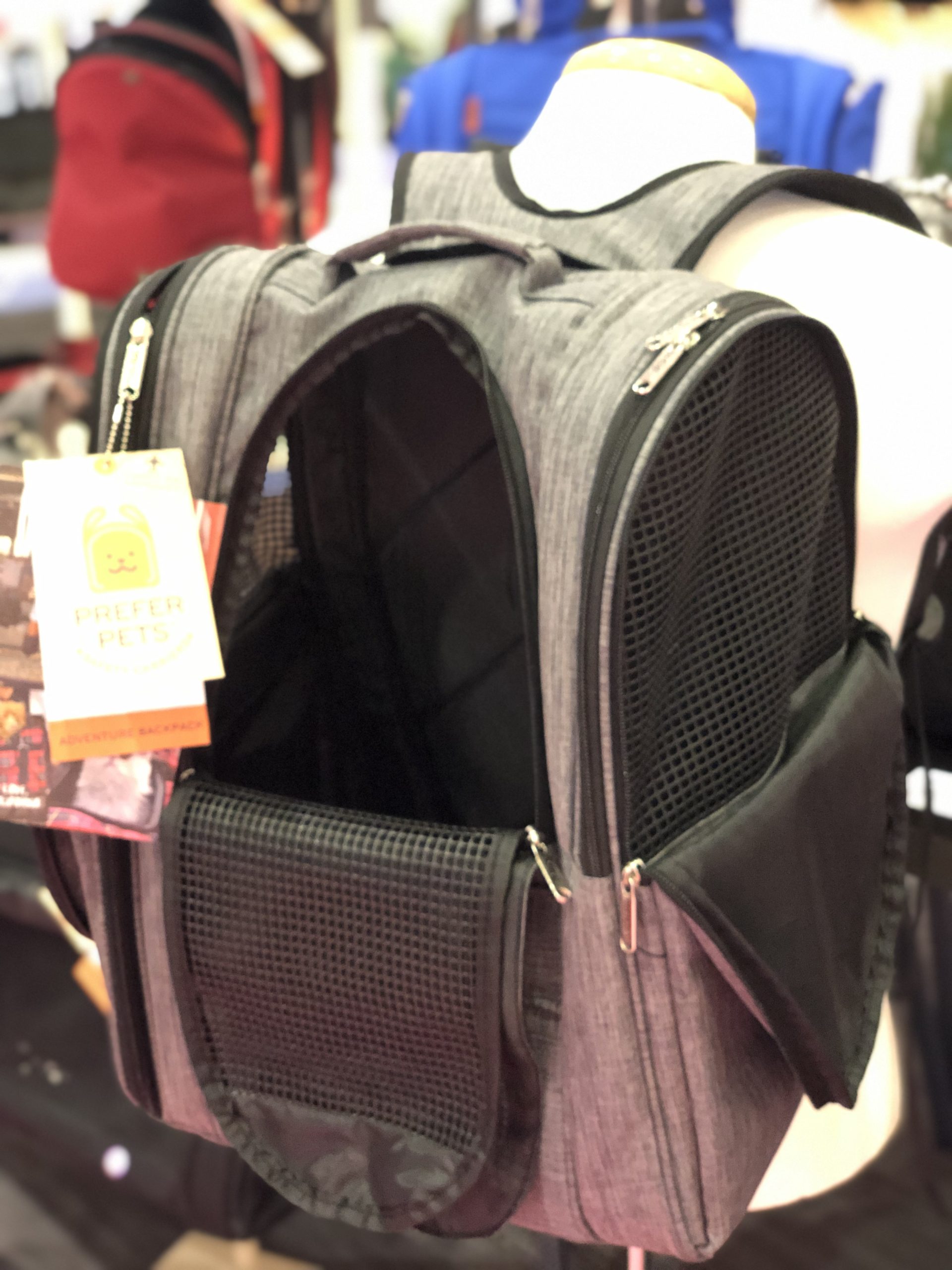 If your adventure cat likes to accompany you wherever you go, a feline-friendly backpack can help you transport him in a safe and stable manner. Adventure Backpack is lightweight with multiple openings. Different pockets allow the cat to look out or can be closed for cats who prefer privacy. Lay it flat and it functions as a cozy bed. Bonus: it's airline-approved for cats on the go. Available in June. www.preferpets.com
This article was reviewed/edited by board-certified veterinary behaviorist Dr. Kenneth Martin and/or veterinary technician specialist in behavior Debbie Martin, LVT.
Published April 23, 2019