Reading Time:
3
minutes
When my husband and I adopted our first puppy, we had no idea how much trouble the little scamp would get into. After he'd been bitten by two different dogs annoyed with his puppy antics, we invested in pet insurance to help cover Rio's medical bills.
"You're smart to do this before he develops pre-existing conditions, which aren't covered," his veterinarian told us.
Plans Pay Off
Pet insurance companies and plans can vary widely in cost and offerings, but if you find the right policy for your pet, it can provide invaluable peace of mind.
Iowa resident Gerianne Darnell is grateful to have found a Healthy Paws Pet Insurance plan without a yearly maximum for her Border Collie,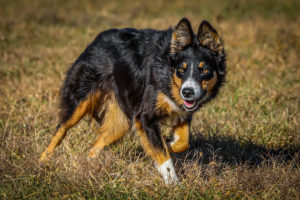 Ricochet Rayna. When the active dog was just 11 months old, she needed her first knee surgery. She wound up having three surgeries in 10 months, and rehabilitation included laser therapy, acupuncture, chiropractic, swimming, and underwater treadmill therapy.
Now Rayna is almost four years old, and the pet insurance policy has paid $23,000 in benefits for her. The canine athlete excels at competing in obedience, rally, herding, tracking, and nosework.
"I recommend pet insurance to everyone. I could never have afforded to do all for her that I have without the insurance," Darnell says. "I am very thankful she has come all the way back to a meaningful career in dog sports and is a happy, busy pet."
Covered Care
Caitlin Tearney, DVM, DACVAA, a Fear Free certified veterinarian at Wheat Ridge Animal Hospital in Wheat Ridge, Colorado, said it is heartbreaking for veterinarians when people can't afford recommended veterinary care, particularly when pets have a treatable problem or disease.
"I would like to see pet insurance become more common," she says. "It allows a family to make a decision for their pet's medical care based on what's best for their family and their pet and keep the financial aspect out of the decision."
With all the advances in veterinary medicine, there's a growing list of treatments pet insurance policies can cover. Just be sure to check with your company about exclusions or limits in your plan before a major investment. (For instance, we recently spent over $6,000 on stem cell therapy for Rio's arthritis – only to learn the policy only covers up to $842 for arthritis treatment each year. Gulp!)
Here are some surprising things pet insurance policies can cover when prescribed by a veterinarian, according to Embrace Pet Insurance:
Organ transplants
Bone marrow transplants
Stem cell therapy
Platelet-rich plasma therapy
Laser therapy
Alternative therapies like traditional Chinese medicine, massage, and acupuncture
Behavior modification therapy (for issues like food aggression or cats urinating outside a litter box) when performed by a licensed veterinarian
Pacemaker implantation
Mobility devices such as prosthetics and carts
Hereditary conditions like elbow dysplasia
Cyberknife radiation therapy and other oncology care
Cannabis therapy (under an optional Wellness Rewards plan)
Birds and More
Another surprising development: Pet insurance isn't just for dogs and cats anymore. Nationwide Pet Insurance recently launched policies for birds and "exotics" such as rabbits and reptiles, according to Jules Benson, BVSc, MRCVS, the company's associate vice president of veterinary relations.
Dr. Benson says advances in veterinary medicine, such as cancer therapies, offer more personalized medicine options for pets.
"There are a lot of things our veterinary colleagues are doing that are really advancements and that are really exciting. But they unfortunately do come with a price tag," he says. "As a veterinarian, being in the room and having to not just offer the medical options but then also have to tie those to financial implications is tough. Nobody – the veterinarian, nor the pet owner, and certainly not the pet – wants to be at the mercy of the realities of people's finances. But that's often the way it is. Pet health insurance really is a mechanism to alleviate that worry."
This article was reviewed/edited by board-certified veterinary behaviorist Dr. Kenneth Martin and/or veterinary technician specialist in behavior Debbie Martin, LVT.
Award-winning journalist Jen Reeder is former president of the Dog Writers Association of America.
Inset photo by Lori Herbel.
Published March 2, 2020