Reading Time:
3
minutes
Lily may never earn a Master Agility Champion title, but the little Chinese Crested already has attained her championship in agility fun.
The 2-year-old has always been uncertain, says owner Michelle Atkinson of Anaheim, California.
"At home in her environment she's the boss, but outside her comfort zone she's fearful and shy."
She proved that when we met on the pair's first day of Agility for Fun class. Lily wouldn't make eye contact and shied from me, even when offered treats. She wouldn't even take steak from the ground if it came from me or from anyone else in class.
At first, Lily didn't want much to do with the equipment, either. But letting her take things in stride, never pressuring her or insisting on a certain behavior, we were able to help her see that this wasn't such a scary endeavor.
"After several weeks," Atkinson says, "something clicked in her and she started trying the different pieces of equipment and enjoyed it more each class."
Now, about nine months later, Atkinson says, "Lily walks out in the ring with confidence, and she looks happy, nothing like in the beginning." She's even starting to take treats from others in the class, including me. She has blossomed, the way many fearful dogs do when introduced to this sport at a noncompetitive, no-stress, no-pressure level.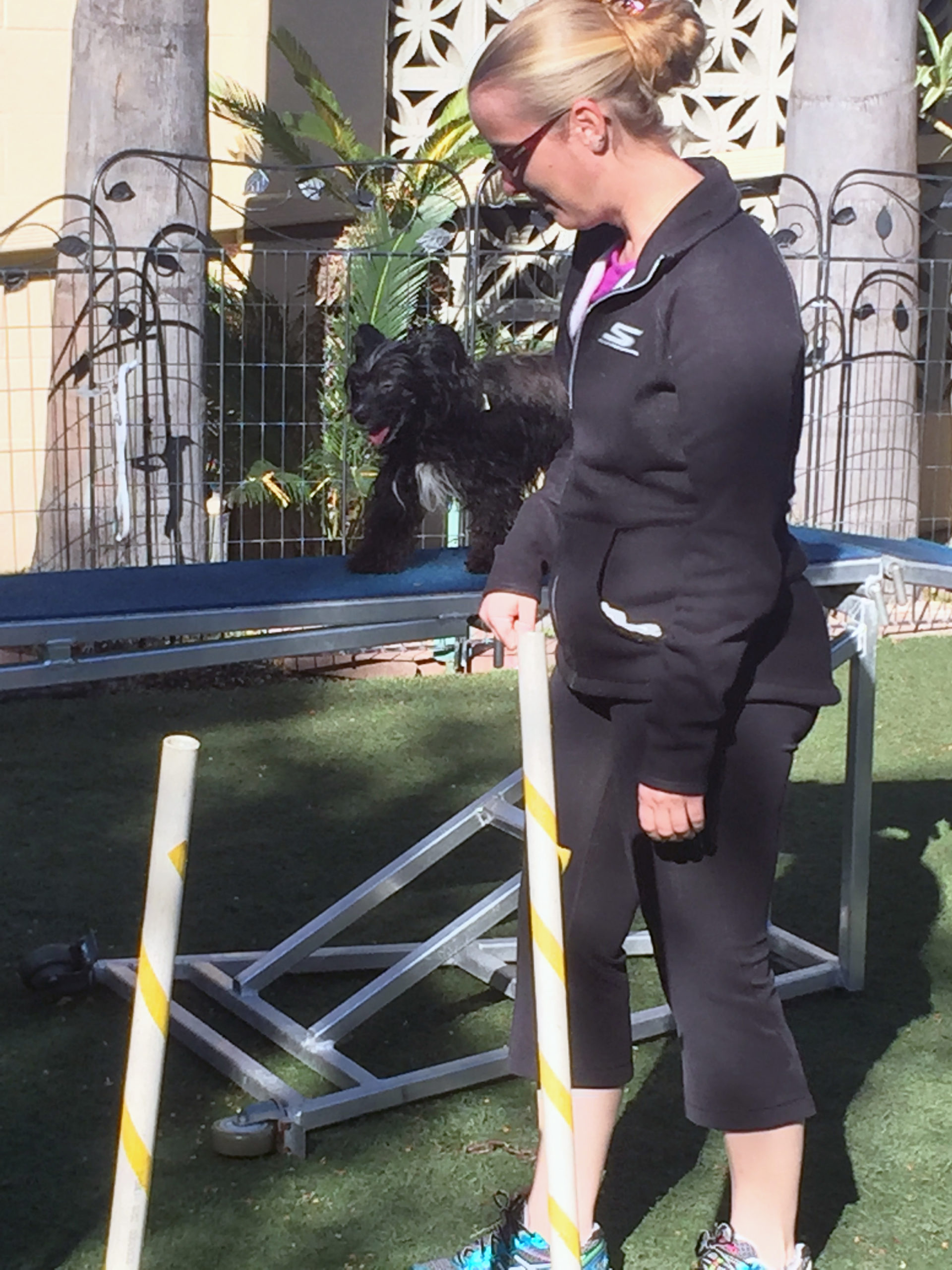 My students and their dogs learn at their own pace. Our obstacles — jumps, tunnels, A-frame, dog walk, and teeter — are kept at low levels to avoid or at least minimize physical and mental stress. Students use treats and toys to encourage dogs to engage with the equipment and reward them for doing so. If a dog doesn't want to get on a certain obstacle, she doesn't have to. It's all about having fun and keeping the stress level low.
A bonus: confidence. Australian Shepherd Holly started agility when she was 5 months old. "She was a very timid puppy, afraid of just about anything," says owner Nancy Earnshaw of Long Beach, California. "She was terrified of the tunnels when we first started." It took us weeks to help Holly confidently traverse the length of the tunnels.
We started slowly, with the shorter of the two tunnels we use squashed to about 3 ½ feet long. We lured Holly through with treats, me holding her leash on one end and Earnshaw at the other encouraging her through. While this isn't the way to teach a dog who's going to compete in agility, it's a great way to break down the long, scary tunnel and make it less intimidating.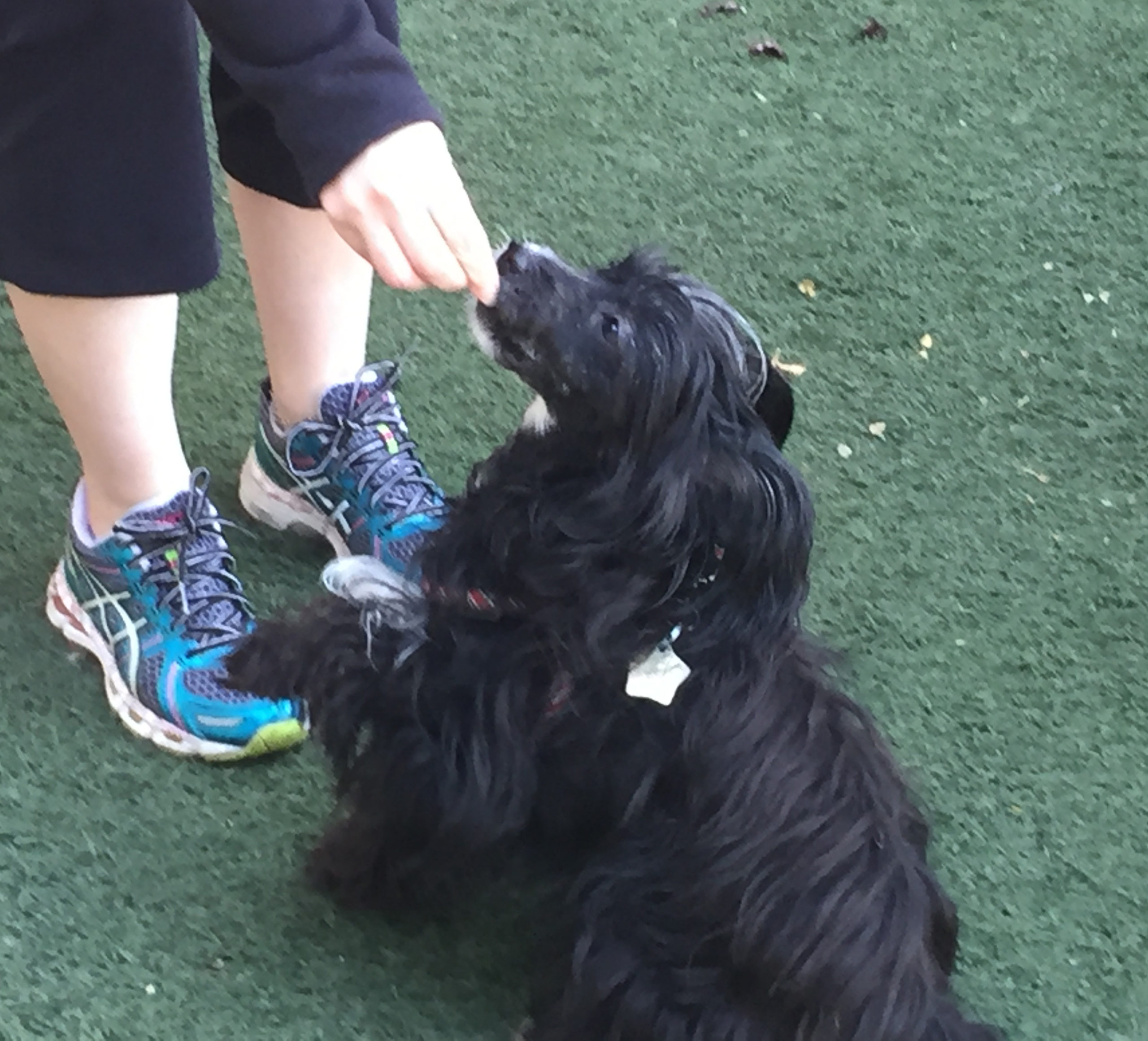 Now 3 years old, Holly gets on top of the A-frame and stands as if she's on top of the world, checking everything out, Earnshaw says. As for the tunnels, now Holly makes extra trips through them just for fun.
I've seen the same action from many dogs who once feared direct eye contact or barked incessantly at strangers. Once they conquer the hill or run through the tunnel and come out the other side, they are more confident. I can see the shine in their eyes, watch that "Aha!" moment when they realize they can be bigger than their fears and enjoy the sheer happiness they gain from running around without a care.
Like a lot of sports, agility can be a wonderful bonding experience between dog and person. The bonus of doing it for fun, rather than with the goal of competition, is the lack of stress for both dog and handler. There's no need to be better than others, run faster, more accurately, or with fewer bobbles. None of that matters because this is simply about having a good time with your dog.
There's no magic. It's just good fun, done safely, with minimal stress and lots of positive reinforcement. The dogs have fun, their owners have fun, and the confidence extends beyond the agility yard. Lily and Holly now will approach some strangers, far cries from the dogs who started this game hiding behind their owners.
Maryanne Dell is a writer and editor in Southern California. She teaches Agility for Fun at Crossroads Pet Resort in Stanton.
This article was reviewed/edited by board-certified veterinary behaviorist Dr. Kenneth Martin and/or veterinary technician specialist in behavior Debbie Martin, LVT.
Published July 18, 2018