Zoundz
Zoundz Music For Pets™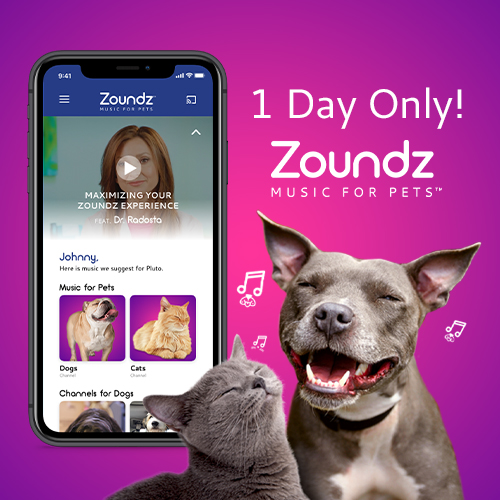 What is Zoundz?
Zoundz Music For Pets™ helps you calm, condition, and connect with your pet. Our app features a wide variety of music channels designed to ease your dog's anxiety in common stress-producing situations.
What is the Deal?
SAVE BIG on the Calming Sounds of Zoundz.
Annual Subscription = $9.99 (Price reflects $14 savings)
Monthly Subscription = $1.49 (Price reflects 50% off)
How do I redeem the perk?
You must register to be eligible for this deal.
What to know about Zoundz
Zoundz Music For Pets™ is designed to create a relaxing environment and settle anxious pets. Backed by behavioral research and approved by pet professionals, Zoundz delivers everything you need to help your pet feel more Zen including:
Species-specific music for dogs & cats.
Over 200 music tracks to calm your pet, channels include:
Pro Tips from a Board-Certified Animal Behaviorist, including interactive games to play with your pet to enhance your Zoundz experience.