RemembeRing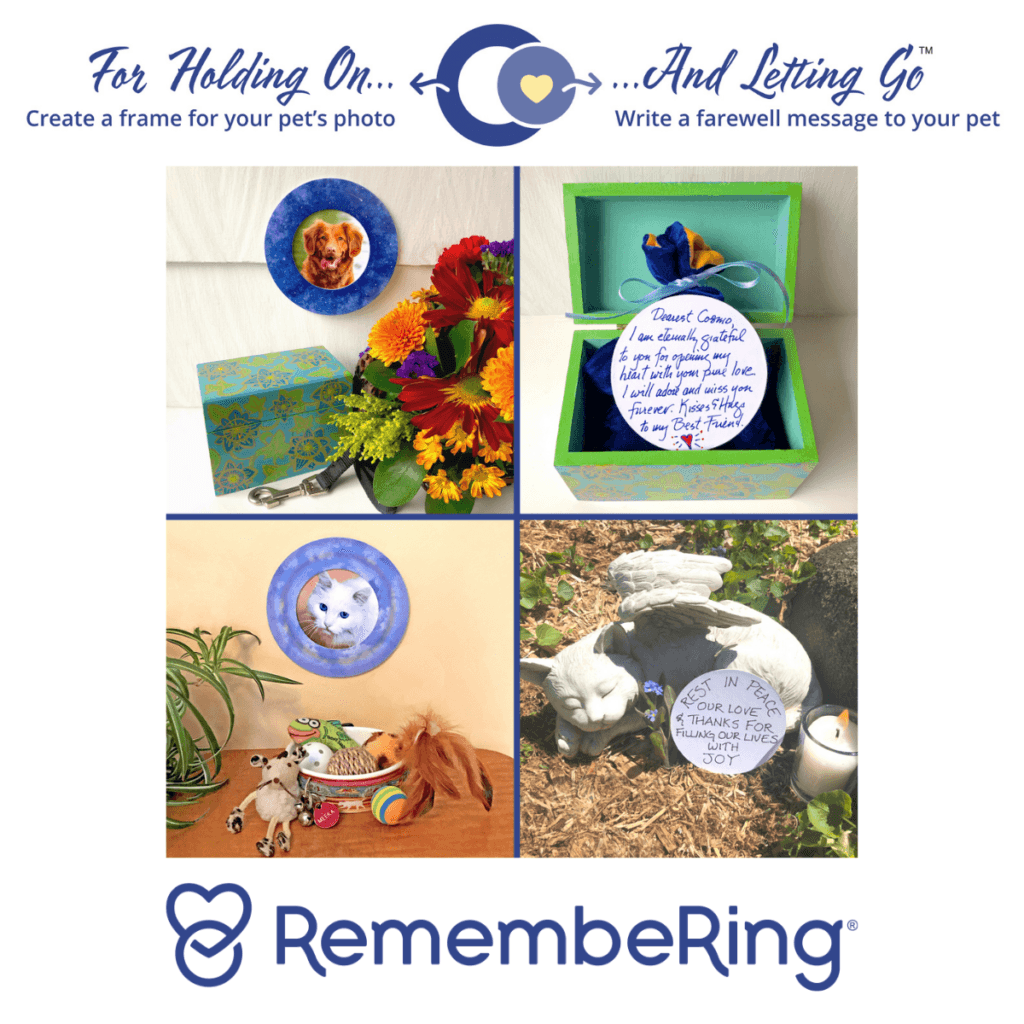 What is RemembeRing?
RemembeRing is an innovative DIY Tribute Kit designed to ease the heartbreak of pet loss while celebrating the love. It's a comforting resource for pet lovers and makes a touching gift for friends or family members.
What is the offer?
As a Fear Free Happy Homes member, get 15% off sitewide!
How do I redeem the perk?
Visit https://remembering.pet/ and enter the below promo code in your cart or during checkout.
Fear Free Connection
RemembeRing shares Fear Free's commitment to helping the entire family when it's time to say goodbye to a beloved pet. End-of-life is such a difficult experience for everyone involved and RemembeRing is the only personalized hands-on activity that supports both essential needs of grief at the same time ~ Holding On and Letting Go. RemembeRing is simple and satisfying to use and delivers special value to families with children, since pet loss is often their first introduction to death and they benefit from participating in this act of love. RemembeRing appeals across faiths, cultures, and ages (3+ years).
Additional company info
RemembeRing is a new mourning tradition that brings comfort to pet lovers who are grieving the loss of a beloved pet. Invented by a former art therapist and grief counselor, RemembeRing comes from knowing how hard it is to say goodbye and the importance of honoring how special they are in our lives.
With its unique dual design, each RemembeRing separates into two distinct parts. The art covers the entire surface, so even after it's taken apart and transformed, the connection lasts forever, just like the special bond with the beloved pet.
❤️ The Outer Ring becomes a keepsake photo frame for display — the part for Holding On.
❤️ The Center Token is for sending a farewell message to the pet —the part for Letting Go.
The opening that the Center Token leaves in the Outer Ring represents the hole in our hearts only they can fill, and that's why their photo belongs there. The completed Token can accompany the deceased or be kept in a place that's meaningful to the bereaved (suggestions are listed on the homepage).
RemembeRings can be created solo or in the company of others. Each RemembeRing Tribute Kit includes everything needed to complete it, aside from a favorite 4" photo of the pet, something to write/draw with, and scissors. Instructions are included to ensure the process goes smoothly. Our website provides plenty of additional guidance and resources about grieving and loving our furry friends – www.remembering.pet.

Made in the USA by a Vermont-based, woman-owned company.