Lick Lick Pad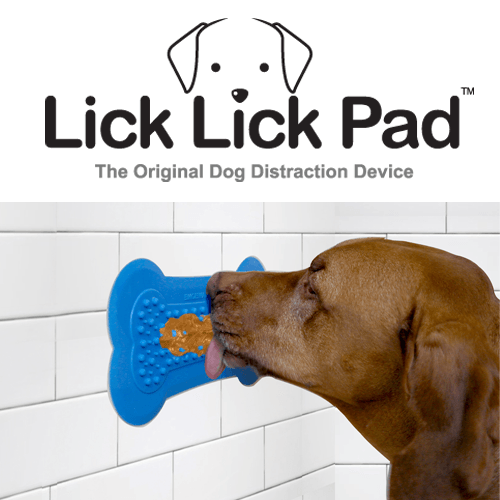 What is the Lick Lick Pad?
The Lick Lick Pad is a 100% food-grade silicone pad that allows you to put any spreadable food your dog likes, such as peanut butter, on it, then stick it to the wall of your shower or bathtub. While you're washing, your dog is busy having a treat.
Benefits:
Does not leave any residual mess. No adhesives or suction cups necessary.
Sticks to any flat/shiny surface, such as tile, porcelain, granite, glass, and polished metal.
For smaller dogs that get washed in the kitchen sink, attach the pad to the countertop or inside of the sink.
Variable height bumps keep any spreadable food in place.
Washes easily. Dishwasher safe.
What is the offer?
As a Fear Free Happy Homes member, you get 10% off any Lick Lick Pad purchase from their Amazon store.
How do I redeem the Purk?
During checkout from their Amazon store, enter the code below to receive the discount.
More about the Lick Lick Pad
A pet owner and pet over since he was a child, Gregg Myles Levin, inventor of the patent-pending Lick Lick Pad, remembers the family toy poodle, Tiny, always shaking and being stressed out at the thought of taking a bath. Now with the Lick Lick Pad⁠—designed to help reduce fear, anxiety, and stress during washing, grooming, or vet exams⁠—Gregg is happy knowing that other dogs may not endure the same discomfort.
How did Gregg come up with the idea?
Back in 2017, Gregg saw a video of a dog owner spreading peanut butter on their bathroom tile wall to distract their dog while being washed. He thought: "Great idea, but do you really want peanut butter on your bathroom shower walls? And do you really want your dog licking all the chemicals on those walls?" He thought there had to be a better way, so he created one.