Sleepypod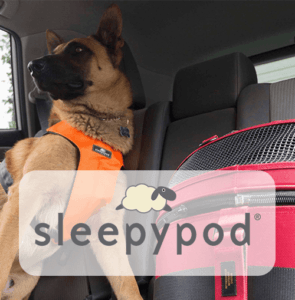 What is Sleepypod?
Sleepypod creates award-winning pet accessories for dogs and cats with safety in mind. Sleepypod's crash-tested, airline-approved, and TSA-approved line of products include dog carriers, cat carriers, dog safety harnesses, and more.
As a Fear Free Happy Homes member, you get 5% off all Sleepypod products sitewide!
How do I redeem the perk?
During checkout on Sleepypod's website, enter the below promo code.
More about Sleepypod products
Reduce anxiety and travel safer with Sleepypod products.
There's no better companion than your furry best friend, but sometimes your pet needs a little extra help when hitting the road to unfamiliar destinations. Sleepypod's multifunctional products help reduce anxiety and allow your pets to travel safer. For the smaller pet, an everyday pet bet bed transition into a carrier and even a crash tested car seat so your pet is always traveling in its own familiar space. Larger pets benefit from a walking harness that transitions into a car safety harness which hugs the pet with gentle pressure. Rest assured when buckling up your furry pals using Sleepypod carriers and safety harnesses because they are rigorously tested to include the same dynamic crash tests used to test child safety restraints. Some examples include:
Sleepypod Mobile Pet Bed
The Sleepypod Mobile Pet Bed is three products in one: it's an everyday pet bed, a stylish carrier, and a safe car seat. While many cats and dogs associate travel with negative experiences such as a trip to the vet or kennel, Sleepypod reduces stress by allowing a pet to travel safely in the comfort and familiarity of his or her own bed.
Clicklt Sport
Clickit Sport is Sleepypod's next generation dog safety harness. Our unique Infinity Loop design, in combination with an energy absorbing padded vest, is engineered to work together to distribute and reduce damaging forces in an accident without the need of additional hardware or attachment straps.