Bissell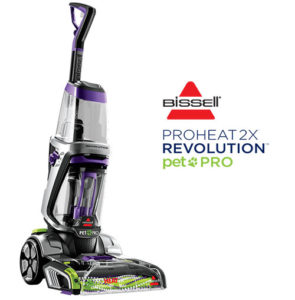 Who is Bissel?
BISSELL knows messes happen, and sometimes our pets are responsible. But you shouldn't spend extra time tackling those messes. We're making cleaning quick and easy, so you can get back to spending time with those who matter most.
What is the offer?
As a Fear Free Happy Homes member, you get 10% off your purchase of ProHeat 2X® RevolutionTM Pet Pro at BISSELL.com.
How do I redeem the perk?
During checkout on BISSELL's website, enter the promo code below.
More about the ProHeat 2X Revolution Pet Pro
At BISSELL, we love our pets, and keep them in mind with each product we design. We also support the commitment of BISSELL Pet Foundation® to find every homeless pet a loving, forever home. We know getting used to new surroundings can be stressful for adopted pets, and sometimes, that means accidents. We also know more people would adopt if cleaning up those messes were easier. That's why we're teaming up with Fear Free, so you can clean up pet messes quickly, and get back to enjoying life's everyday moments with them.
ProHeat 2X Revolution Pet Pro
Your pet is part of your family but cleaning up after them isn't always easy. BISSELL's ProHeat 2X® RevolutionTM Pet Pro helps you tackle those pet messes in a few simple ways. Its CleanShot® Pretreater attacks spots and stains with the push of a button. The 2-in-1 Pet Upholstery Tool lets you dry or wet clean any fabric your pet may encounter, leaving behind hair and other messes. Specially-formulated Pet Urine Eliminator + Oxy Formula has the power to eliminate some of the toughest odors – we've even tested it against skunk smells. Express Clean Mode ensures your carpets dry in about an hour after you're done cleaning, letting you get back to your busy life. And, the Brush Roll Cover is easily removed, helping you maintain your deep cleaner between uses. All these innovative features come together in a lightweight machine, weighing in at less than 20 pounds, making it easy to move around your house, and giving you just about everything you need to eliminate pet messes, wherever they may happen.