Hauspanther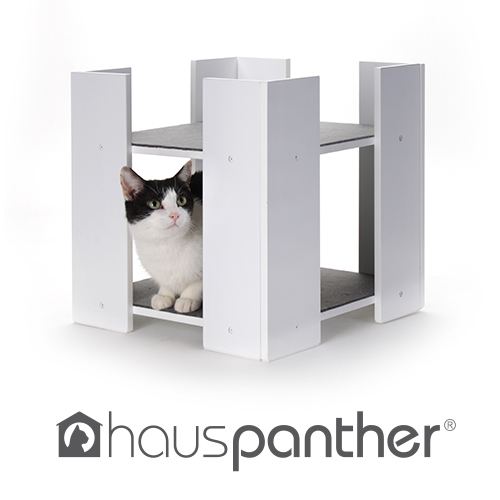 About
This multi-level cat bed by Hauspanther has a raised perch on top and a covered hideaway below providing cats with options for lounging and giving multiple cats a space that they can share comfortably.
Discount
As a Fear Free Happy Homes member, get 30% off the Hauspanther Cubitat with FREE SHIPPING to U.S. addresses!
Redeem
On April 9, 2021, U.S. Fear Free Happy Homes members can visit primetimepetz.com/pet-beds, add the Cubitat to your cart, and check out using discount code provided below.
Fear Free Connection
Cats often seek out small hiding spaces as a way to feel more at ease, but we don't want them hiding under the bed or at the back of a closet. Instead, give them a special piece of furniture that's designed especially for cats. Like all Hauspanther products, the Cubitat provides environmental enrichment for cats and style for you. This multi-level cat bed creates a hideaway below with openings on all four sides for easy access and to prevent cats from being trapped inside. The raised surface on top offers a sturdy backrest and an alternative lounge spot with a view. Plenty of room for multiple cats to share. Non-slip material on both surfaces prevents slipping. The Cubitat comes in white or espresso to coordinate with your décor.
The Hauspanther Collection by Primetime Petz caters to a cat's natural instincts to climb, scratch and play. Designed by Kate Benjamin, founder of Hauspanther and co-author of New York Times bestsellers Catification and Catify to Satisfy, these affordable, easy to assemble pieces fit seamlessly with your décor, allowing you to celebrate your love of cats without sacrificing your sense of style.
Cubitat Dimensions:
Measures 15″ x 15″ x 15″
Lower & upper platforms: 14″ x 14″
Lower-level openings: 6″ wide x 9″ tall
Upper-level backrest: 4″ tall