Airvet
Airvet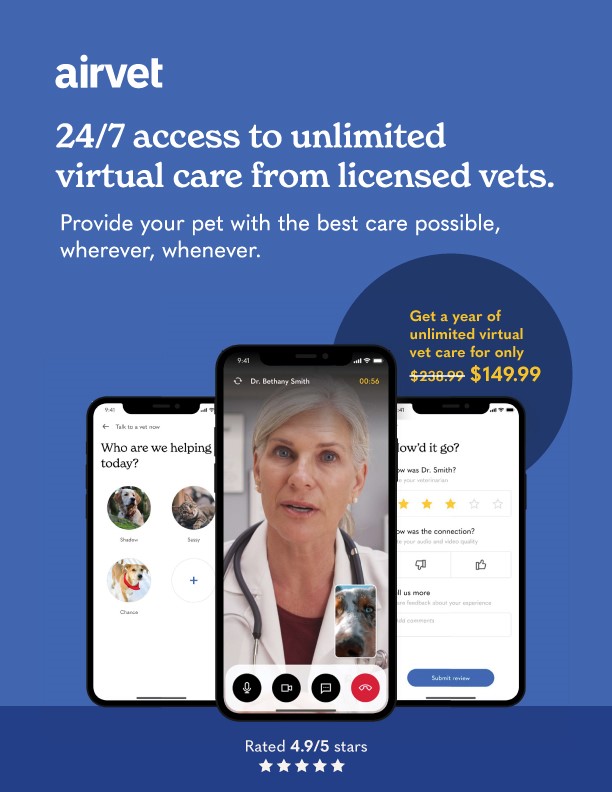 What is Airvet?
Airvet provides pet parents with peace of mind, convenience, and an affordable virtual option for vet care. Enjoy a stress-free vet experience from the comfort of your couch.
With our app and an unlimited annual plan, you'll get instant access 24/7 to virtual veterinarian visits all year long.
What is the Deal?
Normally priced at $19.99/month, when you sign up for our annual plan, you automatically get a 25% discount to $179.99 for the year ($14.99/month). And, as a Fear Free Happy Homes member, today only you get an extra $30 off – pay only $149.99!
When Airvet helps you avoid just one unnecessary urgent care visit at ~$150 – the plan pays for itself – AND you get access all year long.
How do I redeem the perk?
You must register to be eligible for this deal.
More about Airvet
Airvet is the perfect Fear Free companion — affordable and accessible pet care that gets you the answers you need while avoiding stress and anxiety for your pet. Now that there's been a record number of new pet families across the country, the demand for veterinary care has never been higher, making finding or talking to a vet harder than ever. We know how important it is to be able to get help and advice when you need it most and from a source you can trust.
With year-long access to our unlimited virtual vet care plan you can talk to world-class veterinarians any time of day or night without having to leave your home for only $149.99 – that works out to only $12.50/month.
Benefits of Airvet
On demand, 24/7
No driving or wait times
No appointment needed
No shaky or anxious pet in the car or waiting room unnecessarily
Unlimited, immediate virtual access to world-class vets for your day-to-day pet care questions
Access to the same vet via chat and video for up to 72 hours for follow up