DOGTV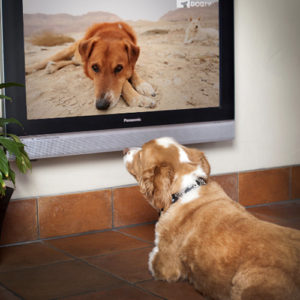 What is DOGTV?
DOGTV is the first television experience created specifically for dogs to help them relax and to entertain them when their pet parents have to leave their dogs home alone. The sights and sounds that DOGTV provides enriches the dogs' environment and allows them to experience happy stimulation and relaxation.
What is the offer?
As a Fear Free Happy Homes member, you get a FREE month of DOGTV on your favorite streaming device.
How do I redeem the Purrk?
Sign up for an account at dogtv.com, enter the provided promo code, then sign into your DOGTV account on your favorite streaming device.
More about DOGTV:
Does your dog suffer from separation anxiety? Does she miss you when you leave her home alone? Does he whine and cry and bark when he's alone? If you're a pet parent who answered "YES" to any of these questions, then DOGTV programming is here for you and your dog!
DOGTV is the first unique television experience created for dogs to help them relax and to entertain and enrich them when you're not at home. DOGTV lets you "leave on a little love" for your dog. Your dog may not sit and watch television the way you do, but he will experience the happy stimulation and comfort provided by DOGTV's scientifically developed sights and sounds. DOGTV and its patented programming was developed and designed by world leading pet experts and was designed to support a dog's natural behavior patterns. The pet parent can choose from content in three categories: exposure, relaxation, and stimulation.