Bella Veterinary Medical Solutions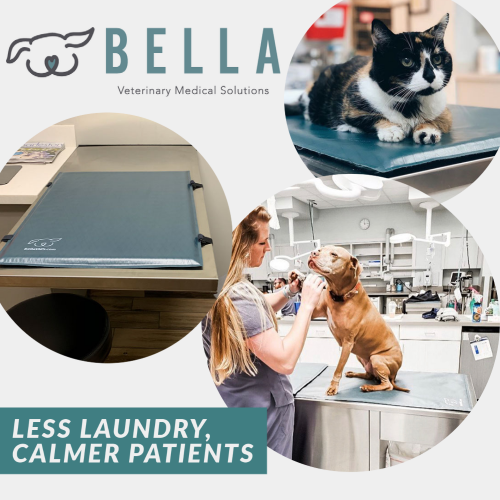 About
Bella VMS is a women-owned small business dedicated to creating products to improve pet comfort and safety. The Bella Bed is a durable, easy to clean, and safe mat for grooming tables, veterinary exam surfaces, treatment tables, training mats, recovery kennels, crates, carriers, and pets at home.
Discount
Our Fear Free Friday deal is 25% off all waterproof mats and table mats!
Redeem
The deal is over. Check back next month for the next deal!
Fear Free Connection
The Bella Bed is a waterproof veterinary mat designed to reduce laundry and increase patient safety and comfort. The mat is made of a durable material that is scratch- and puncture-resistant and can hold up to the regular use of disinfectants in practices. The seams of the Bella Bed are welded, so all surfaces of the mat can truly be disinfected. Its ability to be wiped down between patients saves you time and reduces your laundry. This long-lasting mat will provide a secure space for the patient during exams, treatment, and recovery.
The Bella Bed comes in a variety of sizes to fit different spaces in your clinic. Our exam mats can come with straps for fold-down exam tables or non-skid liners for flat exam tables.